Monster Mom! Coldhearted Cher Skipped Son Elijah Blue's Wedding, He Claims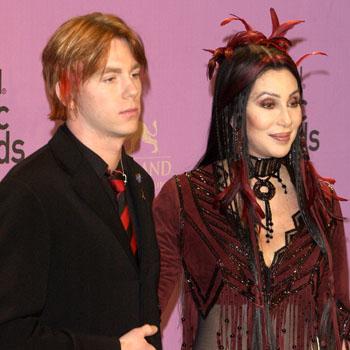 Elijah Blue, Cher's 37-year-old son with rock legend Gregg Allman, has called his famous mother out for turning her back on him and his new wife Marie-Angela "Angie" King the past few months, a period that's spanned events such as their wedding, and the holiday season.
"I've always been the black sheep of my family; we have lots of ups and downs, and now isn't the best time," Blue, 37, tells this week's issue of the National Enquirer, adding that it's been more than two months since he and and King wed in Beverly Hills Dec. 1 and he still has yet to hear a peep from the Mermaids star, 67.
Article continues below advertisement
Blue said the bad blood stems from a falling out in October with both he and his then-bride-to-be, 26.
"It's like a Mexican standoff, but we have a history" of issues, Blue, a recovering drug-addict, told the Enquirer of his conflict with his mother.
He said of King's complex interactions with the music and movie legend: "You've got two strong women, two big bulls in the pen; I think there's a respect and I think they butt heads."
Despite the vitriol, which led to the couple leaving Cher's Malibu home they were staying at, Blue said he was "very hurt" to be excluded from the family's holiday festivities.
"Christmas is supposed to be about family," he said, and "we'd just gotten married."
An insider told the Enquirer that the 'Believe' singer will need to make some adjustments if she wants to hear the pitter-patter of little feet that sometimes follows wedding bells.
Article continues below advertisement
"Elijah and his wife are planning to have children and if Cher wants to have any part of her grandchildren's lives, she is going to have to make some major changes," the insider said.
Blue said that despite their differences, he feels the pop icon' "intent has been genuine" and he remains optimistic the two can eventually mend fences.
Asked about his half-brother Chaz Bono, Elijah simply said, "We're very different."
For more on this story, check out this week's edition of the Enquirer, on newsstands now.