New Jersey Teen Sues Parents: Cheerleader's Family Trades Booze-Fueled Barbs With Rich Clan That's Taken Her In Since Falling Out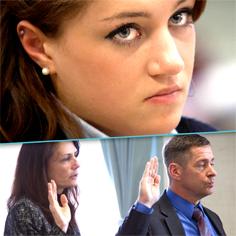 We've got the latest in the case involving Rachel Canning, the cheerleader who's asked a New Jersey court to order her estranged parents to pay child support, after she left home following a major fight regarding her rebellious behavior.
As we previously reported, the high school senior and cheerleader's parents -- retired Lincoln Park police Chief Sean Canning and wife Elizabeth -- have implicated the girl's boyfriend, 18-year-old Lucas Kitzmiller, of corrupting their daughter by drinking with her.
Article continues below advertisement
They make the same allegations, in court docs, to the family that's taken in the the teen, the Inglesinos.
HOTOS: Take A Peek Inside The Lives Of Mexico's Insanely Wealthy Nouveau Rich Heiresses
Here's how it all breaks down: Rachel is good friends with the Lauren and Jaime Inglesino, the daughters of Amy and Jon Inglesino, the latter of whom is a high-powered New Jersey attorney with ties to politician Chris Christie. The well-heeled parents have funded Rachel's legal move against her mother and father.
While Jon Inglesino has stayed mum to reporters about his role in the controversial case, he has told the court he and his wife made a commitment to Rachel, who he said is likable, communicates exceptionally well and is highly motivated to attend and excel at a college appropriate for her," adding that if her parents "are not required to fulfill their legal obligations as parents, than Rachel's ability to fulfill her potential will be greatly diminished."
Article continues below advertisement
But getting involved in the contentious situation has had some blowback for the legal eagle and his wife, who Rachel's parents claim in court docs, "would allow alcoholic parties to be held at their house."
"The Inglesino household, according to Rachel in the past, is more lenient," Sean Canning and wife Elizabeth said about the family schematics, adding that their daughter's very first taste of booze came under the Inglesino roof in March of 2011.
While Rachel was participated in a AAU basketball tournament that same month, Elizabeth wrote, she stayed at the Inglesino home after she had stayed the night, "only to discover that she was hungover from a night of drinking vodka at the Inglesino home.
"Upon arrival at the tournament, she threw up on the sidewalk and in a garbage can."
In another instance, they said the Lauren Inglesino "gave all the girls wine coolers to drink" during a group trip to New York, in which "Rachel came home bragging" about their leniency -- "behavior we did not condone."
Article continues below advertisement
Sean Canning said the Inglesino family has "been a tremendous hindrance" in their family affairs "while purporting to help."
"The fact that Rachel decided to run away and not abide by household rules is of her own volition and enabled by the Inglesino family who have arrogantly stated that their brand of parenting is somehow superior.
They added that "the fact the Inglesino family has subsidized a lawsuit, rather than providing responsible guidance in abiding by a parent's ruled is not an acceptable society norm."
With a Hatfield-McCoys situation brewing, it will be interesting to see the dynamics when the case returns to court Apr. 22.