They've Got Beef! Casey Kasem's Wife Jean, Citing Bible Passage, Throws Pound Of Meat At His Daughter, As Radio Pioneer Is Taken To Hospital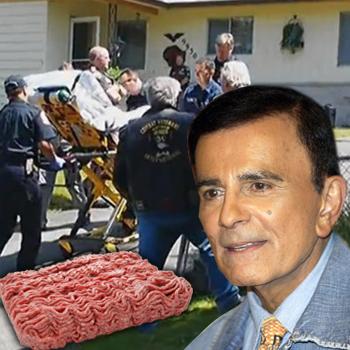 The bizarre fiasco circulating around Casey Kasem took another unusual turn in Washington Sunday, as the top 40 pioneer's wife literally threw a pound of ground beef at the radio icon's daughter Kerri.
"In the name of King David, I threw a piece of raw meat into the street in exchange for my husband to the wild rabid dogs," Jean, the blonde bombshell of Cheers fame, told NBC following the series of events.
Article continues below advertisement
Here's how it all unfolded: Local judge Judge Jennifer Forbes of Washington's Kitsap County on Friday issued an edict that Kasem's 41-year-old daughter Kerri could visit her ailing 82-year-old father — who's suffering from lung and bladder infections, as well as bed sores — and take him for medical help if the situation called for it.
Watch the video on RadarOnline.com
youtube=https://www.youtube.com/watch?v=jbY-z7_y-rY&w=640&h=480
When Kerri arrived to the home on Sunday, with an ambulance, Jean wouldn't allow them to come in the abode, at which point a 911 call was made inside the home, summoning a second ambulance and a fire truck. After the latter left to tend to a nearby blaze, Jean, 59, stormed outside and threw the food toward Kerri.
"Everything she's doing," Kerri's aunt Mary Kasem said, "is just making it worse for herself."
Jean's antics in the past few days, in protest of the judge's empowerment of Kerri, also included a news conference in which she played audio of the radio host howling in pain.
Watch the video on RadarOnline.com
youtube=https://www.youtube.com/watch?v=CHm5wzvJAhQ&w=640&h=360
The case returns to court on Friday.