'RHOBH' Gun Control: Carlton Gebbia Slams Joyce Giraud's Irresponsible Handling Of The Firearm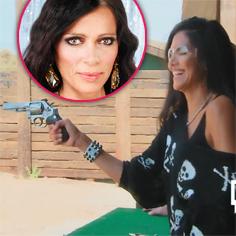 Waving a gun around like a toy, Joyce Giraud went out with a bang on Monday night's Real Housewives of Beverly Hills, proving she had no real experience with guns – except for that one time in a movie.
As she carelessly held the firearm and accidentally pointed it at a gun range instructor, the scene left viewers and her co-stars uncomfortable.
"Waiving (sic) your personally loaded gun around like a hairbrush speaks volumes," her co-star Carlton Gebbia ranted on her Bravo blog.
Article continues below advertisement
"You should honestly stick to baseball bats. There is such a thing about having respect for a gun and not thinking that you're in your own bad action movie. Guns are not a joke."
During the episode, viewers took to social media to discuss the scene.
"Joyce is going to shoot someone by mistake with that gun. It's NOT a prop!" one RHOBH fan wrote.
Another Twitter user noted: "The gun scene with Joyce on #RHOBH is why we need gun control in this country. She was able to buy a gun & had NO clue how to use it safely."
The messages continued: "Owning a gun doesn't make you a bad ass Joyce. I think you are sending the wrong message."
After the episode aired, Joyce opened up about the gun range experience, admitting her blasé behavior was due to her nerves.
"I had never been to a range to actually fire it. I've shot guns before for movie roles, but never a real gun. I was a bit nervous," she revealed.
"I'm not entirely pro-gun… I hope I will never have to use the gun. But I do want to feel protected, because if anyone was to mess with my babies that's the moment when I would become Lara Croft and do whatever needs to be done," she wrote.