Camille Grammer Lashes Out At Lisa Vanderpump -- 'You Don't Own Sur!'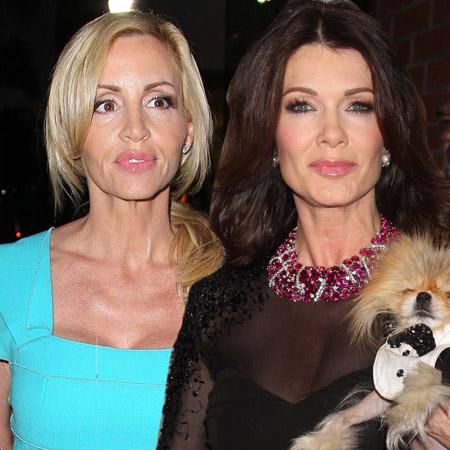 What happens in Vegas doesn't always stay in Vegas. It airs on Bravo Monday nights!
The Real Housewives of Beverly Hills continued their drama in Sin City when Camille Grammer took on both Brandi Glanville and Lisa Vanderpump in defense of Adrienne Maloof, and RadarOnline.com has all the details.
After the ladies hit the pole for Brandi's pole dancing class, they sat down for what was supposed to be a fun dinner with friends, but things quickly hit a snag when Brandi started talking about how Adrienne - who isn't in Vegas with them - tried to get her and Camille to gang up against Lisa during the last reunion special, which Camille adamantly denied.
Article continues below advertisement
"I can handle it, but I won't stand for it," Camille yelled before storming out of dinner.
Once Kyle Richards convinced Camille to come back to dinner, Brandi made a comment about Adrienne only owning 2-percent of The Palms Hotel in Las Vegas.
That was all Camille needed to go after Lisa, attempting to compare her ownership of SUR Restaurant to Adrienne's paltry ownership of The Palms.
"You don't own SUR," Camille claimed.
Article continues below advertisement
"Kyle loves to make drama, like she's standing up for Adrienne," Yolanda said.
"Adrienne isn't in Vegas because Adrienne chose not to be in Vegas. So end of the story. Stop bringing it up."
Yolanda continued, "You said it so many times, we know your opinion. So let's move on. It's nobody's business anyway."
"It was completely one-sided," Camille said.
"It was okay for Brandi to bring up the Maloof's financial situation out of the blue, but it wasn't okay for me to question Lisa?"
Tune in next Monday on Bravo to watch more of the drama unfold.