Creepers! Kris Jenner Lathers Brody Jenner With Sunscreen, Ogles His Body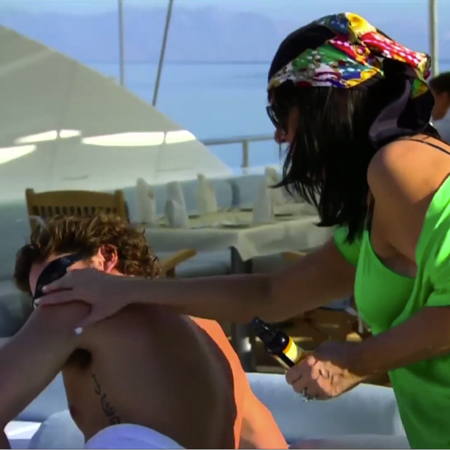 Brody Jenner shocked his stepmother Kris Jenner by accusing her of being a materialistic liar during a tense one-on-one showdown on their vacation yacht on Sunday night's Keeping Up with the Kardashians.
For the past two weeks, viewers have seen Kris trying to mend her troubled relationship with Brody, Bruce Jenner's son from his previous marriage to Linda Thompson, while the Kardashian clan soaked up the sun in Greece. But on Sunday, Kris dug a deeper hole for herself with her inappropriate behavior! Kris, 57, rubbed sunscreen oil on Brody, 29, and then horrified the young hunk by jokingly falling on top of his back and comparing his body to that of his dad Bruce when he was younger!
Article continues below advertisement
"Your dad had the exact same back," Kris said flirtatiously, making daughter Khloe groan, "Mom that is so weird of you! You're so gross."
Khloe looked into the camera and said, "My family -- we're very affectionate, touchy feely. We don't have boundaries with each other. But my mom with Brody, that's not your biological son."
Brody shuddered, "I want to think that Kris is being overly nice. I don't want to think anything else besides that."
radar_embed service=5min.com src="http://pshared.5min.com/Scripts/PlayerSeed.js?sid=1126&width=570&height=351&playList=517873541&sequential=1&shuffle=0"
He later told his brother, Brandon Jenner, and Brandon's wife Leah about the bizarre cougar-ish teasing incident. And things only went downhill from there!
When the two had an emotional one-on-one showdown at the end of the episode, Kris told her stepson, born to her husband Bruce Jenner and his former wife, Linda Thompson, "I worry about how you feel about me."
Article continues below advertisement
Brody replied, "I'm gonna be totally, brutally honest with you. I know that you love the lavish lifestyle."
Kris replied, "Yeah, I'm definitely a bit of a diva. I'm not going to deny it."
"You need to look at yourself," Brody told her coldly. "Are these things really what's important? This, I don't give a s**t about," he said, gesturing at a yacht where the family was cruising the Greek Isles.
Kris insisted the trip wasn't about "stuff. It's about all of you."
A disbelieving Brody said, "Really, though?
"Yes, for real. When you were really young, I always thought, 'I wish he liked me,'" Kris sighed. "If he knew me, he would love me. I felt like you didn't know me. You didn't know all the layers of me or sides of me."
When Kris said having him and all her family members happy is what made her happy, Brody said, "That's a lie."
"Are we being honest? I don't feel like you never gave two sh***s the way Brandon and I have grown up," Brody said.
Article continues below advertisement
Kris told viewers after the heart-to-heart gone bad, "It's one of the most hurtful attacks I think that's ever been thrown my way. I've tried so hard for so many years and I just don't understand how we got here and I feel so defeated."
Earlier, Brody told viewers in a confessional clip that "growing up, I thought that Kris was the reason I didn't see my father. I kind of painted her like a villain."
In another storyline on Sunday's show, Kourtney sulked because her baby daddy, Scott Disick, was in London instead of on the family vacation. Kourtney confided to Brandon's wife, Leah, that Scott felt uncomfortable on a long Kardashian vacation. She got even more sad when she saw Scott photographed with other women while doing the party scene in London. Although Kourtney was sure Scott wasn't cheating, he put himself in a bad situation, she said.
Article continues below advertisement
Also on the episode, Kris insisted on wearing a long black wig to look Greek and Bruce laughed, "Who the hell are you?"
The family was relieved when the wig flew off Kris' head--and into the water -- as she drove her husband on a jet ski.
Kris later donned a turban and talked to Kourtney about Brody. "I feel like he always judges me. He doesn't get my humor," Kris said. "I just want him to be part of the family."
Kourtney said, "Those things do take time, to build the trust up." Kourtney suggested she spend some time with Brody, while Kris said having a blended family was challenging.
"I want him to be one of us," Kris told her daughter. "Family comes first."
In another chat before her blowup with Brody, Kris and Kourtney talked again. "He doesn't get my personality," Kris told her daughter.
"Maybe you need to watch what you're saying more," Kourtney said.
Article continues below advertisement
"I don't have a filter. It makes me who I am," Kris said.
Meanwhile, Kim mused about what parenthood would be like with baby daddy Kanye West. https://radaronline.com/category/tags/kanye-west/
As the world knows, Kim already gave birth to the baby, North West, this June, but the show has been following the reality queen's pregnancy journey.
She confided in Brody, "When Kanye and I were designing the baby's playroom, Kourtney's like, 'you need a playroom' and Kanye's like, 'I didn't have a playroom! I just played in my room and then I cleaned it up.' It's like, how much do you give them?"
"You're going to be a good mom, Kim," Brody said.
"I think Kanye will be really good with that. He always says, 'There's nothing more that I love in this world but you and me and myself.' It's the combination of the two!" Kim laughed.
Brody also questioned his dad, Bruce, about his marriage and why he wasn't allowed a putting green for golf at his own home with Kris. "You gotta fight these battles," Brody said.
But Bruce told viewers in a confessional, "I know when to be quiet."
Watch the video on RadarOnline.com
With his son Brody on the warpath against Kris, however, will that even be possible?