Bombs Away! NO ONE Is Safe When Brandi Glanville & Jenny McCarthy Team Up On 'WWHL'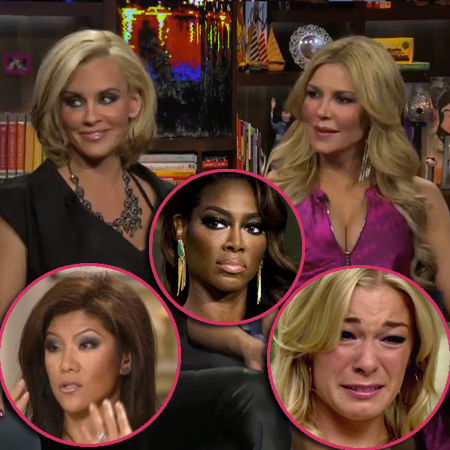 Article continues below advertisement
Watch the video on RadarOnline.com
Brandi continued her tête-à-tête with Atlanta housewife Kenya Moore after the former Miss USA called her an "a** clown" and an "idiot" for her racially-insensitive comments aimed at castmate Joyce Giraud in a prior Housewives episode.
"Kenya wh*re?" Brandi asked, before acquiescing that her comments were out-of-line. Still, she still didn't miss out on an the opportunity to zing back at Kenya, hitting the beauty queen back where it hurts the most: her looks.
"I still think she needs something ... that dark, dark make up and it's just really ashy and weird," Brandi said, leaving Andy writhing in discomfort.
Jenny -- when asked about The Talk's Chen's comments that she was a poor fit for The View, said she didn't mind the knock. The Playboy Playmate speculated on what might have motivated the wife of CBS head Les Moonves to make such a statement.
"Maybe jealously makes the claws come out a little," Jenny said, while Brandi was decidedly less diplomatic.
Article continues below advertisement
"She can suck it!" Brandi said of Chen.
Showbiz vet Jenny also lent her opinion to Brandy's ongoing feud with Lisa, saying that the English restauranteur was using Brandi and her castmates as a vehicle to put the focus on her own program, Vanderpump Rules.
But the real vitriol of the evening came during the word association segment, where both ladies let the barbs fly.
Watch the video on RadarOnline.com
When Rimes' name came up, Jenny blurted out "HPV" -- a reference to the sexually-transmitted disease -- leaving the crowd groaning. Brandi, in a tongue-in-cheek manner, reminded viewers that a large percentage of adults have HPV, and that the first word she thinks of when it comes to LeAnn is "singer."
Watch What Happens Live airs Sunday thru Thursday on Bravo at 11/10c; for more coverage of Brandy and Jenny, keep it right here on Radar.