Should The Death Penalty Be Axed? Convicted Murderer Dies Following 'Totally Botched' Oklahoma Execution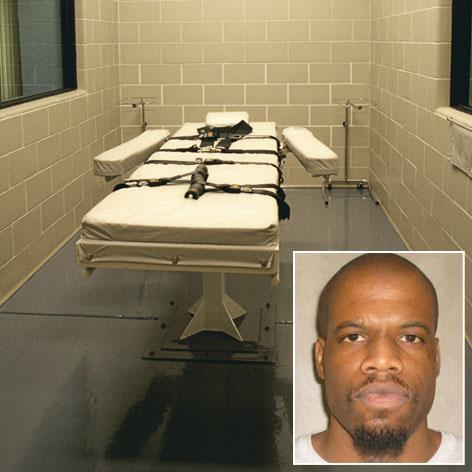 A 38-year-old convicted of murder of a teen woman 15 years ago died in what his lawyer called a "totally botched" death penalty execution in Oklahoma as he suffered in agony for 10 minutes, spurring officials to halt the process before he was felled by a fatal heart attack.
Clayton Lockett — whole sued the state with another condemned inmate (Charles Warner) after they became guinea pigs for a new tri-injection method officials were debuting, was seen in pain, clenching his teeth, groaning and writhing. State officials, seeing the pain, 86'ed the execution, the Department of Corrections said. By then it was too late, however, as his heart attack followed shortly thereafter.
Article continues below advertisement
"It was extremely difficult to watch," Lockett's lawyer David Autry said. "It was a horrible thing to witness. They should have anticipated possible problems with an untried execution protocol.
Shocking Stories You Didn't Believe But Turned Out To Be True
"Obviously the whole thing was gummed up and botched from beginning to end. Halting the execution obviously did Lockett no good."
The lawyer discounted authorities' speculation that one of Lockett's preexisting conditions — his veins specifically — were the cause of the death.
"I'm not a medical professional, but Mr. Lockett was not someone who had compromised veins — he was in very good shape — he had large arms and very prominent veins."
The controversy heats up an ongoing debate about lethal injections and how much pain they cause to those they're administered to, as well as whether or not the deaths can be classified as cruel and unusual, which would be unconstitutional.
Article continues below advertisement
Ryan Kiesel, the executive director with the state's ACLU chapter, said Lockett's death was the end result of allowing "the government to act in secret at its most powerful moment, and the consequences of trading due process for political posturing."
"This evening we saw what happens."
Watch the video on RadarOnline.com
Both Lockett and another inmate, Charles Warner, had been slated for the chopping block on Tuesday, but Republican Gov. Mary Fallin stalled his execution for 14 days, also ordering correctional authorities to implement a "full review of Oklahoma's execution procedures to determine what happened and why during this evening's execution."
Warner remains on death row in his conviction of an 11-month old's rape and killing 17 years ago. Lockett was incarcerated in connection with the 1999 death of teen Stephanie Neiman, who he shot, then watched as she was buried alive by two of his associates.
Lockett's autopsy was slated tho happen soon, according to local medical examiner's spokeswoman Amy Elliott, who added that toxicology reports could be two to four months in the offing.