Exclusive
Big Red Football Rape Scandal Tearing Close Knit Steubenville, Ohio Community Apart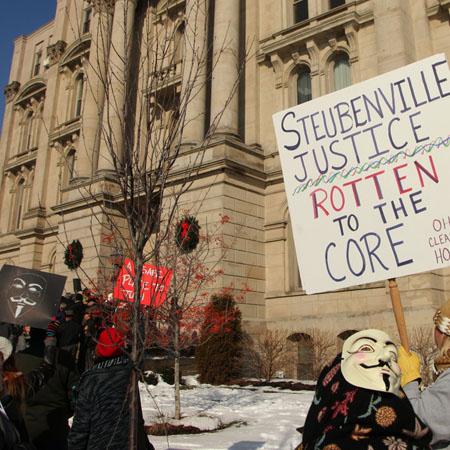 The trial of two high school football players who are accused of raping a highly intoxicated teenage girl is threatening to tear the close knit community of Steubenville, Ohio apart at the seams, and RadarOnline.com has exclusive details on how the disturbing case has divided the residents and black-marked a senior year.
"It is totally devastating for everyone involved on both sides," local resident Willa Wade tells RadarOnline.com in an exclusive interview.
Article continues below advertisement
"My granddaughter is a senior at the school and is in her graduating year while this is all going on," Wade reveals. "She was in tears the other day and said to me, 'Grandma, my class is always going to be known as the rape class.'
"Rape is a fact of life, it goes all the way back to biblical times. We all make mistakes but we just grew up in a time when it didn't go viral and everyone in the world didn't have an opinion on it," she went to on to explain.
"It is not that it is new, it is just that access to information is so prevalent."
As RadarOnline.com previously reported, prosecutors claim two star players for Steubenville's Big Red – Ma'Lik Richmond, 16, and Trent Mays, 17 – raped the near unconscious girl, a Weirton, West Virginia native, at an Aug. 11, 2012 teen booze bash.
Multiple witnesses have said the girl was too intoxicated to be able to give consent to the accused boys to penetrate her with their fingers.
Article continues below advertisement
Meanwhile, there has been outrage in parts of the community that other teenagers, who watched the alleged sexual assault as it occurred, and did nothing to stop it happening -- even taping it on their phones and posting footage on line -- have so far escaped any criminal charges.
Wade, a church minister, does believe that the accused teens should be held accountable, but says, "I wish them grace and mercy instead of justice. There is a big divide between the two of them.
"However, I look at myself and think, 'If this was my granddaughter or my grandsons, where would I be and how would I feel? I am sure that I would feel that there should be some payment made if they really did what everyone is saying they really did," she explains.
As attention on the shocking case escalates and hundreds of demonstrators continue to gather daily outside the courthouse, Wade believes that most people are rushing to judge the boys when they should also be looking at their peers.
MORE ON:
Celebrity Justice
Article continues below advertisement
"I have always felt that the parents are more at fault than the children. When parents fail to parent, children are left to their own devices," she tells RadarOnline.com.
"Dogs bark and cats meow, and kids make mistakes," the grandmother says. "Anyone that has a child and says, 'My child would never do this,' is fooling themselves. It might not be this, but we have all made mistakes."
The accuser's name has been withheld to protect her privacy, but residents of the small town all know the true identity of the "Jane Doe" and it's likely that regardless the subsequent outcome of the trial, her ordeal will haunt her for the rest of her years to come.
"People are always going to remember what happened and those who believe the boys are innocent are always going to remind her about it, no matter what," Wade says. "This is going to be a part of her life forever -- or at least it will be if she stays around here. I would consider that's something that she would rather not deal with."
Meanwhile, although Wade understands why people are protesting, she believes it is just making a terrible situation even worse.
Article continues below advertisement
"Now it's all over the Internet, it is everywhere – for the world of public opinion to say, 'hang them, cut their throats!' And that's wrong," she says."I think they should consider what if it was their child on either side.
"Steubenville is a community where people are very close knit and if you don't know a person, then you know someone who knows them," she says.
"I would love to say that this case is going to change the dynamics of the world – but when it all dies down, women are still going to be sold into slavery, are still going to be assaulted, and all of these things that we push onto the back burner, that are really important. are going to become moot once again.
"Instead of jumping on the bandwagon and sensationalizing things, people need to look at the core issues of this case, which are parents and parenting," Wade says.
"Boys are being raised as babies when they should be raised as men. Girls are being raised to be the most popular and pretty when they should be raised as women, on their own merit."