Jay Z 'Overrated' Says 50 Cent! WATCH As He Weighs In On His Fight With Beyoncé AND The Infamous Elevator Brawl Between Jay Z And Solange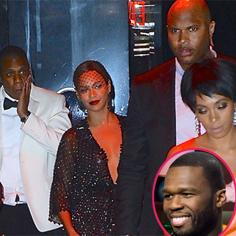 50 Cent made an appearance on Andy Cohen's Watch What Happens Live and weighed in on a few lingering issues that people have been curious about.
No stranger to conflict, Beyoncé has been involved in several fights this year, and one of them involved the "In Da Club" rapper. So when asked Cohen asked what it was like to get yelled at by Beyoncé Knowles, Curtis "50 Cent" Jackson III described it in an interesting way.
Article continues below advertisement
"It's not really bad. Like a burp doesn't smell," he said. "You go like oh sh*t because people are taking pictures of this at the same time.
"There's no right way to respond," he added. "You just gotta kinda accept it."
Although the rapper sat back and took it so as not to make a scene, he did manage to throw her some shade.
"You just have to have an expression on your face like 'what the f*** is the matter with you?'"
50 Cent also gave his opinion as to what he would've done had he been Jay Z during that infamous elevator brawl with Solange Knowles. Although he said he probably would have tried to defend himself, he also added that he would've asked Beyoncé to intervene.
"Chill Out! Yo, get her," he said, in his best Jay Z impression. "Get her! Ain't you with me? What the f*** are we doing here?"
When Cohen asked 50 Cent what he thought might have caused the brawl, he wasn't willing to speculate, but he was willing to make some other bold claims, like Jay Z being overrated.
"Jay Z said he would rather be overrated than underpaid," he quipped.
Watch the clips below, and tell us what would YOU have done?