Beyonce On Pregnancy Rumors: 'I Don't Know What You're Talking About!'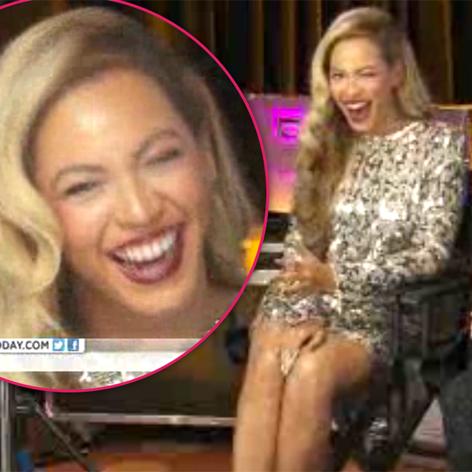 Well, that ends that. (Or does it?)
After reports surfaced that Beyonce and Jay-Z are expecting their second child, the A-list singer sat down with TODAY's Savannah Guthrie, who asked her about the rumors that daughter Blue Ivy getting a brother or sister anytime soon.
"What kind of rumor? Huh?" the 31-year-old stunner joked, playing coy and not giving any affirmation either way in her body language. "I don't know what you're talking about!"
Article continues below advertisement
The interview was conducted at The Women's Concert for Change in London Sunday.
While Bey left Savannah guessing, the journalist Monday did pitch in her own two cents on the chances of the Destiny Child's diva becoming a mother-of-two.
"When I saw her, she was wearing this sheath dress and I thought, 'Hmm, maybe,'" Savannah said. "Then I saw her on stage, and she was wearing a leather body suit.
"So unless she's like 30 seconds pregnant, I don't know."
Watch the video on RadarOnline.com
As we previously reported, speculation has sizzled radaronline.com/exclusives/2013/05/is-beyonce-pregnant-with-baby-2/ about the super-couple's second child after recent photos revealed what appears to be the beginning of a baby bump. Bey's garb at last month's Met Gala, a high-waisted Givenchy gown that played down her midsection only fueled speculation.
Visit NBCNews.com for breaking news, world news, and news about the economy