Exclusive
Eating For Two? Beyonce's $1k Feast In Ireland -- 28 Whole Chickens, 10 Sides Of Corn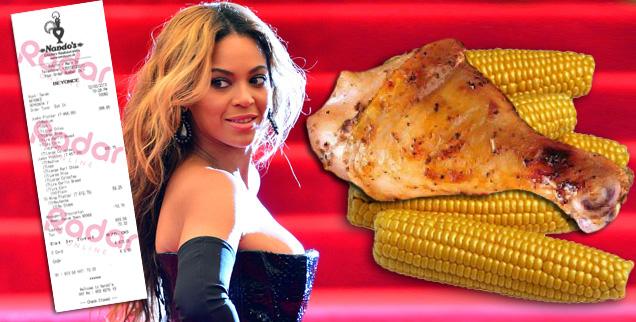 Beyonce has yet to confirm the rumors that she's pregnant with her second child, but she could already be eating for two. After last night's concert in Dublin, Ireland, the bootylicious, bump-sporting singer splurged more than $1,000 on a grilled chicken feast from Nando's Chicken in Dublin.
B's staff called in an order for fourteen jumbo platters of chicken, consisting of a total of 28 whole chickens and ten large sides of corn, garlic bread, rice, coleslaw and the restaurant's famed peri peri chips. They also ordered up 70 wings. The grand total? Roughly $1,136.92 (€875.90)
Article continues below advertisement
"Beyonce had a driver come in and pick it up around 10:30 pm," the store's manager, Malone Puckley, tells RadarOnline.com exclusively.
Her hubby, Jay-Z, presumably indulged in the eats too, as he was spotted at the concert watching his baby mama do her thing. "He watched the concert from behind a curtain at the sound board in the middle of the stage," concert-goer Leah Murphy, the producer for the Tom Felton show on Ireland's TodayFM tells RadarOnline.com. "When 'Crazy in Love' came on, he came out with a black hoodie on and made a run for it backstage."
Though rumors are growing that he and Beyonce are expecting a sibling for daughter Blue Ivy, Murphy says, "I was with a friend who's 12 weeks pregnant and it really didn't look like she was pregnant to us. I just don't know how she could be because her show is so energetic."
Indeed, baby or not, Beyonce will have to keep that energy up for a while. Her Mrs. Carter Show world tour won't close out until August 5 in Brooklyn, NY.