Booty-Shaking Dancers, Lip-Synching Cats & President R. Kelly: The Best 7 Moments From The 2013 AMAs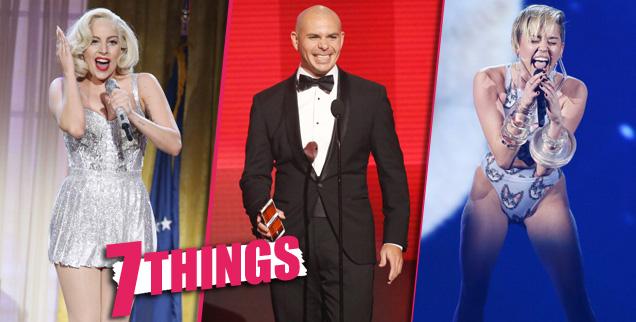 If you missed the 2013 American Music Awards, don't worry, we've got the only recap that you'll need. We've saved you three hours of your life and picked out the best seven moments from the star-studded show.
1. Lady Gaga Upstages Miley Cyrus On The Red Carpet
Don't you just hate it when you're having a conversation and Lady Gaga turns up riding a white horse and steals your thunder? If you're Miley Cyrus – who has spent the past year raising eyebrows and grabbing headlines – it would be a bit annoying. Before the AMAs even began, the "Wrecking Ball" singer was being interviewed as part of Coca-Cola Red Carpet Live, the pre-awards show, when – like a Versace-wearing Lady Godiva – Lady Gaga trotted out on the shoulders of two men in a horse's outfit.When the hosts gasped and gawped at Gaga, Miley said: "What a big scene stealer... You can stop interviewing me if you want to go interview Gaga, I don't care." Ouch!
Article continues below advertisement
2. Pitbull's Booty Shaking Dance Class
Rapper and presenter Pitbull decided to "out-Miley" Miley by having a line of dancers demonstrate a variety of "booty shaking" moves at the beginning of the show. Wearing skintight black cat suits and thigh high boots the performers showed the audience how to do the "tootsie roll," the "doo doo brown" and the "hydraulics." When the final dancer proceeded to hump the floor Pitbull stopped her, saying: "That one we can't do on network television!"
3. Macklemore & Ryan Lewis Pay Tribute to Trayvon Martin
After winning the award for Favorite Rap/Hip Hop Album Macklemore & Ryan Lewis used their acceptance speech to honor Trayvon Martin who was gunned down by George Zimmerman last year. Speaking via satellite from Florida, Macklemore said: "Due to the fact that we are in Florida tonight accepting this award I want to acknowledge Trayvon Martin and the hundreds and hundreds of kids each year that are dying due to racial profiling and the violence that follows it."
Article continues below advertisement
5. Miley Cyrus Is Upstaged By A Lip-Synching Cat
She didn't twerk or puff from a suspicious looking cigarette but Miley Cyrus guaranteed her performance would be the most talked about on the Internet by singing her hit "Wrecking Ball" in front of video footage of a giant, crying, lip-synching cat.
6. Lady Gaga Gets Steamy With President R. Kelly
Wearing her best Marilyn Monroe-style wig, Lady Gaga strutted into R. Kelly's onstage Oval Office and asked him to "Do What U Want" with her body. The cringe-worthy performance involved bumping and grinding on "President Kelly's" desk, faux tears from Gaga and a pretend reporter confronting the R&B commander-in-chief about the unfolding scandal.
Watch the video on RadarOnline.com
Article continues below advertisement
7. Sarah Silverman Racially Profiles Justin Timberlake
Justin Timberlake proved he has a sense of humor when accepting the award for Favorite Soul/R&B Album. Comedian Sarah Silverman presented the category by running through the nominees, which also included Robin Thicke and Rihanna. She said: "There are three amazing nominees for favorite Soul/R&B album tonight: One a white kid from The Mickey Mouse Club, another the son of the dad from Growing Pains and the other a strong soulful, Caribbean woman of color.
"I don't know who will win, but I do know who should find this most ironic if she loses."
When he got up to accept the award, Justin joked: "Growing up in Memphis, Tennessee I can honestly say that's the first time I've ever been racially profiled by a white woman."