Don't You Like Hamsters? 3-Year-Old Boy Plays With Alligators, 8 Foot Boa Constrictor!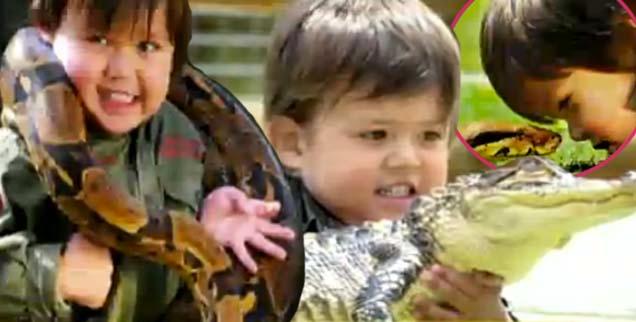 And we're scared of spiders!
A 3-year-old fearless boy in Australia – being called that country's youngest wildlife ranger – is attracting a lot of attention for his "pets."
With his dad's blessing, little Charlie Parker loves to play with an alligator named Gump and his best friend is Pablo, a boa constrictor that outweighs him and measures 8 feet in length.
Charlie's father, Greg, runs Ballarat Wildlife Park in Victoria, Australia and says he couldn't be prouder of his boy.
Article continues below advertisement
"He can be an ambassador for animal conservation and welfare. I think it's great for everybody," Parker said, speaking in an interview with Australia's Channel 7.
Of course, not everyone thinks a child playing with dangerous animals is a good idea, as animal handler Jack Hanna told Tuesday's Good Morning America.
"Children and wild animals are not a good mix," Hanna added. "You can train a wild animal but you can never tame a wild animal."