Apollo Nida 'Got Carried Away' During 'RHOA' Brawl, As Wife Phaedra Parks Blames Kenya Moore For The Whole Melee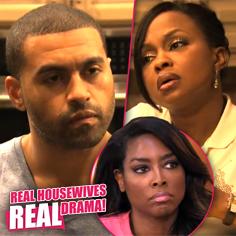 After the bloody brawl involving Apollo Nida and Kenya Moore's assistant Brandon DeShazer, Phaedra Parks confronted her husband to get his side of the story.
Apollo, who, as RadarOnline.com has reported, was charged with bank fraud and identity theft last week, tried to explain his side of the story in a new preview for Sunday's The Real Housewives of Atlanta.
"Last night, I guess, was rather ridiculous, right?" Apollo said to his wife with a smirk. "I was having a good time actually until the madness came.
Article continues below advertisement
"I never thought someone would hit me, especially when I was trying to diffuse the situation."
Pheadra was not amused by the childish behavior and told the Bravo cameras: "After last night's drama, I need some time to myself to figure out what went so horribly wrong."
"Apollo's cute face and great body might work some of the times, but I'm from the old school thinking that right doesn't do anybody wrong."
As Pheadra sat back, Apollo tried to explain why he viciously assaulted Kenya's assistant.
"Brandon fell down the beanbag … when he was getting up, I saw a lot of rage in his eyes. I tried to run over there and apparently whatever I tried to do wasn't appropriate. I was just trying to hold him back. All I know, I got hit and got really carried away," Apollo said.
Speaking to her husband, who previously served five years for racketeering, Phaedra was worried about what other people would say about them.
Article continues below advertisement
"When stuff like this happens, people obviously stereotype like it's because of your past and that's what bothers me the most. You do know how to conduct yourself," she said.
She quickly turned the tables though, deflecting the whole brawl on her co-star.
"I'm not downplaying Apollo's role in this mess. However, I blame Kenya for this whole melee. If she would have remained in the seat and acted as if she had some sense for a change, none of this would have happened," she said.