Anne Hathaway's BAFTA Nightmare: 'I Was Booed, My Dress Ripped, And I Had The Flu'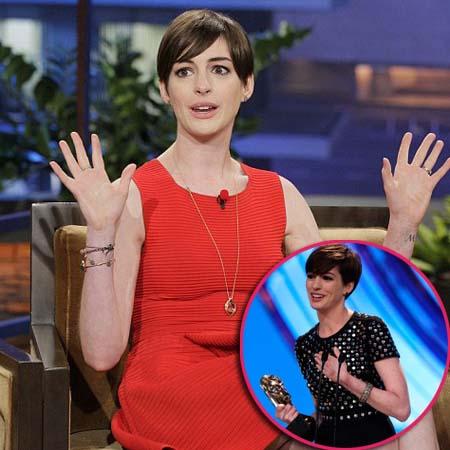 Article continues below advertisement
The 30-year-old Oscar nominee told Leno: "I was so late that I had to run straight down to the end of the carpet and miss all the interviews.
"And, the worst part was, I missed the fans. They're out in the cold and the rain and the sleet, and they booed me. I got booed, my dress ripped, and I had the flu."
Despite her wardrobe malfunction and the boos, Hathaway told Leno her night turned out "great," particularly since she was able to get up close and personal with award presenter George Clooney.
She said: "I got to hug George Clooney, and that's the whole point. And, oh yeah, I got a really amazing, prestigious award. That's pretty cool."
Anne explained the zip on her original designer gown ripped as she was putting it on just before the awards show. She said after an attempt to sew her into the dress just wasn't working out, she was forced to ditch the gown for a studded Burberry outfit.
Watch the video on RadarOnline.com
She told Leno: "I look like a turkey that has been sewn together. Just not good. How irritating am I? Most women don't even have one great dress, I have two."
Next up for Anne? The Oscars on Sunday, February 24, where she's considered the frontrunner for Best Supporting Actress.