Anderson Cooper Continues To Defend Anne Hathaway On His Talk Show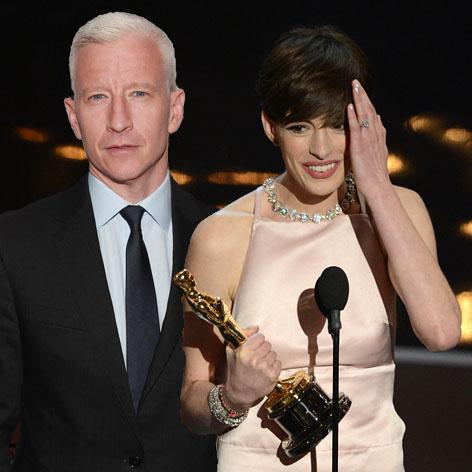 Anderson Cooper just can't help defending Oscar-winner and sob acceptance speech deliverer Anne Hathaway!
The 45-year-old talk show host continued to stick up for the Les Miserables star on Friday's episode of Anderson Live, and RadarOnline.com has the video!
Sitting alongside Kill Bill actress Vivica A. Fox, Anderson started his defense saying, "So now yesterday on the show I went on a little bit of a rant for about 10 minutes standing up for Anne Hathaway, the actress, because I don't know where I've been but I did not realize there is a certain segment of the population which seems to have something against her based on no evidence on some sort of impressions."
Article continues below advertisement
When executive producer Terence Noonan interrupts to say, "there is evidence," Anderson continues to shield Hathaway.
"No, I don't even want to hear from these people," Anderson says.
"I learned about this in our our morning meeting yesterday when a bunch of the producers on the show were like, 'Oh my God her Oscars speech was terrible and she's so horrible.' I was like A. you don't know her, you don't know anything about her, you've never met her and she gave a perfectly lovely Oscar speech.'
"They were like, 'It was rehearsed.' I'm like if you were making a speech in front of a bazillion people you would rehearse it too…."
Siding with Anderson, Vivica interrupts, "I agree and she's a lovely lady and she did a fantastic job. So I think what happened was people got so used to her winning that then people got jaded about her winning.
"Which I mean you strive, how many times has she practiced, sacrifices. I did a movie with her years ago, Ella Enchanted and I told her, 'You are destined to be really big.' I knew it was going to happen for her. She is the nicest, kindest young lady and she is deserving of all the accolades and more coming to her."
Vivica adds, "She sacrificed her hair dammit! I could have that hair on a track and sold it."
"I am glad you are saving celebrities one at a time," Terence notes.
Leaving Anderson to say, "Your bitterness over Anne Hathaway makes no sense and is completely irrational and you're like, 'Oh that other actress fell and she's so sweet.'
"Okay fine, she seems sweet too, but why do you like her for falling and Anne Hathaway for not falling? If Anne Hathaway had fallen you know what you would have said, 'Oh my God, she fell.'"