WATCH: GMA's Amy Robach Shares Her Emotional Hair Cut Due To Cancer Chemo Treatment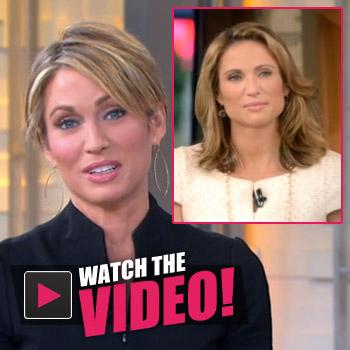 Good Morning America's Amy Robach has made her breast cancer diagnosis and treatment very public on the morning talk show and Wednesday she became very emotional as she debuted the new short haircut that she said gave her "control of something I have very little control of."
She explained to her co-hosts and in a very personal video that "With chemo comes hair loss," and she was feeling the effects after two of her six-session treatment plan.
Article continues below advertisement
"I am slowly starting to lose more and more each day," she said, so she decided to chop off her long blonde locks.
"Today I am taking control of something I have very little control of."
Robach, 40 and a mother of two, filmed the haircut and truthfully showed the viewers that she was crying at the loss, but that she was doing so in order to be happier.
"I want to say I had something to do with how I look, not the cancer."
Struggling through tears, she said: "It's like a fresh start, a new chapter."
Explaining that 2.1 million women are living with cancer in the United States, she says she shared the visit to the salon to let others know: "You're not alone. And you too can be brave."
Her co-host George Stephanopolous told her she looks "fantastic," and Robin Roberts, who has shared her own cancer diagnosis and treatment told her it was a "powerful message" she was sending.
"I'm here and I'm going to stay here," Amy said, showing off the new short cut.