Amanda Knox Case: Italian Prosecutor Calls For Extradition If She's Found Guilty In Murder Retrial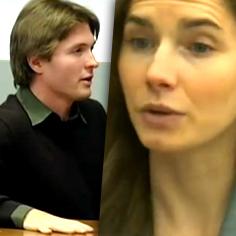 Amanda Knox should be mandated to serve her sentences, even if extradition is necessary, if convicted in the retrial in the 2007 murder of her college roommate Meredith Kercher, prosecutor Alessandro Crini told an Italian court Monday.
"Usually if someone is convicted of murder, they are already in custody," Crini told the AP, admitting the "situation is unusual."
Article continues below advertisement
Knox, 26, has said she will not go back to Italy for a retrial, in fears she'll be "wrongly convicted" again.
Knox's ex-boyfriend also accused in Kercher's killing, 29-year-old Rafaelle Sollecito, was present in court Monday, and said he will stay in Italy for the verdict.
Watch the video on RadarOnline.com
After closing arguments and subsequent rebuttals wrapped up Monday, the court will deliberate; a verdict is expected in the case later this month.
Should Knox be found guilty, her lawyer Carlo Dalla Vedova said it could take more than a year for an extradition to be ordered, as the new verdict would have to be approved by Italy's highest court, before the drastic step could be taken.
As we previously reported, the Seattle native was convicted in 2009 in the British student Kercher's murder in Perugia, Italy, getting a 26-year sentence until it was overturned two years later.