Aaron Carter's Sister Arrested For Battery After Vicious Halloween Fight
Aaron and Nick Carter aren't the only troubled siblings in their family of five! RadarOnline.com can exclusively reveal that their middle sister Bobbie Jean's downward spiral began in 2002 after she was arrested for two counts of battery!
Bobbie Jean, then 20, was cuffed after she attacked two women who she claimed "jumped" her sister on Halloween. Both victims wanted to press charges, according to the Monroe County, Fla. sheriff's department report obtained by RadarOnline.com.
Article continues below advertisement
The responding officer reported that he was assigned to the area where Bobbie and her sister Angel were drinking due to a large amount of trick-or-treaters. He found Bobbie "sticking out the back window up to her waist wanting to exit the vehicle to talk. She was upset saying that three girls had jumped her sister and she protected her," the officer documented.
"She continued by saying that this is what happens when you mess with her family, adding that they are a close family," the officer noted.
"While doing this, she was yelling, raising her voice loud, causing several other passer bys (trick or treaters) in the area to stop and look," the report continued, adding that her eyes were glassy and she smelled of alcohol.
The officer tried to calm Bobbie down while another officer got a hold of everyone else involved in the fight. He located two victims with "marks and injuries" as well as witnesses who pinned the blame on Bobbie.
Article continues below advertisement
The officers then interviewed everyone on video, starting with Bobbie. The middle Carter sibling confessed that she had been drinking, but the officer speaking with her noted that she "appeared coherent and alert to what was going on with the investigation."
Angel (Aaron's twin) was also interviewed, although what she told officers was not documented in the report. One victim claimed that "Angel Carter yelled at she and her friends saying she was going to beat everyone" and "left, returning with her sister (Defendant Carter) to fight." At that point, Bobbie and her friends beat someone else first, and then stopped to punch her in the face before they were separated.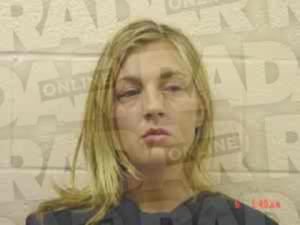 The second victim claimed that "Angel Carter yelled to she and her friends, 'what's up w**re?'" before Bobbie asked if she wanted to fight.
"She states that Bobbie tried to strangle her, and hit her," the report noted. "She says she did not fight back. During the fight, Bobbie bit her in her left side."
The bite broke her skin and she was bleeding.
A witness later added that Bobbie told her victims that "they were all going to get their a**es and they were all going to hell."
Article continues below advertisement
The officers noted that they all knew police were in the area and the Carters went there specifically to "at least talk" to their victims. Bobbie was then arrested and put into the patrol car where "she was seen banging her head on the plexis glass divider sic." She was not injured during her outburst and continued to yell at Angel through the window.
Bobbie received a plea deal in the case and was ordered to complete anger management classes and refrain from contact with the victims, according to a Monroe County court docket. She was also ordered to a substance abuse evaluation and treatment.
RadarOnline.com previously reported that their dad Robert was arrested for domestic battery after a fight with his mom Jane went south in 2003. They were in the middle of their "amicable" separation at the time.
Stay with RadarOnline.com for more.
We pay for juicy info! Do you have a story for RadarOnline.com? Email us at tips@radaronline.com, or call us at (866) ON-RADAR (667-2327) any time, day or night.