Aaron Carter's Dad Once Arrested For Attacking Mom In Fight Over Singer's Photos
Aaron Carter blamed his depression and substance abuse issues on his parents' divorce in a dramatic 2016 segment on Oprah Winfrey's Where Are They Now?, and now RadarOnline.com can exclusively reveal that the troubled singer went through more pain than he led on as he was actually caught in the middle of Jane and Robert's bitter battle!
Monroe County, Fla. police were called to their family home in 2003 and left with Robert, now deceased, in handcuffs for domestic battery after a drunken day on the family's boat, according to the report obtained by RadarOnline.com.
Article continues below advertisement
"Mrs. Carter started that they were going through an 'amicable' separation and were in the process of separating the property," the responding officer wrote in his report. "She stated that they had both been out on the boat today (drinking vodka), they had gone to Burdine's for dinner and when they returned he started yelling at everyone, she tried to get him to stop, but he would not."
"She then tried to get him to follow her to the house ('Cuban guest house') to avoid any embarrassment of the family in front of the others and/or the movers," the report continued. "When they got into the house she went into the blue bedroom and was trying to call her friend, Lori, on the cell phone, locking the door behind her."
At that point, Robert "crashed the door in" and she ran to the bathroom, the report claims. He proceed to break down that door to get to her.
"She attempted to hide in the shower, when, she says, he shoved her causing her to fall and hit the back of her head," the report read, but the officer noted he didn't see any marks and she "refused to medical attention."
But, Aaron and Nick's dad told the officer a different story when he was questioned, according to the report.
Article continues below advertisement
"Mr. Carter stated that he got mad because his wife was taking things that did not belong to her," the report read. "He stated that she got upset and 'made believe that I was beating her and calling people to be a witness to that.' He then stated that he kicked the door open when she (Jane) was calling his son (Aaron)," the report alleged.
One of their movers told the officer that when they came back from dinner, "Mr. Carter noticed that all of the pictures of his son (Aaron) were gone; he then became angry and loud. Mr. Carter began to throw a coffee pot and other things at Mrs. Carter," according to the report.
He then went into their moving truck and started to throw boxes out of it. Jane tried to stop him, but he "pushed her to the point that she almost lost her balance" and he told the movers to "get the f**k out of his property," the report stated.
Jane, now 58, tried to calm Robert down and they went back inside the house. But, Jane told the mover to call 911"a few minutes later" because she had been pushed, the report claimed.
Article continues below advertisement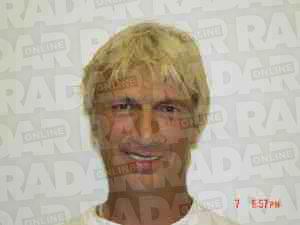 The case was later dropped, but their marriage wasn't salvageable. They filed for divorce on October 15, 2003 and a judge finalized their proceedings on March 25, 2004, according to a Monroe County court docket. Jane was arrested during the proceedings for allegedly attempting to attack Robert and his new girlfriend.
Meanwhile, Nick, 37, was arrested for driving under the influence the following year and spent three months in rehab. His siblings Bobbie Jean and Leslie had their own struggles with substance abuse, but Aaron's spiraled out of control in recent months.
Local police performed a wellness check on Sept. 22, but that didn't seem to put a damper in his weekend plans.
Stay with RadarOnline.com for more.
We pay for juicy info! Do you have a story for RadarOnline.com? Email us at tips@radaronline.com, or call us at 800-344-9598 any time, day or night.