Rihanna Pregnant With A$AP Rocky's Baby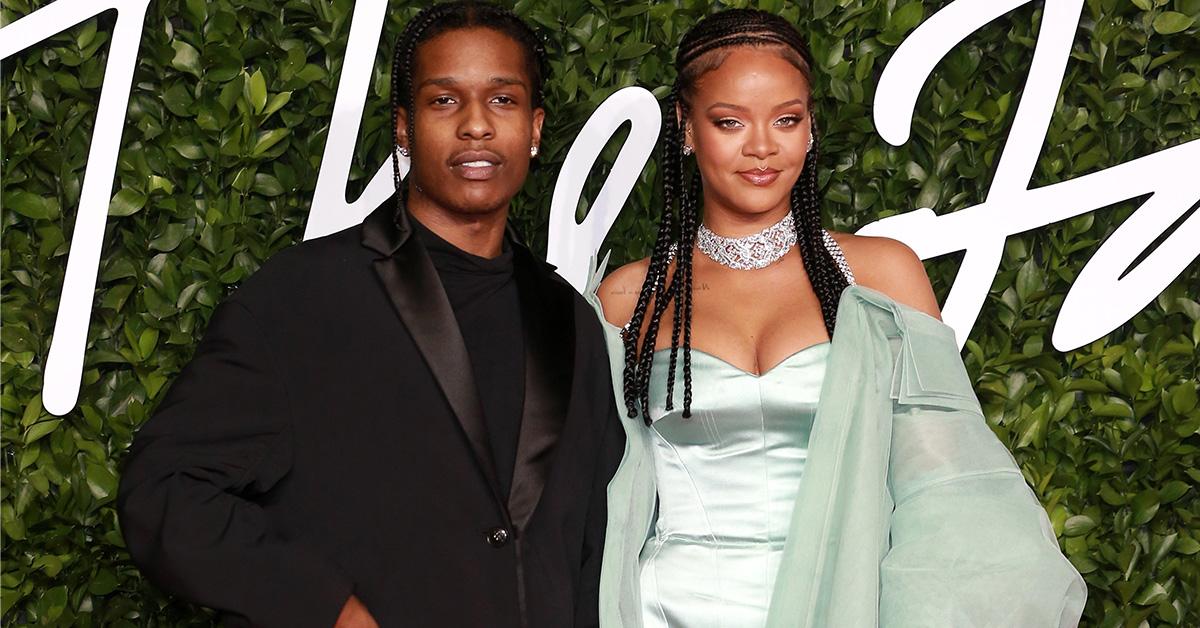 Rihanna is pregnant! Like, for real this time!
The 33-year-old pop star-turned-billionaire beauty mogul and her rapper boyfriend, A$AP Rocky, also 33, are expecting their first child together.
Article continues below advertisement
The genetically blessed couple was photographed out in A$AP's hometown of Harlem over the weekend, where Rihanna debuted her growing baby bump.
In the artsy shots, taken by photographer Miles Diggs, the Umbrella hitmaker was seen wearing a long puffy pink jacket that was unbuttoned to leave her beautiful belly exposed. Colorful, chunky jewels hung from the fashionista's neck, as she completed her look with low-rise ripped jeans.
In one of the more tender photos, the casually dressed rapper was seen kissing the soon-to-be mom's forehead while they enjoyed a snowy stroll outdoors.
While they have not yet revealed when the baby is due, RiRi looks to be pretty far along!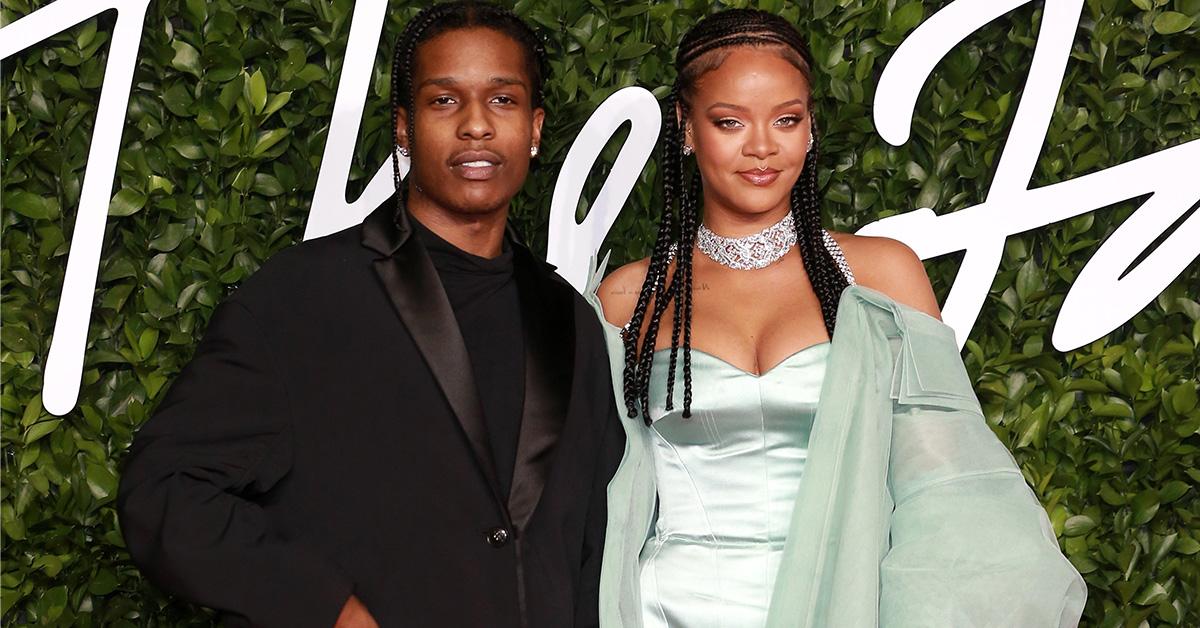 Article continues below advertisement
What's interesting is that fans speculated she was pregnant back in late-November/early-December when she was honored by her native Barbados during its presidential inauguration.
While the Fenty brand founder looked stunning in an orange satin gown that showed off her toned arms, she was seen holding a program in front of her stomach, a move many thought seemed like an attempt to conceal a possible baby bump.
It didn't help that she was also seen holding her hands in front of her stomach while standing on the stage.
Adding more fuel to the fire, Rihanna's close friend, Melissa Forde, then "liked" an Instagram post that read, "Rihanna is reportedly pregnant with her first child with A$AP Rocky."
Melissa later claimed the double-tap was accidental.
Article continues below advertisement
Rihanna herself also addressed the rumor at the time, but looking back, it wasn't an outward denial!
In an exchange via Instagram direct message, a fan named "Jen" wrote to the singer, "Can I come to the baby shower sis!? True or not your babies are going to be beautiful. Sorry everyone's up in your uterus right now."
The musician allegedly responded, "Haaaaa! Stawwwp! You ain't came to the first 10 baby showers! Y'all breed me every year dammit lol."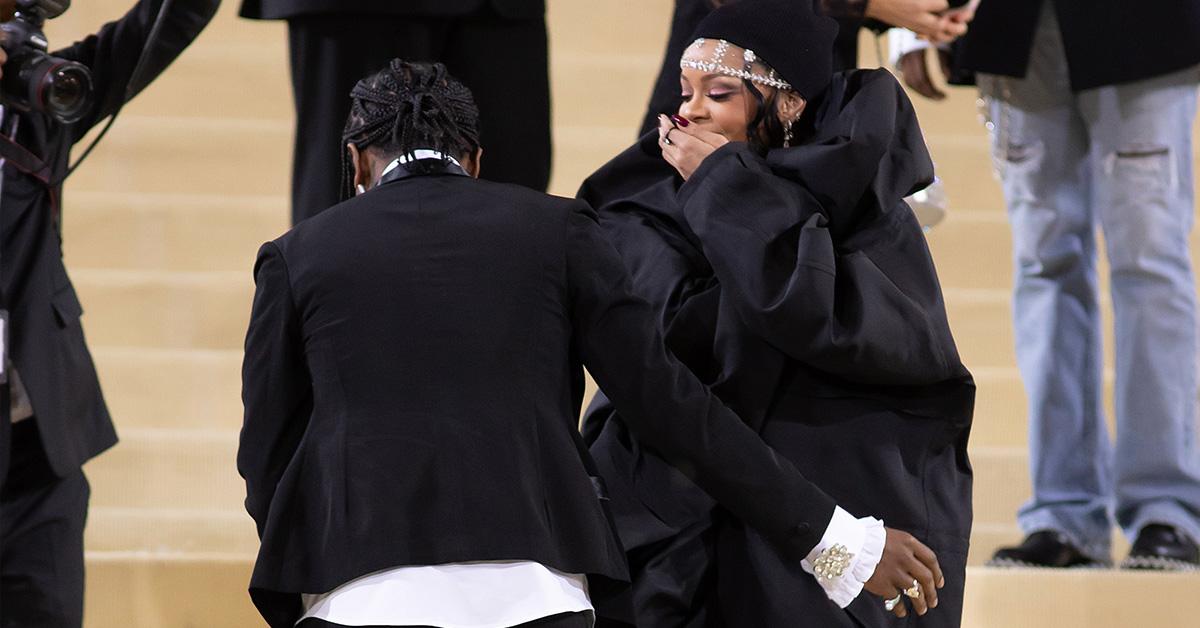 Article continues below advertisement
In recent weeks, Rihanna has been sporting nothing but oversized coats and jackets, which have not only kept her warm in the chilly winter months but have also served to help hide her secret.
The star was even at Sunday night's big Rams vs. Bengals game in a loose-fitting jersey!
Rihanna's relationship with A$AP began after she broke up with her billionaire ex-boyfriend, Hassan Jameel.
In the fall of 2020, the two performers started making appearances together. Soon, A$AP began popping up in Rihanna's Fenty Skin ads. By December of that year, sources said they were officially dating and that things were getting serious.
Article continues below advertisement
Fast-forward to May of 2021, A$AP was head over heels! He gushed to GQ that Rihanna was the "love of my life."
When asked what it felt like to be in a relationship with her, he told the mag, "So much better. So much better when you got 'the One.' She amounts to probably, like, a million of the other ones. I think when you know, you know. She's the One."
He said starting a family was "in my destiny, absolutely," and that he felt he'd "be an incredible, remarkably overall amazing dad. I would have a very fly child. Very."
We don't disagree.
Congratulations to the soon-to-be parents!