Pharrell Williams' Cousin Donovon Lynch Shot, Killed by Police in Virginia Beach Shootings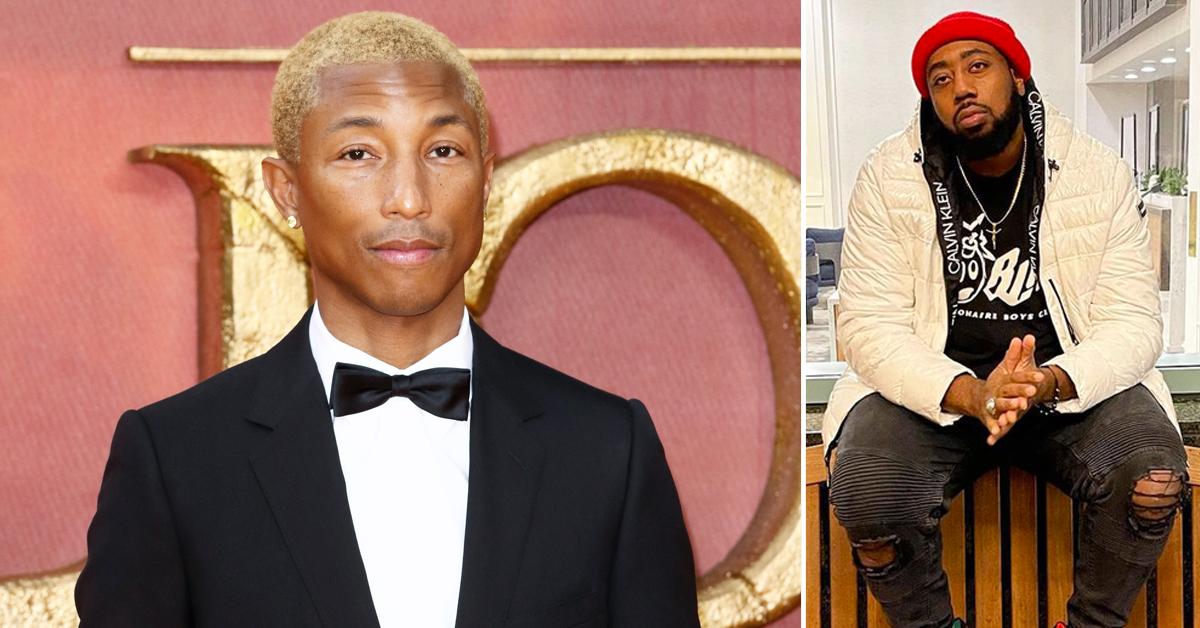 Pharrell Williams is mourning the death of his cousin, Donovon Lynch, who was killed by a police officer in a series of three shootings in Virginia Beach Friday of last week.
Article continues below advertisement
"The loss of these lives is a tragedy beyond measure," wrote Williams – a native of the oceanfront city – in a social media tribute Monday night. "My cousin Donovon was killed during the shootings. He was a bright light and someone who always showed up for others."
Article continues below advertisement
Williams went on to say, "It is critical my family and the other victims' families get the transparency, honesty and justice they deserve. Virginia Beach is the epitome of hope and tenacity and, as a community, we will get through this and come out even stronger."
Article continues below advertisement
Since the events of Friday night, Virginia Beach Police Department – via Police Chief Paul Neudigate – has released a series of press releases pertaining to the incidents.
On Saturday, VBPD said several people were shot in the first incident, which they believe was likely the result of a physical fight or altercation that had broken out, but that there were no fatalities.
Article continues below advertisement
Of Harris, police said she was likely an innocent bystander during the second shooting, which they do not believe was connected to the first. She died at the scene.
Article continues below advertisement
VBPD said Lynch was then killed during a third incident, which they referred to as a "police intervention shooting." The events that led to the shooting are currently under investigation.
Article continues below advertisement
Initially, authorities said it was unclear if Lynch had been armed at the time he was shot, adding that a gun was found near the scene. However, they released an update Monday night claiming Lynch was "brandishing a handgun at the time of the shooting." The most recent press release also states that "an independent witness affirmed that Mr. Lynch had been in possession of a handgun earlier on the evening of March 26, 2021."
According to Neudigate, the officer involved in Lynch's death was wearing a body camera at the time of the shooting but that it was not turned on "for unknown reasons."
Article continues below advertisement
"As much as we would like to be transparent ... I do not have the answers the community is looking for right now," the police chief said at Saturday's press conference, according to People.
At this time, the identity of the officer who shot Lynch has not been made public, nor is it clear whether the officer has been placed on leave. This prompted activists of Black Lives Matter 757 to protest Saturday night, calling for the police officer involved to be held accountable.
Article continues below advertisement
The Virginia Beach chapter of the NAACP is "distressed" over the situation and is also demanding answers and transparency.
Article continues below advertisement
"We are not surprised of the revelation that the body camera of the officer involved in the death of Mr. Lynch was not activated," the organization wrote Sunday in a press release. "Disciplinary actions surrounding an officer misconduct shot not be withheld from the public under the pretext 'it's a personnel issue.' This has been the case in the past. Transparency of police disciplinary is required now."
Hollywood's 15 Darkest True Crime Stories
The organization accused VBPD of failing "on all accounts."
Three men allegedly involved in the first shooting — 22-year-old Ahmon Jahree Adams, 18-year-old Nyquez Tyyon Baker and 20-year-old Devon Maurice Dorsey Jr. — have been arrested and charged with seven counts of felonious assault, use of a firearm in commission of a felony and reckless handling of a firearm. They made their first court appearances Monday via video conference calls, the Associated Press reported.