Exclusive
Check Out Josh Duggar's Arrest Warrant Filed By Prosecutors Hours Before Reality Star Was Taken Into Custody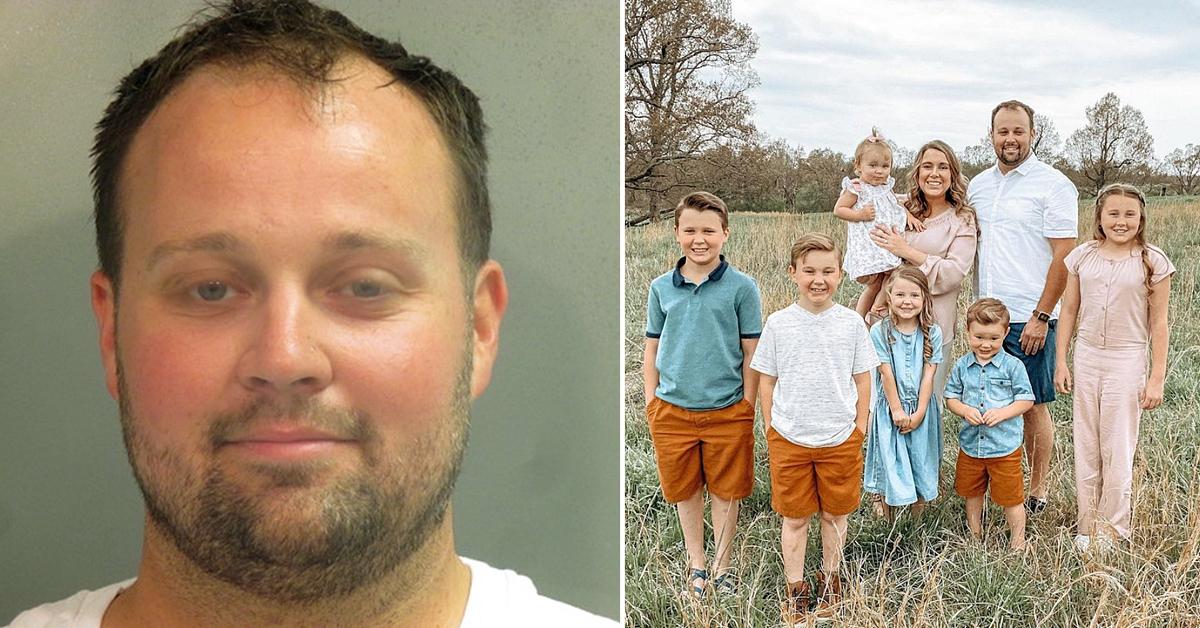 The special agents investigating Josh Duggar wasted no time arresting the reality star after obtaining an arrest warrant from the court.
RadarOnline.com obtained the arrest warrant filed by prosecutors ahead of Duggar being taken into custody on child porn charges. The former 19 Kids And Counting star allegedly viewed material showing children under the age of 12 being sexually abused.
Prosecutors say Duggar was in possession of the material in May 2019. If convicted, he could be sentenced to up to 20 years in prison. In court, the judge said if Duggar is to be released on bond he will have to live in a home without "minors."
Article continues below advertisement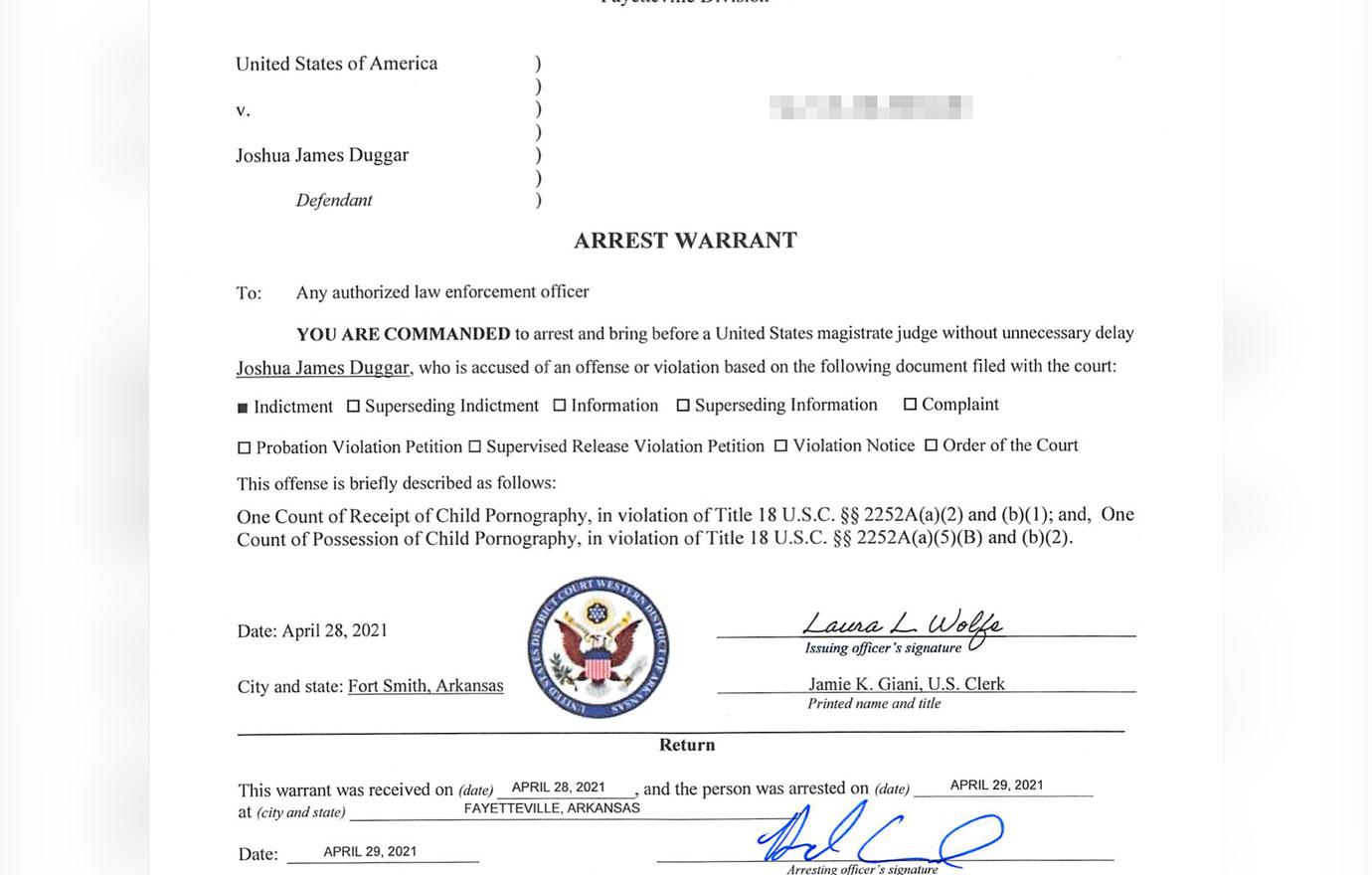 The arrest warrant, filed in the United States District Court for the Western District of Arkansas, was signed off by Homeland Security Investigator special agent Howard Aycock.
The warrant was dated April 28, the day before Duggar was arrested in Fayetteville, Arkansas. The two offenses listed on the document include One Count of Receipt of Child Pornography and One Count of Possession of Child Pornography.
In his indictment, prosecutors accuse Duggar of "knowingly" receiving child pornography. They also want him to turn over all computers he used to store the alleged material if he's convicted.
Article continues below advertisement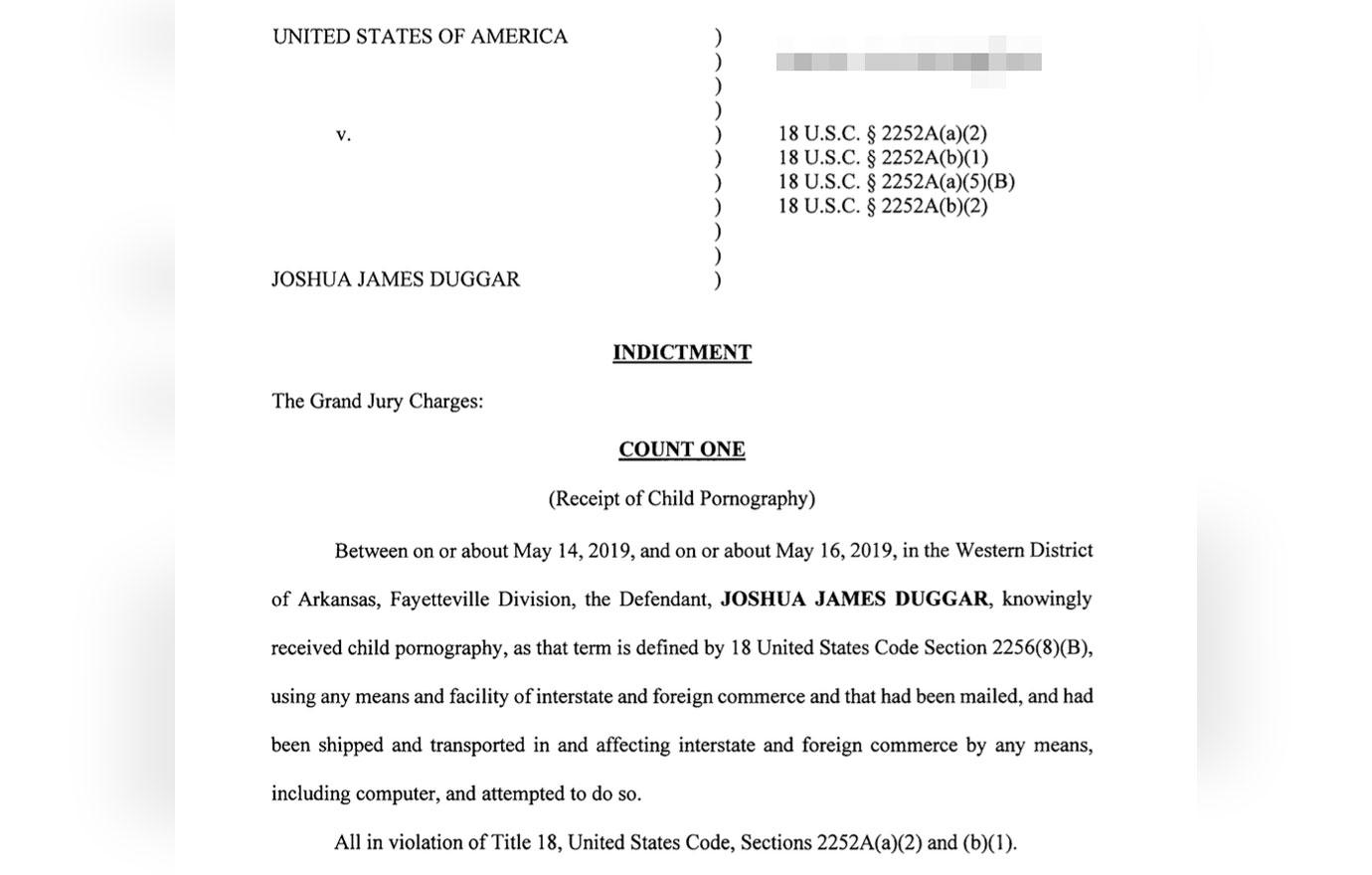 As RadarOnline.com first reported, the former TLC reality star is locked up in an Arkansas jail until May 5.
Last week, 33-year-old Duggar was hit with two federal charges accusing him of receiving and possessing child pornography. He is stuck behind bars until his detention hearing on May 5.
Days before his arrest, Duggar was photographed all smiles with his wife Anna at their gender reveal party. The party guests included Duggar's sisters Jinger, Jessa, Abbie, and Joy. All of the sisters brought along their babies to the party with Duggar present.
Article continues below advertisement
Duggar's cousin, John Studdard, spoke exclusively to RadarOnline.com about the situation. He said, "It's tragic, it's horrible, it's sad,"
"And I feel for his immediate family because I know that from how I feel, not being super close to him, I can't imagine how his mom and dad and his siblings and [his wife] Anna are doing. It's sad. I really hope the best comes out of it for her and her children."