Drake Hangs Out With Real Wolf Of Wall Street Jordan Belfort, Rapper & Convicted Criminal Share A Meal & A Laugh
Drake and the real-life Wolf of Wall Street, Jordan Belfort, wined, dined and laughed it up at a posh Miami restaurant late Wednesday night.
Article continues below advertisement
The 34-year-old rapper and 59-year-old former stockbroker hit up Carbone on Collins Avenue for some classic Italian fare and cocktails, with both celebrities taking to their respective Instagram pages to document the dinner.
"Wolves," Drizzy captioned his post, while Jordan titled his identical photo, "Werewolves in Miami..."
Both guys included the gray wolf emoji.
Article continues below advertisement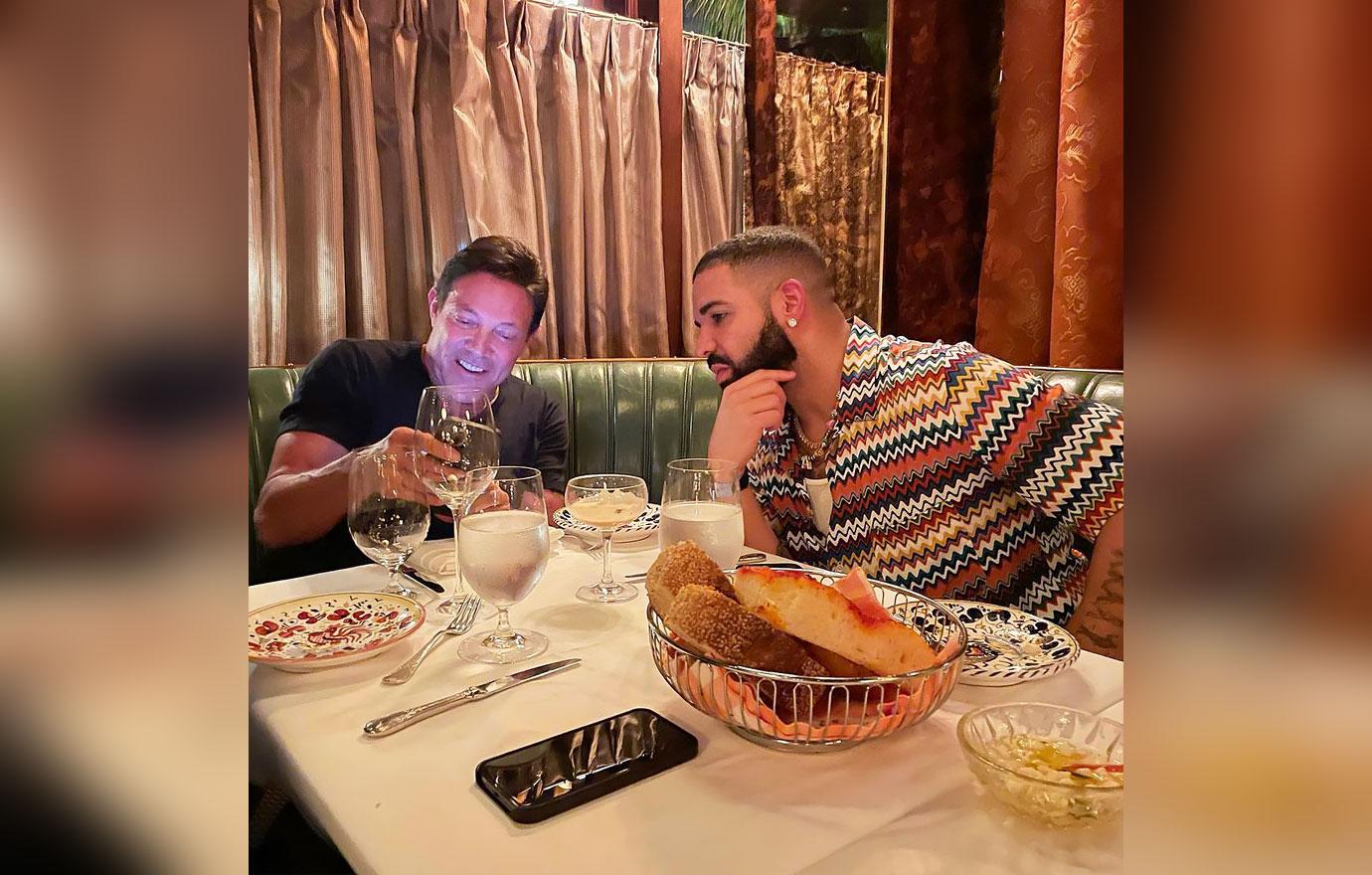 In the shot, Drake was seen in a brightly colored, short-sleeved button-down shirt left slightly unbuttoned so as to display his white undershirt. He paired his chunky gold chain with bright diamond studs.
Pensively, he held his right hand up to his chin and leaned in to see what Jordan was showing him on his phone.
As for the convicted felon, Belfort was seen sporting a simple dark T-shirt as he flashed his pearly whites. Whatever was on the screen of his phone certainly lit up his face – both literally and metaphorically.
Article continues below advertisement
The photo appears to have been taken by someone across from the pair's booth, and it seems to have been taken at the start of the meal.
Though their wine glasses were empty and the bread basket looked untouched, Champagne Papi did have a cocktail close by.
It's unclear who else was dining with them, but it's likely they weren't alone, given that an additional iPhone was seen in the photo, not near either of the two stars.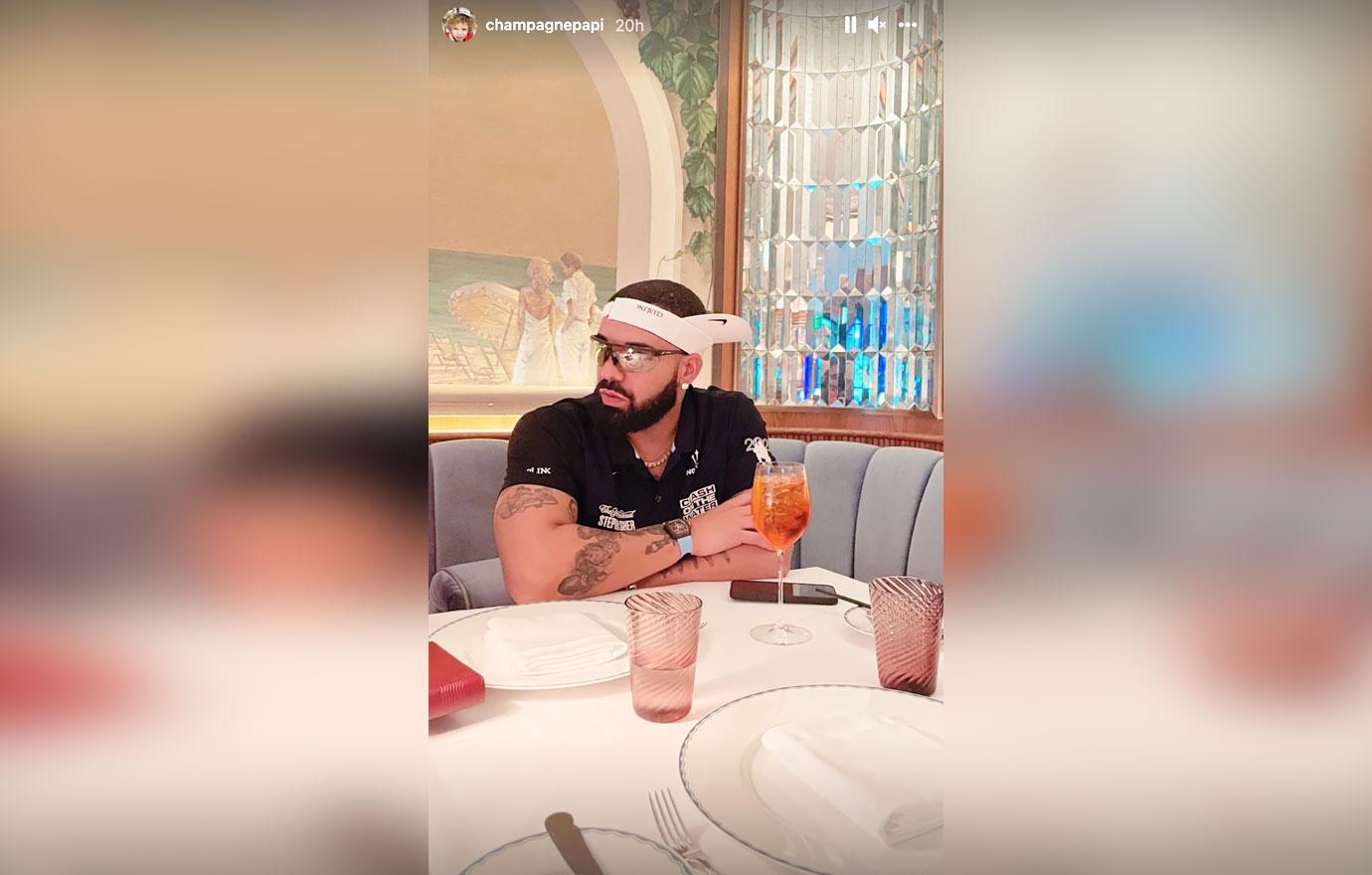 Article continues below advertisement
Belfort and his captivating life were portrayed by Leonardo DiCaprio in the 2013 Oscar-winning movie, The Wolf Of Wall Street.
In 1999, the real-life "wolf" pleaded guilty to fraud and other crimes related to stock-market manipulation and copped to running a boiler room as part of a penny-stock scam.
After ratting out numerous partners and subordinates in his massive fraud scheme, he ended up spending only 22 months in prison.
In 2007, he published his best-selling memoir, which was later adapted into the Martin Scorsese-directed film.
As for Jordan's hot date, Drake is continuing to live his best life since dropping his sixth studio album, Certified Lover Boy, earlier this month.
It would appear the hip-hop star has no issue socializing with felons, given that R. Kelly is sampled on one of the album's tracks.
It is not currently known when the decision to include the accused serial sexual abuser and child trafficker's 1998 track, Half On A Baby, on TSU was made (before or after the R&B singer was indicted), or what kind of profits Kelly and/or his camp will be receiving from the song.
After all, reps for the rapper had no comment when contacted by RadarOnline.com.
Article continues below advertisement
Regardless, fans are disappointed and disgusted by Drizzy's inclusion of Kelly's celebrity in his chart-topping collection of singles, arguing that the rapper could have sampled music from literally anyone else.