Demi Moore Debuts Unrecognizably New Face With Extremely Smooth Complexion And Jarringly Sharp Cheekbones
Demi Moore looked utterly unrecognizable when she stepped out to attend the 2021 Fashion Awards at the Royal Albert Hall in London on Monday.
The 59-year-old actress hit up the posh event wearing an off-the-shoulder, cocktail-length, figure-hugging, gray-to-black gradient beaded gown, complete with black leather gloves and a black tulle cape.
Article continues below advertisement
Her long dark locks were down and straight with a part down the middle, and she kept her accessories simple: rounded black pumps, a small textured clutch and classic dangle earrings.
While her makeup did not stray too far from her typically subdued eye and nude lip, her face sure did call a lot of attention.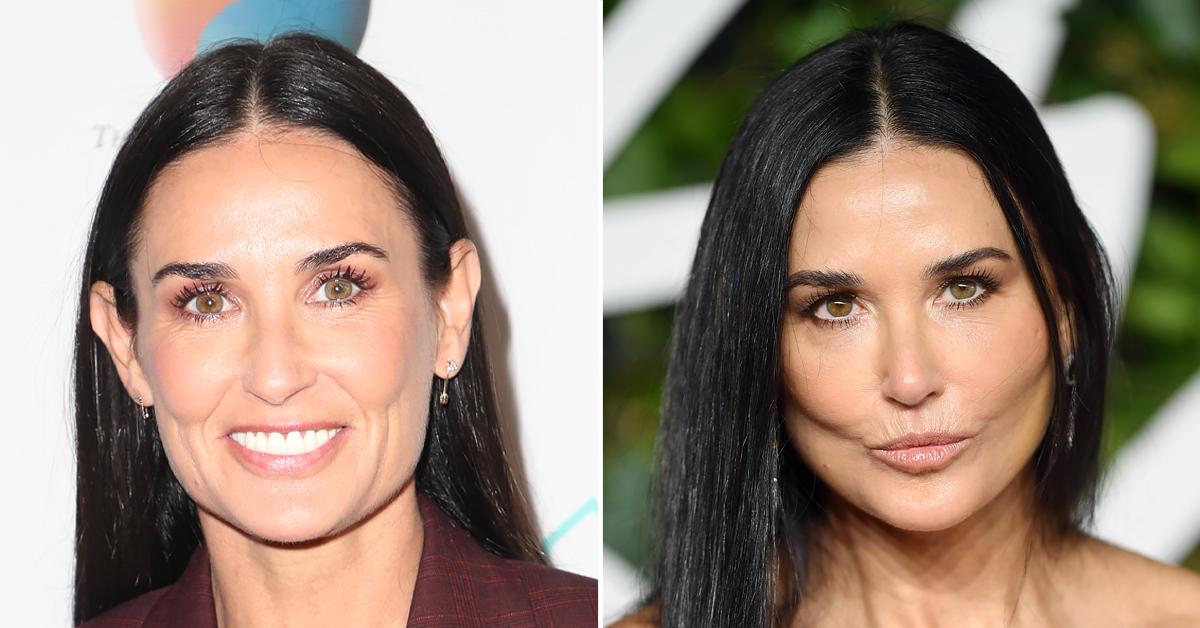 Article continues below advertisement
First and foremost, the entire shape of Demi's face has changed from angular to round. Gone is any trace of a wrinkle, a fine line or even a pore, and gone are the actress' famously pronounced cheekbones.
Moore's skin from the top of her forehead to below her chin and even her neck is tighter than ever, which makes her complexion look extremely and almost unnaturally smooth.
Her cheeks look enhanced, so much so that they've created two jarring lines from her earlobes down to the corners of her mouth. Surprisingly, it doesn't appear that the actress has done much of anything to her lips, which – by comparison to the rest of her face – appear small, thin and relatively normal.
It seems there's a trend among Hollywood's boomers that's leaving even the most stunning actors and actresses looking stiff and puffy.
Article continues below advertisement
As RadarOnline.com reported, Tom Cruise's appearance went viral last month after he showed up to a baseball game in San Francisco looking swollen and completely unlike his usually chiseled self.
Fans barely recognized the 59-year-old Top Gun star and immediately went to social media to point out his noticeably different features. Unanimously, the internet decided the actor's new face was the result of a cosmetic procedure gone wrong.
"Tom Cruise didn't age, he got some awful work done on his face that bloated him like a frog," commented one critic. "This looks like someone wearing Tom Cruise's face," joked another. "I thought Scientology held the cure for everything including aging," trolled a third.
Article continues below advertisement
Then last week, the actor was photographed with a bizarre mark on his cheek while preparing to film a scene fore Mission: Impossible 8.
Seemingly unaware that the paparazzi were nearby, he did nothing to try to hide the scar, which is located underneath his right ear and near his jawline. Many online have speculated that it could be connected to plastic surgery.