Brad Pitt Seen Flirting With Andra Day Amid Nasty Custody Battle With Ex-Wife Angelina Jolie
Article continues below advertisement
In addition to being awarded joint custody of his children earlier this week following a nasty divorce battle with ex-wife Angelina Jolie, the 57-year-old actor has also been making progress in his dating life. He was reportedly seen flirting and exchanging numbers with 36-year-old actress/singer Andra Day at this year's Oscar Awards.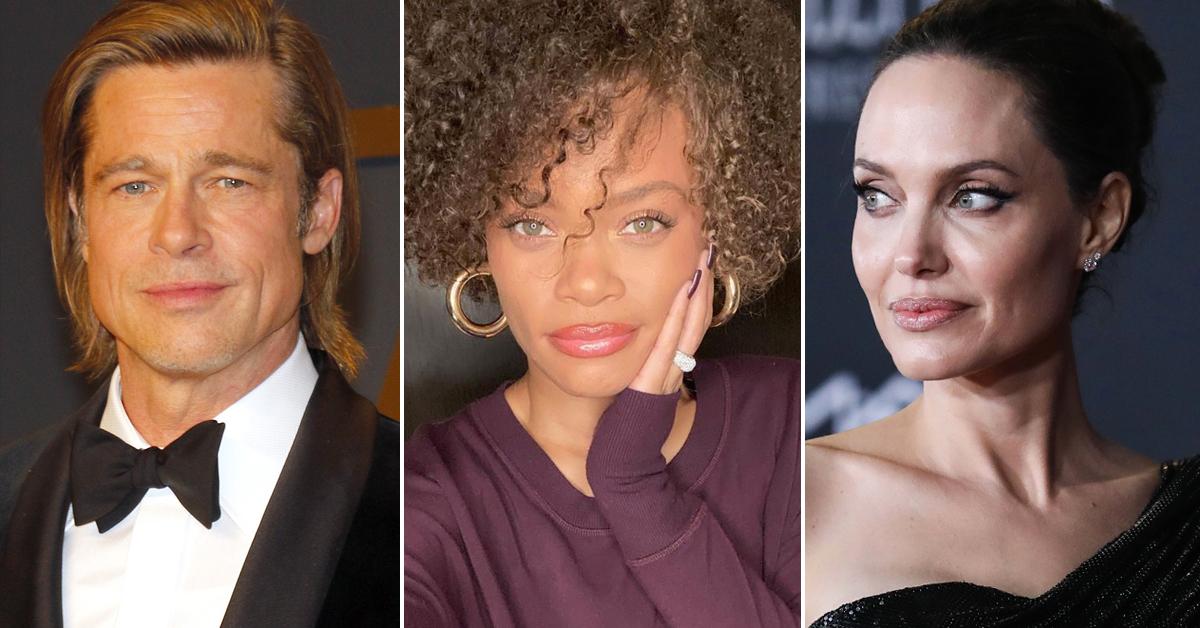 Article continues below advertisement
"Andra has been on Brad's RadarOnline.com for a while," a source told The Mirror. "They were flirting backstage and are believed to have swapped numbers. It could be just professional, but some of Brad's pals have been talking about what a great couple they would make."
Brad was a presenter at this year's show, while Andra was nominated in the category of Best Actress for her portrayal of legendary jazz singer Billie Holiday in the biopic, The United States vs. Billie Holiday.
Article continues below advertisement
As RadarOnline.com previously reported, Pitt and Jolie have been in a bitter custody war for the past five years.
In her original divorce petition, the 45-year-old actress demanded primary custody of their five kids: 17-year-old Pax, 16-year-old Zahara, 14-year-old Shiloh, and 12-year-old twins Knox and Vivienne. The former couple's oldest son, 19-year-old Maddox, is an adult and can make his own decisions.
Meanwhile, Pitt wanted joint physical custody all along.
Article continues below advertisement
Sources said Judge John Ouderkirk – the private judge hired by the ex-couple to preside over their case – made his thoughts on the custody arrangement decision clear in a "lengthy" ruling. After hearing seven months of testimony from therapists, child services professionals and others who have spent extensive time with the kids, the judge reportedly said he felt them being with their father 50 percent of the time was in their best interest.
The ruling was a huge blow for Angelina, who had been doing her best to cut off Brad's time with the children. In a recent filing, she told the court she was ready to offer proof of domestic violence against her ex-husband.
Article continues below advertisement
The document made it clear that she had every intention of bringing up the 2016 incident between Brad and Maddox. The two reportedly got into some sort of physical altercation aboard a private plane. The issue, however, is that Brad has been fully cleared of any wrongdoing by welfare officials who previously investigated the situation.
"It is not over yet," sources tell RadarOnline.com of the custody battle. "Angelina doesn't like to be told 'no,' and plans to keep fighting believing that she is protecting her children. The fear is that in the process she will end up destroying herself."
Article continues below advertisement
"Angelina wants the judge to hear from children themselves. Brad didn't want to put the children, including the 12-year-old twins, through this," adds an insider. "All he wants is to spend more time with the kids and start rebuilding the relationships."
But friends of Pitt's counter: "If there was a smoking gun we would know about it by now. There isn't a judge in America that would give more time to Brad if he was dangerous."
Article continues below advertisement
"She has been given the chance to show the evidence and hasn't been able to because it doesn't exist," the source adds. "Angie is playing a PR game where leaks and innuendo have worked for her in the past. But this was a legal decision based on hard facts. Angelina might not like it, but that is the truth."
Jolie is currently fighting her ex in an appellate court, as she believes the judge made numerous errors while presiding over their case.