'Teen Mom' Leah Messer's Sister Victoria Admits She Got Pregnant After 'Drunk' Fling In Costa Rica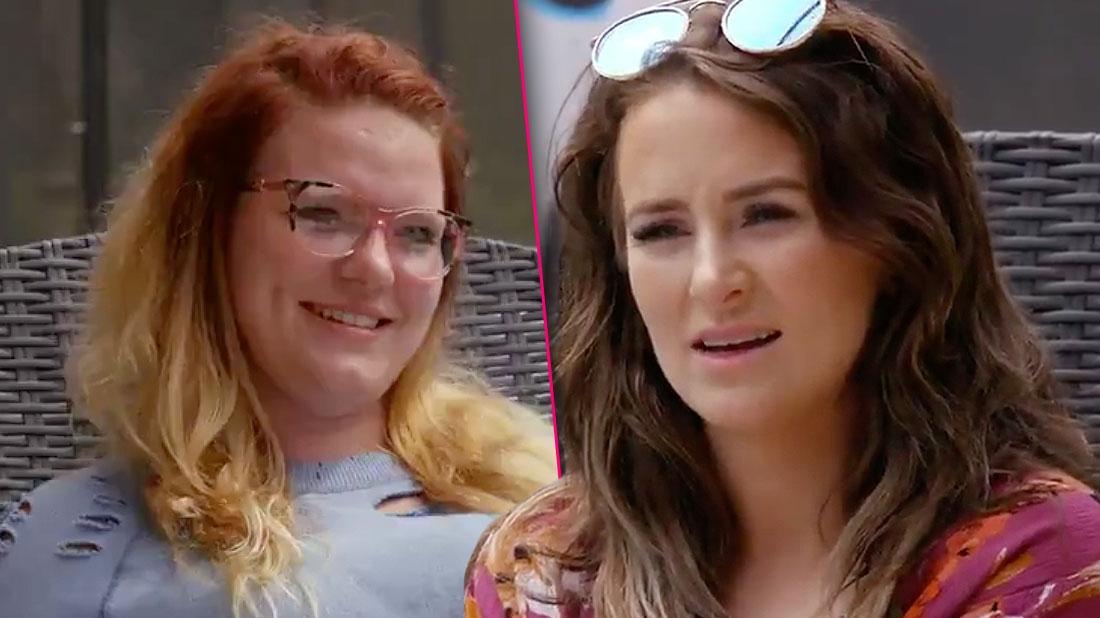 https://twitter.com/TeenMom/status/1179033224665657344
Leah Messer's sister and bestie, Victoria, just revealed a shocking fling led to her being pregnant with her third child!
Victoria dropped the news during a Teen Mom 2 teaser, saying she got knocked up in Costa Rica after having a drunken hookup with a local while on vacation.
Us Weekly was the first to report the pregnancy news.
The sisters were sitting on beach chairs during a family pool party, when they began talking about birth control. Leah, 27, who was on her period at the time, complained about how "expensive as f**k" the Nuva ring is, and asked Victoria if she was on birth control.
Article continues below advertisement
Victoria shook her head no. She then went on to tell her sister that she hooked up with a man in Costa Rica while drunk and used no protection.
She explained that when she got back from vacation, her period was late so she took a pregnancy test to find out she was expecting.
"Oh my god, what are you gonna do?" Leah asked.
"So, we're having a Costa Rican baby!" Victoria said.
"So you used no kind of f***ing protection?" Leah pressed.
Victoria shook her head.
"Are you f***ing crazy?" Leah scolded.
"Have you never been drunk and had sex?" Victoria asked.
Leah told her sister that she could have gotten "something else."
Victoria nodded in agreement, but admitted she is fine now, and dealing with the consequences of her hookup.
"He is involved," she said of her baby daddy. "We talk every day."
"But your divorce isn't even final," Leah pointed out.
Article continues below advertisement
"Yes, but me and Domenick had problems way before this. Like our divorce just wasn't final," Victoria said. "I'm not condoning that it was okay, but the situation did happen. This is where I'm at today."
She added that she doesn't want to just "sit and be depressed about it," as that wouldn't be "healthy" for the baby or for her other children.
RadarOnline.com broke the news that Victoria filed for divorce from Domenick Crapello this August.
Though at the time she hadn't revealed the pregnancy news because she didn't want it to interfere with their custody proceedings, the divorce is now finalized.
Victoria and Domenick share daughter Cerenity. Domenick also has another daughter from a previous relationship, and Victoria has daughter Cami from her first marriage to Brian Jones.
"You're a grown a** adult," Leah told her sister after her baby reveal. "From here on out you have to make better decisions."
Article continues below advertisement
After the release of the clip, Victoria took to Instagram to introduce her new man, Royer, and further explain her situation.
"Could I have been more careful? Of course, but that was not the situation and the dad is not just a random guy," she captioned a photo of her kissing her new baby daddy.
"Costa Rica and meeting @royer.cr changed my whole life in ways many may or may not understand, but that is okay because you don't have to."
Victoria did not clarify whether she's in a full relationship with Royer, but admitted she's content with how things turned out.
"Im thankful for the things that happened, i learned the importance of diversity, the true meaning of love, and of course we have a blessing on the way. That all being said, you can either continue to judge me, or you can support me, either way, I'm okay," she wrote.
As RadarOnline.com readers know, Victoria's third child will have as cousins Leah's three daughters, Addie, Ali, and Aleeah Grace.
Readers know the star shares her youngest child with ex-husband #2 Jeremy Calvert, while she shares her other two kids with first ex-husband Corey Simms.