'RHONY' War! Jill Zarin Claims Ramona Singer's Ex Mario Pushed Her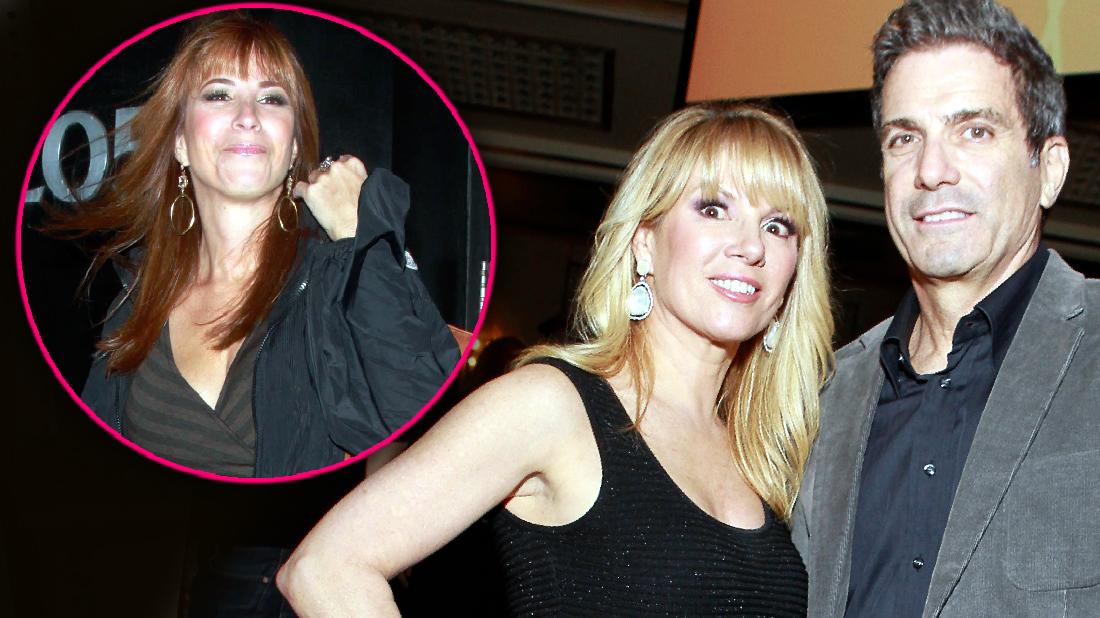 Jill Zarin is no longer on The Real Housewives of New York – but she's still apparently seething over her former co-star Ramona Singer's ex-husband Mario's alleged behavior.
While appearing on the Thursday, October 3, episode of Jeff Lewis Live, Jill recalled an argument she and Mario got into back in June 2011.
She claimed that Mario viciously pushed her, but a rep for the Singers has denied the incident ever happened.
Article continues below advertisement
Things allegedly got tense during RHONY's fourth season, when Mario was upset with the way Jill had been discussing Ramona, 62, in the press. So when the two ended up together at a party in the Hamptons, he allegedly confronted her.
"Mario comes over to me and he puts his hands on me and he pushes me and goes, 'I don't like the way you talk about Ramona,' " Jill claimed on the Jeff Lewis Show.
Jill, 62, alleged to Lewis about Mario, "I thought about calling the police. He literally put his hands on me and pushed me!"
She added, "I think he had a very bad temper, I've seen it!"
"He came over to me in an aggressive way. He probably had something to drink."
Jill said her husband Bobby came to her aid: "I assume he said something 'cause Mario left me alone after that."
It's not the first time Jill has made accusations against Mario.
In 2013, as RadarOnline.com reported, Jill had contended to In Touch that Ramona's ex-husband had made sexual advances toward her and things got so uncomfortable, she had to enlist her husband Bobby "to tell Mario to leave me alone."
Article continues below advertisement
Jill alleged, "When we were taping the show, Mario hit on me … Mario flirted with me as I saw him flirt with many other girls.
"He was always looking around — people would talk about it, but nobody would ever say anything because they didn't want to hurt Ramona … they felt bad for her."
Jill's own spouse Bobby died in January 2018 at age 71 after a long battle with thyroid cancer.
Devoted Jill held vigil at Bobby's bedside during his final days.
But she's not fond of Ramona's ex-spouse!
Ramona's marriage ended in 2015 after she learned Mario, now 64, had allegedly cheated on her with pretty personal trainer Kasey Dexter.
During their split, authorities were allegedly summoned to the Singers' Southampton home to quell a domestic dispute between them, according to the New York Post.
No charges were pressed in the incident, the Post reported at the time.
Article continues below advertisement
Now, Jill is claiming that Mario manhandled her.
But Jill stressed to Lewis that she didn't know whether Mario had been abusive with Ramona while they were married.
"I don't know if he's ever did anything with Ramona, but I know he was definitely verbally abusive," Jill alleged.
But a rep for the Singers told PEOPLE, "This is ridiculous. Mario was not abusive."
"He and Ramona have a great relationship right now. And Jill and Ramona are friends now," the rep continues. "Anything that happened was all in the past."
Jill and Ramona and their daughters recently spent Labor Day weekend together.