Vicki Tells Kelly 'I Surrender' Amid Feud, During Teary 'RHOC' Meltdown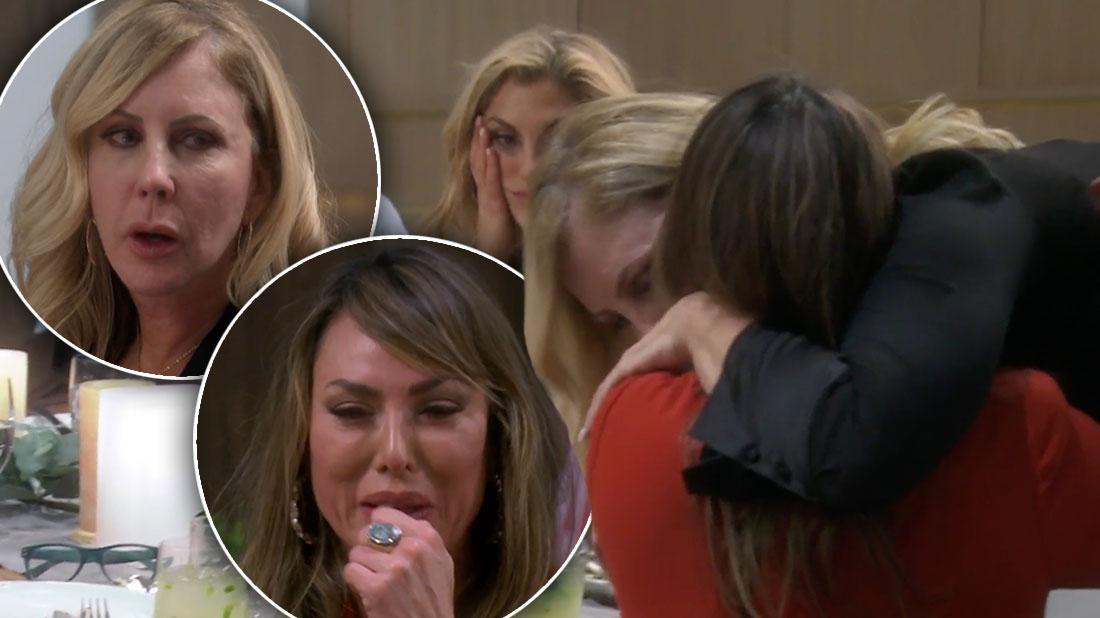 The feud between Vicki Gunvalson and Kelly Dodd turns emotional on the latest episode of The Real Housewives of Orange County.
During a group dinner, Dodd tells the ladies that after a dramatic Las Vegas trip, she spray painted a pig ("Vicki's face") on an abandoned car and crushed it.
A clip shows the vehicle being flattened by a huge construction crane.
"I put her face on the car and I crushed it," Dodd, 44, admits.
Article continues below advertisement
"So you like, destroyed Vicki's face," Tamra Judge says.
"I'm ugly, it's ok," Gunvalson, 57, says.
"I never said you were ugly," Dodd responds.
"You said I have a bad facelift," Gunvalson says.
"I don't think that. I don't think that about you. I think you're pretty!" Dodd says.
"I think you're pretty too," Gunvalson responds, getting emotional.
"Are you getting upset? Don't cry," Emily Simpson pleads.
"Vicki, I've never hurt you, I've always been on your side," Dodd says through tears. "It's so disheartening for me to sit here and look at you. You don't know what you've done to me and I've never done anything to you."
Dodd then explains that she only called Gunvalson "a pig" because "Slade did and I know that hurts your feelings but I don't think that."
"You guys love each other," Gina Kirschenheiter says.
"I've always been friends with you!" Dodd tells Gunvalson, crying uncontrollably. "It's really, really hard for me to look at you."
"I know," Gunvalson says while walking over to hug Dodd.
"You and I have a lot of history together," Gunvalson tells her. "I surrender."
The RHOC ladies watch in awe as the frenemies continue crying and hugging.
"I'm sorry for hurting you," Gunvalson tells Dodd.
"I just want this to stop," Dodd says.
"I want this to stop too," Gunvalson admits.
"Can you just please stop?" Dodd asks.
"I will, I will. I promise you," Gunvalson says.
"Hearing Kelly's pain, it makes me feel bad," Gunvalson says in confessional. "I care for Kelly, the fact that we locked eyes for the first time in a long, long, long, long time shows how much we really do care for each other."