Body Shaming? Emily Accuses Tamra Of Bullying: You Called Me Shrek!
Tamra Judge and Emily Simpson were not seeing eye-to-eye on the latest episode of The Real Housewives of Orange County.
In a shocking clip from Season 14, Episode 8 of the Bravo show, Tamra and Shannon Beador slam Emily for not inviting the ladies to her burlesque show in Las Vegas.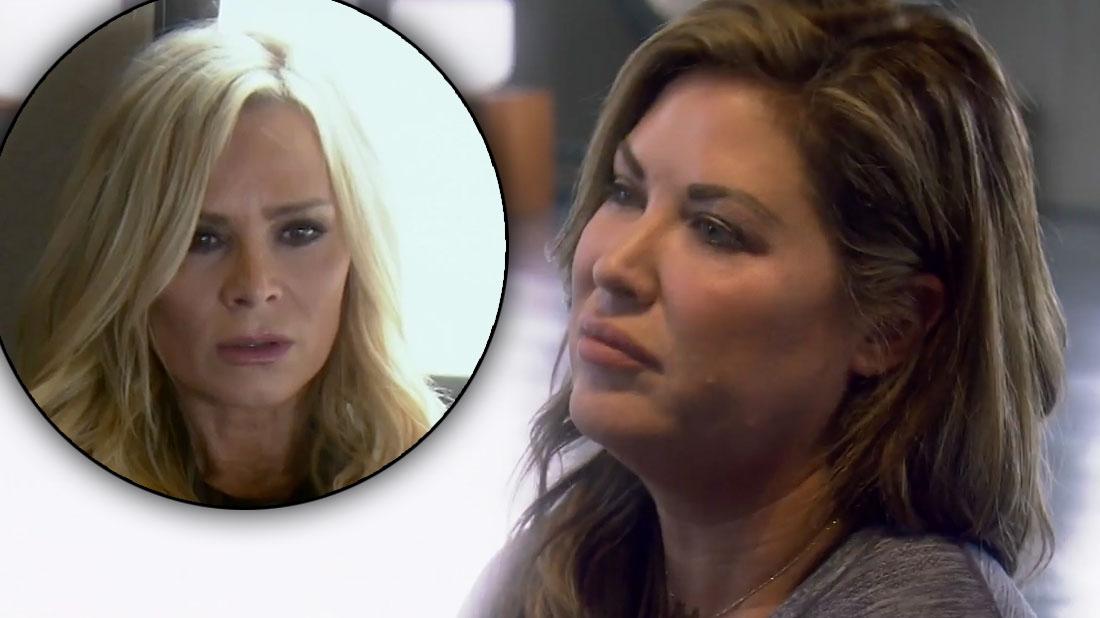 As RadarOnline.com readers know, Emily went to Nevada to put on the sexy show for her husband, Shane, in celebration of their 10th wedding anniversary. In the end, however, Shane did not attend, and neither did the RHOC women.
Article continues below advertisement
"So why didn't you invite us?" asks a visibly-upset Tamra.
"Because I didn't think that you would wanna go," admits Emily.
"Why? I don't understand," continues Tamra.
"It was going back and forth like I didn't know if it was like Shane was going, if it was a girls' trip, I didn't really understand what was going on," says Emily.
"And honestly, if you didn't want us to go, like whatever," interrupts Tamra.
At that point, Shannon defended Tamra, and begins questioning Emily about her decision.
"I just wanted to go with people that I felt like were going to be supportive and be kind to me," admits Emily.
"Because we're so mean," says Tamra, rolling her eyes.
Kelly Dodd then steps in to defend Emily, telling Tamra that she's previously blocked Emily from social media and called her Shrek.
"I mean you make fun of me," Emily tells Tamra.
Article continues below advertisement
"I've never called you Shrek and I don't make fun of you," replies Tamra.
During confessional, Emily says she got a message on Instagram from a fan who asked her if she knew Tamra referred to her as Shrek.
In a scene from two weeks prior, Tamra is heard telling a friend about Emily. "She gets pissed. Like she becomes like a frickin' animal. She becomes like Shrek. She's like an ogre," she says in the throwback clip.
"When you attack someone's physical appearance, to me, that's just as low as you can get," says Emily in confessional.
"I feel like you don't like me. I feel like you're not interested in getting to know me. I feel like you always have something against me," Emily tells Tamra during their confrontation.
"She just feels like you guys don't put forth the effort," adds Kelly.
"And nor does she!" says Tamra.
Article continues below advertisement
"What do you want me to do?" asks Emily. "I mean every time I feel like I've tried to reach out to you and tried to move forward, I feel like I get shut down."
"I can't help you or talk to you or get closer to you if you don't open up," says Tamra.
"I understand that, you're right," says Emily.
"You're very closed off. I'm like I don't even know where to begin," says Tamra.
"I'm about as real as it gets, and I feel like she's always putting on this persona that she's somebody she's not. It's hard for me to understand someone like that," she adds during confessional.
"I would like, very much, to feel closer to both of you," says Emily to Tamra and Shannon. "I really would."
"Well then I think that you need to not be defensive," says Tamra.
"You know what? Then, I believe what you're saying, I apologize, and we'll move forward," offers Emily.
"Alright, that's all that we can do," says Tamra, putting an end to the argument.
RHOC airs Tuesdays at 9/8C on Bravo.