Cheater! Jen Posts Photos Of Ronnie Getting Cozy With Other Woman After Nasty Split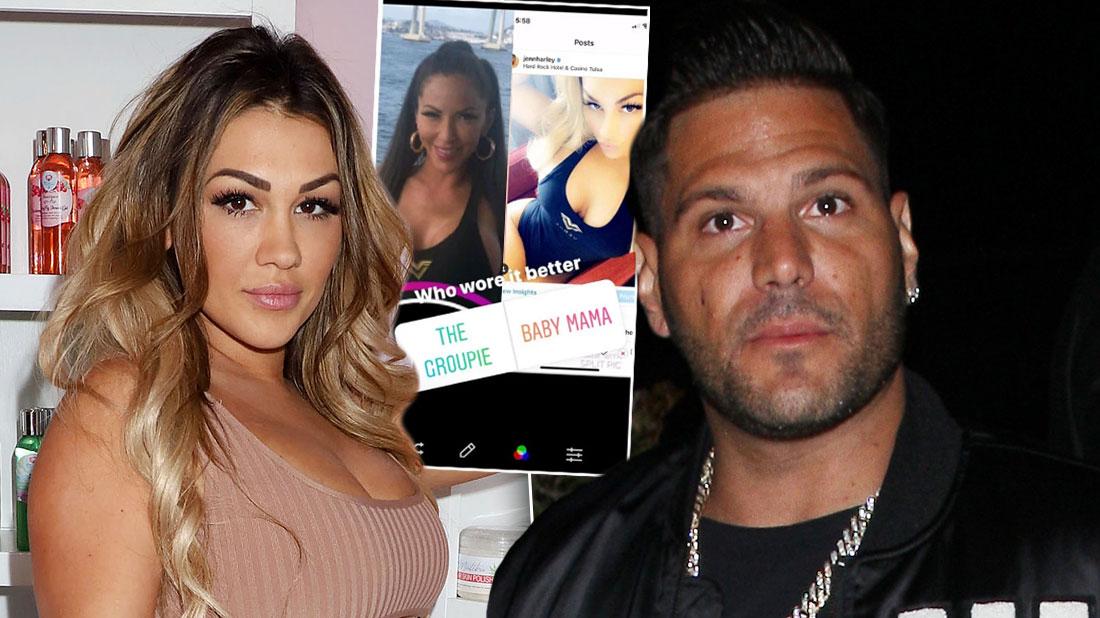 Ronnie Ortiz-Magro and Jen Harley are done for good.
This Thursday, September 5, Harley, 31, slammed her baby daddy in a series of nasty Instagram Stories, accusing him of cheating.
One shot showed the Jersey Shore star, 33, on a boat with another woman.
"Is this love?? Or is this a mistake?" Harley wrote.
The mystery woman had her arm wrapped around Ortiz-Magro — who RadarOnline.com readers know has been spotted partying with friends since his stint in rehab.
Article continues below advertisement
"This is Ron this weekend with another girl again," Harley wrote.
While Ortiz-Magro has not commented on Harley's cheating allegations, a source told Us Weekly that the woman is just his friend, and "Ronnie did not cheat."
Also on her Instagram Stories, Harley shared snaps of Ortiz-Magro swimming in a bathtub with a woman, and another photo of him cuddling up to a different woman on a couch, while filming Jersey Shore: Family Vacation.
She even posted a side-by-side photo of her and Ortiz-Magro's alleged lover — whom she says is named Robin — and her, wearing the same black swimsuit.
"Who wore it better," she captioned a poll with the options "the groupie" and "baby mama."
RadarOnline.com readers know Ortiz-Magro and Harley have had a very rocky romance from the start. When the reality star returned to filming, he struggled with substance abuse and with staying faithful to his girlfriend — who, at the time, was pregnant with their daughter, Ariana Sky.
MORE ON:
Ronnie Ortiz-Magro
Article continues below advertisement
The baby girl is now 17 months old, and her parents' relationship has only gone downhill.
On New Years Eve, the stars got into a vicious fight that resulted in Harley throwing an ashtray at him and being arrested for battery. The charges were dismissed, but their bond certainly did not improve.
Though Ortiz-Magro told reporters he and Harley were doing well this July, and even attended the MTV Video Music Awards with her this August, it seems the happiness didn't last.
The source told Us Weekly that the girl Ortiz-Magro was seen cuddling up to this week "is a friend of his and that was from a boat party on Monday with a bunch of people."
"She was there for him because they broke up middle of last week and she was being that friend consoling him. He was really upset," the insider continued, adding that despite Harley's claims, the woman is not married.
Apart from accusing Ortiz-Magro of cheating, Harley also posted a message about how he and the cast "abused and bullied" her throughout the season, often shamming her on camera only to apologize later.
The Jersey Shore: Family Vacation cast has not responded to her claims.