Inside Felicity Huffman's Cushy Federal Prison: 'Club Fed' Is More Like A Luxury Retreat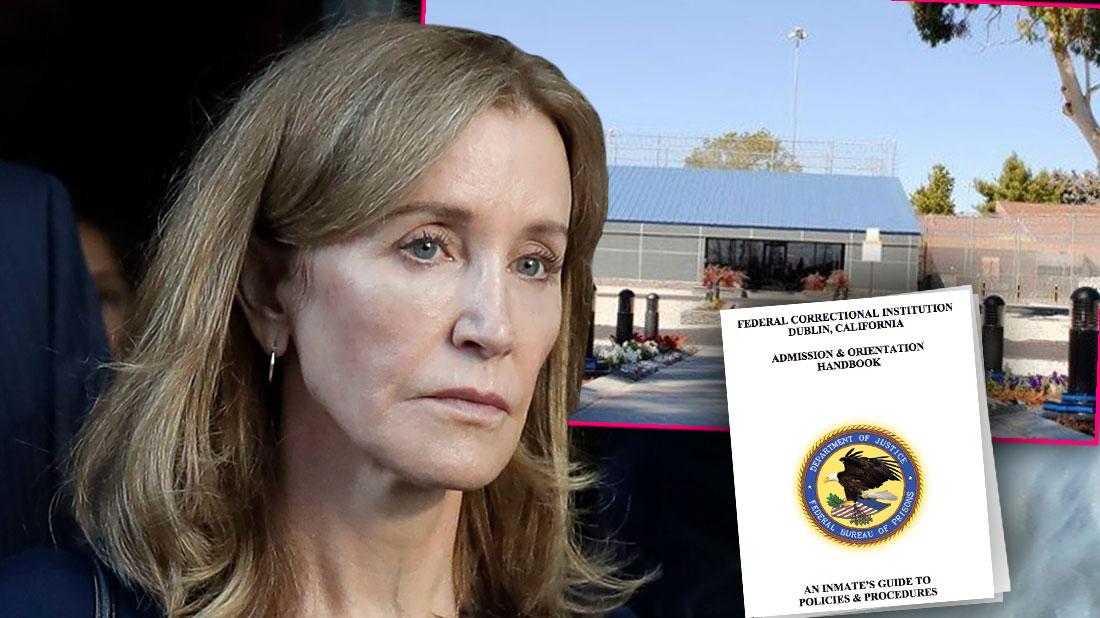 She's definitely not going to be roughing it like most felons!
The Federal Correctional Institution, Dublin (FCI Dublin), where convicted felon Felicity Huffman asked to serve her 14-day prison sentence, is so cushy it's dubbed amongst the locals as "Chateau Dublin," according to a source.
"The community came up with it because it's more like a luxury retreat than a prison. Also, they came up with a moniker so they didn't have to refer to it as a prison," the insider told RadarOnline.com exclusively.
Article continues below advertisement
It was even referred to as "Club Fed" in 1998 and in 2009 Forbes named it one of America's "10 Cushiest Prisons."
Huffman's attorney Martin Murphy asked Judge Indira Talwani to make the recommendation for Huffman to spend her sentence in FCI Dublin.
"It's the closest to Ms. Huffman's residence," Murphy said in court. The final decision will be made by the Bureau of Prisons.
It's located in the tony San Francisco suburb of Dublin, CA and surrounded by million-dollar homes.
The all-women's low-security prison not only has one of California's most expensive zip codes but also "cool ocean breezes, floor to ceiling windows without bars, private rooms with televisions and computers, and acres of gardens."
"There's a grand gated entrance with understated security and hidden cameras replace barbed wired fences," the source explained about the prison where Huffman asked to be assigned.
Article continues below advertisement
"Past the gates you'll find high-tech private bungalows for the inmates with the most advanced technology such as solar panels and motorized shutters."
With only 14-days to serve after she pleaded guilty in the college admission scandal, Huffman would hardly have her freedom truly taken away.
"Prisoners are free to roam the grounds and saunter into the lobby which includes a library stocked with classics and a grand piano," the source said.
"Inmates would be free to work off site at one of the many area cultural centers such as the Dublin Heritage Park and Museums, a 10-acre park with historic buildings, and lawns. Some have even enrolled in local area college classes.
"Those who are worried about Felicity should be rest assured that doing time at Chateau Dublin is as easy as the breeze that wafts through the open windows," the insider told Radar.
Article continues below advertisement
Patty Hearst and Heidi Fleiss have also served time at the all-women's prison.
Other A-list amenities include art classes, crochet and knitting, and horticulture.
Even more over-the-top, source says inmates have been permitted to bring their own luxury bedding and linens.
"If prisoners don't like the items for sale on the prison's commissary list, they can order what they want," an insider told Radar.
"The inmates have a ton of freedom."
The source adds that "cashmere ponchos, Lulu Lemon joggers, and resort wear" have even been allowed: "Inmates have definitely been seen not wearing the typical prisoner uniform. They have been permitted to bring their own relaxing attire."
"Some have even received gifts of expensive apparel from a designer boutique in town. And it doesn't seem that those items are actually on the official prison shopping list.
"Friends and family can also bring personal effects to inmates from luxury linens to the best face cream, if they choose."
And if Huffman is there for her sentence, she will certainly not starve. According to the Dublin handbook:
"On weekdays, a continental breakfast and two (2) full meals are served: lunch and dinner consisting of mainline or heart healthy alternative choice and no flesh. Every effort is put forth to make inmates' visits to the dining room a pleasant experience. On Saturdays, Sundays and Federal holidays, there is a breakfast at 6:30 a.m. This is followed by a full brunch at midmorning and a full dinner after the 4:00 p.m."