Justice Served! Felicity Huffman Sentenced To 14 Days In Prison For Role In College Admissions Scandal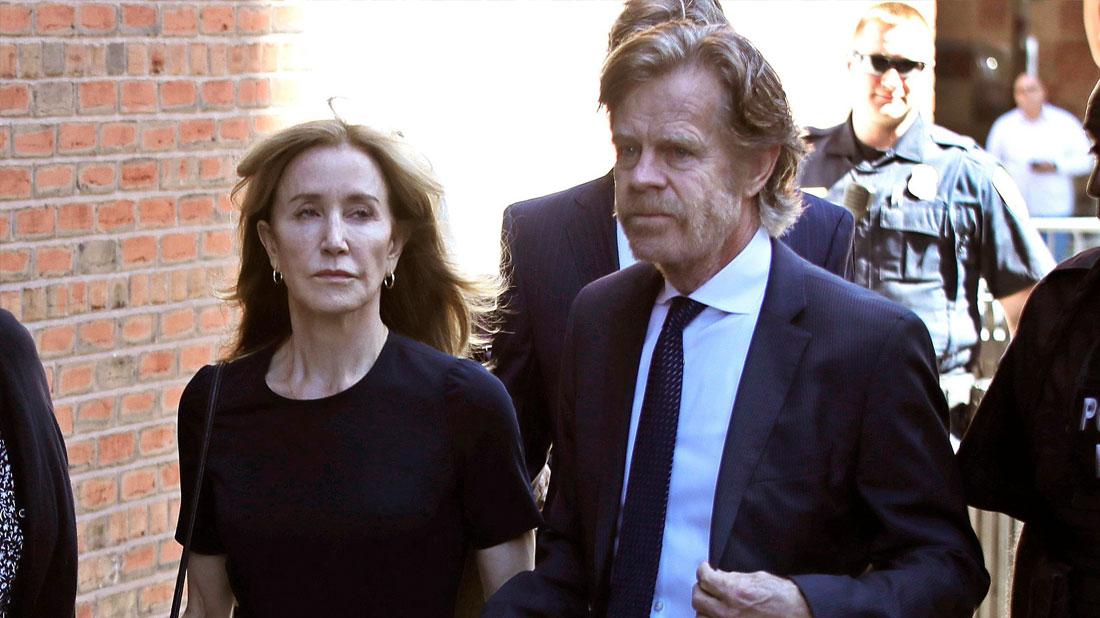 Shamed actress Felicity Huffman was sentenced to 14 days in prison, a $30,000 fine and 250 hours of community service for her admitted role in the college admissions cheating scandal, RadarOnline.com can confirm.
She must report to a Bureau of Prisons facility by October 25.
Before determining her sentencing during the September 13 hearing in Boston court, the judge asked Huffman, 56, if she was able to view materials related to sentencing, according to Adam Bagni, Journalist at WCVB in Boston, who was live tweeting inside the court room.
Article continues below advertisement
She briefly stood and said "Yes, your honor," as her husband William H. Macy sat solemnly in the front row to show his support for his actress wife.
While her lawyers suggested one year of probation, prosecutors said: "the defendant must go to jail for one month. There is simply no excuse for what she did."
The prosecutor was stern on Huffman, according to Bagni. "With all due respect, welcome to parenthood. Most parents have the moral compass and integrity NOT to step over the line. The defendant did not."
"From the very beginning, she knew it was wrong. She lied, she called the college board, she then paid Singer's charity $15,000," added the prosecutor. "She was happy with the results, she planned to do it all over again."
Once the prosecutors ended their argument, the defense began, asking for probation, 250 hours of community service and $20,000 fine. "A sentence of probation is real punishment," said the defense.
Article continues below advertisement
"Actors who achieve success at the highest levels sometimes because rich and famous...I would never suggest that Ms. Huffman be treated differently. She should not be treated more harshly because she has fame and money," continued the defense. "The overwhelming evidence shows (similar) defendants are not sent to prison."
Huffman then spoke, apologizing to parents, colleges and daughters. "Let me first say, I am sorry to you. I have betrayed them all."
Crying, Huffman told a story of driving to the testing center, according to Bagni's live tweets. "I thought to myself, turn around, and to my eternal shame I didn't."
"I take full responsibility for my actions," Huffman told the judge. "I am prepared to accept whatever sentence you deem fit."
In response, the judge said: "I need to determine what I need to do to protect the community from this defendant. I don't think there is any dispute here...that she had near immediate acceptance of responsibility once she was arrested. But she added: "Trying to be a good mother, does not excuse this."
Article continues below advertisement
As RadarOnline.com readers know, Huffman appeared in Boston court on Monday, May 13 and pleaded guilty to one count of conspiracy to commit mail fraud and honest services mail fraud.
U.S. Attorney Andrew E. Lelling previously stated that the former Desperate Housewives star had planned to enter the guilty plea as a result of a plea agreement. RadarOnline.com previously learned that according to the terms of the plea deal, the government would recommend a sentence at the low end of the guidelines selecting range.
Last week in court, RadarOnline.com learned Huffman, 56, faced up to 20 years in prison for the crime, and $250,000 in fines.
The filing made in the United States District Court of Massachusetts on September 6 explained why Huffman should be sentenced to time behind bars for the crime for which she pleaded guilty.
The prosecutors ripped into Huffman during a hearing last week for the brazen arrogance of the crime.
Article continues below advertisement
"She could buy her daughter every conceivable legitimate advantage, introduce her to any number of useful personal connections, and give her a profound leg up on the competition simply because she would be applying to college as the daughter of a movie star. But Huffman opted instead to use her daughter's legitimate learning differences in service of a fraud on the system, one that Huffman knew, by definition, would harm some other student who would be denied admission because Huffman's daughter was admitted in his or her place, under false pretenses," the sentencing recommendation stated.
Huffman admitted to paying Rick Singer $15,000 to alter her daughter's SAT scores in order to cheat her way into college.
She also plotted to do the same with her younger daughter, according to court records.
"In doing so, Huffman not only fueled skepticism over such diagnoses, potentially making it more difficult for students with legitimate disabilities to obtain the accommodations they need, but also undermined confidence in the college admissions process generally."
Actress Lori Loughlin was also charged in the case but pleaded not guilty, vowing to fight the charges that she and her husband spent $150,000 to cheat and gain admission to the University of Southern California for their daughters.
Huffman and Macy share two daughters, Sofia Grace and Georgia Grace.
The scandal has affected Huffman's career in addition to her reputation. RadarOnline.com previously reported that Huffman's Desperate Housewives co-stars Eva Longoria and Marcia Cross would lose millions in royalties due to the college scam.