'So Grateful!' Heather Locklear Claims She's Sober After Checking Back Into Rehab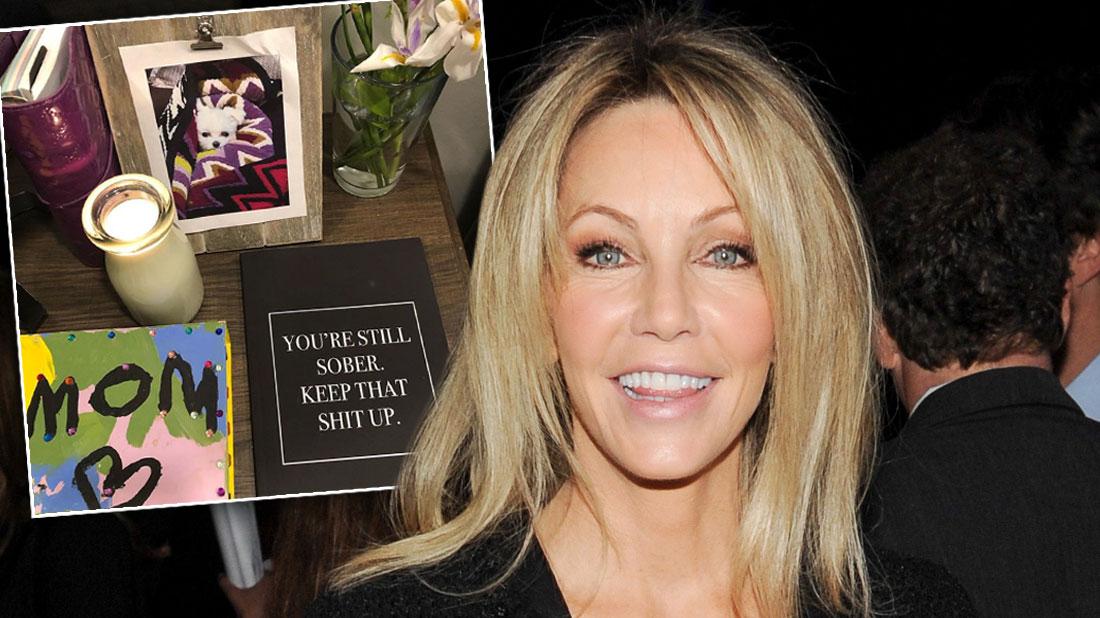 Heather Locklear is celebrating her sobriety, hours after RadarOnline.com broke the news that the wild star checked herself back into treatment.
This Tuesday, August 20, the Melrose Place actress shared an Instagram post which sparked curiosity amongst her fans. In the photo was a black notebook which read "You're still sober keep that s**t up," along with a painting that read "Mom" and a photo of a puppy.
Article continues below advertisement
"So grateful," wrote Locklear, 57, in the caption.
Soon, friends and fans began expressing their joy over the star's sober status. Amongst them were Lisa Rinna and Brittany Furlan.
RadarOnline.com readers know Locklear has struggled with substance abuse for quite some time, and this year, began raising concern with her bizarre behavior.
After a drunken fight with her boyfriend — during which she allegedly attacked a police officer — in June 2018 landed her in jail, Locklear entered a rehab center this May. One month later, she was spotted looking healthy on a lunch date with friends in Los Angeles.
It's unclear when Locklear checked out of the treatment center, but RadarOnline.com learned she was forced to check back in to avoid jail time in her explosive battery case.
Last week, she pleaded no contest to eight misdemeanor charges of battery and resisting officers. As a result, she was ordered to spend 30 days in a residential treatment program to avoid jail.
After her August 16 court hearing, the star returned home, and was given until September 6 to enroll in the treatment facility.
As she continues to battle her substance abuse issues, Locklear will also will be placed on an informal probation for three years. Under the terms of her sentence, Locklear cannot consume alcohol, take non-prescription medication, or possess dangerous or deadly weapons, Senior Deputy District Attorney Thomas Dunlevy told RadarOnline.com exclusively last week.