'Fox & Friends' Stars' Behind-The-Scenes Secrets & Scandal Exposed!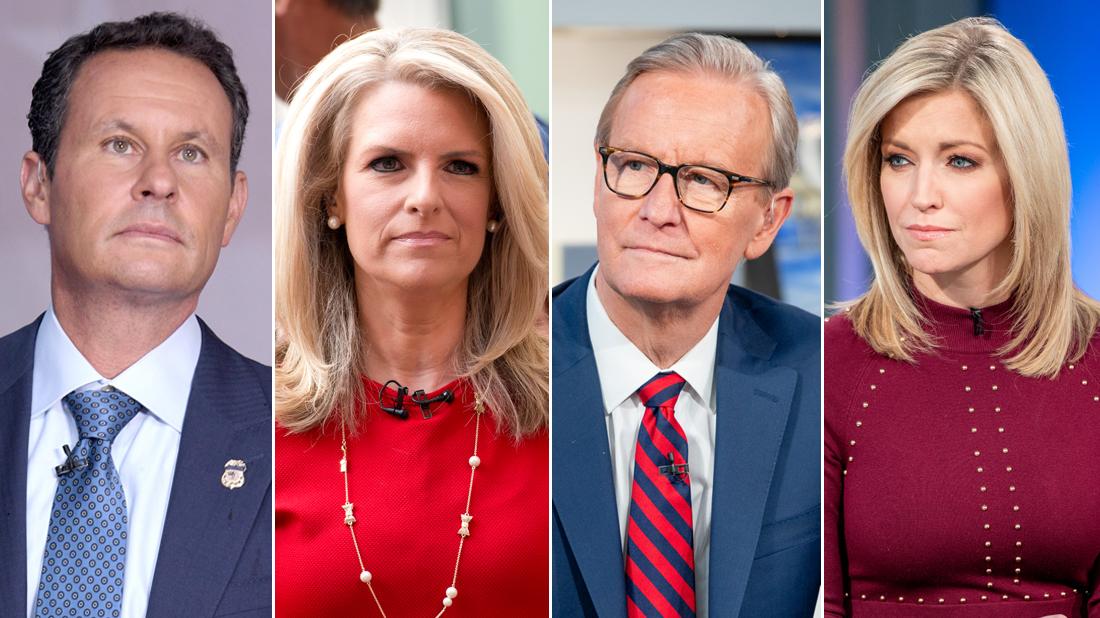 The Fox and Friends team is all smiles on the top-rated morning show — but a RadarOnline.com investigation has revealed things aren't always so rosy behind the scenes!
The easygoing banter of co-hosts Steve Doocy, Ainsley Earhardt, Janice Dean and Brian Kilmeade hides a string of off-camera scandals, including a nasty divorce, a DUI arrest and ugly feuds, according to insiders.
"All four stars have distinctly different personalities. They barely talk when the cameras stop rolling and they don't hang out together socially," a source told RadarOnline.com.
Article continues below advertisement
Perhaps the most controversial of the bunch is Doocy, 62, who was included in the allegations in a sexual harassment lawsuit filed by former show co-host Gretchen Carlson against late FOX News chairman and CEO Roger Ailes.
According to her suit, "Doocy engaged in a pattern and practice of severe and pervasive sexual harassmentof Carlson."
While Carlson's suit was settled for $20 million in 2016, the allegations against Doocy were never substantiated.
Dean, the morning show's meteorologist, remains in a sticky position since she also claimed to have been sexually harassed by Ailes, who died in May 2017 at age 77.
But the 49-year-old mother of two hasn't been afraid to speak her mind about the sexual harassment scandals that roiled the network.
In 2018, Dean got into a Twitter spat with Darla Shine, the wife of ex-FOX News co-president Bill Shine — who was ousted for allegedly enabling Ailes' behavior — after Darla accused former FOX superstar and Today show train wreck Megyn Kelly of lying about the network's bad boys club.
Article continues below advertisement
"What lies are you referring to exactly, Mrs. Shine? Be careful what you accuse people of," Dean tweeted.
Meanwhile, ambitious 55-year-old Kilmeade, who started as a sports reporter, harbors huge dreams, sources said.
"He's trying to network his way into bigger and better things," the snitch said.
"Brian feels he's an intellectual because of the books he's written, and he's incredibly jealous of the network's bigger stars like Sean Hannity."
But RadarOnline.com has learned the father of three is sitting on his own dirty secret — a DUI bust!
Kilmeade was arrested in 1988 for drunk driving after cops spotted his Honda "swerving over double yellow lines," according to court records, which show he was given a "reduced plea" because of his clean record and was required to enter a program and pay a fine.
Earhardt, who's considered the "sweetheart" of the group, is embroiled in a nasty divorce after her husband, former Clemson University quarterback William Proctor, allegedly cheated with one of her best friends — a claim he has vehemently denied.
Article continues below advertisement
He filed to end their six-year marriage in October. After the split, 42-year-old Earhardt stopped hobnobbing in power circles, sources said. She refused to comment on the divorce.
After a string of sordid sex scandals were exposed in 2016, FOX allegedly coughed up an estimated $70 million to buy the silence of sexual harassment victims.
But renowned attorney Gloria Allred, who represented several of the alleged victims, believes the network remains a toxic environment for women.
"There may still be questions in the minds of some female employees about FOX News Channel's commitment to having a workplace that 
is not polluted by sexual harassment," Allred told RadarOnline.com exclusively.
However, a FOX News spokesperson strongly pushed back on this allegation and pointed to numerous changes that have been made at the company, including appointing a new executive leadership team, an entire overhaul of the HR department with new procedures and policies in place and the implementation of an extensive sexual harassment training program.