Tamra Judge Marks First Day Of Summer With Nearly Nude Video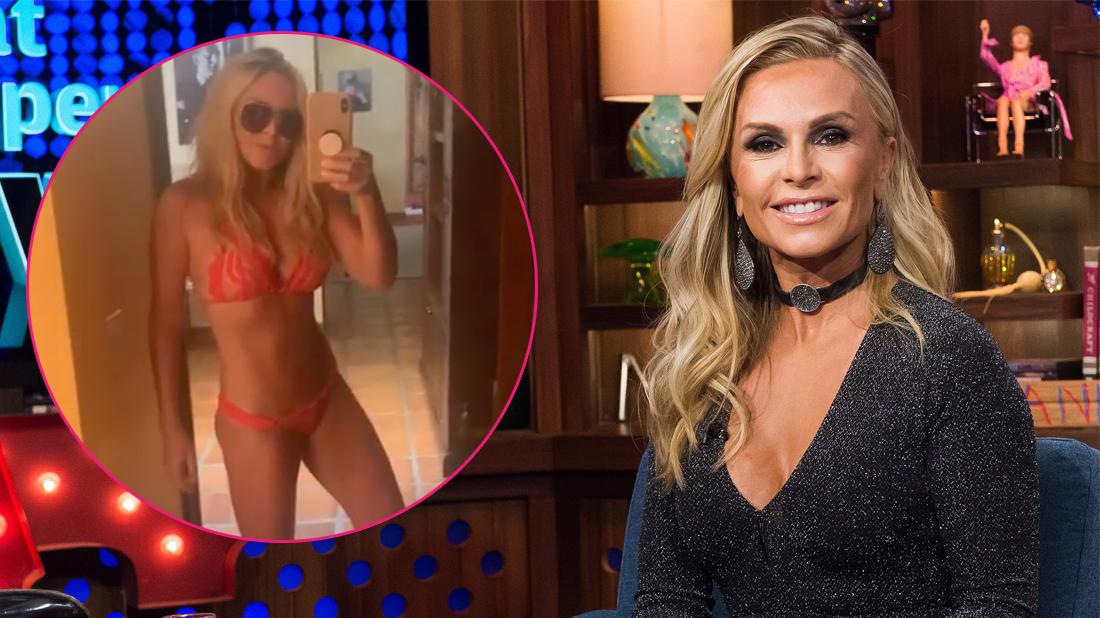 Here comes the Judge!
The Real Housewives of Orange County star Tamra Judge posted a sizzling video to her Instagram account to mark the first day of summer on Friday, June 21.
Tamra, 51, showed off her body in a barely-there orange bra and panty set after her husband Eddie's recent health struggles.
"Walking into summer like I don't give a F…family vacation with @jennifer_lyson," Tamra captioned her video.
Article continues below advertisement
In the clip, fans saw Tamra, barefoot and wearing dark sunglasses, strut down a hallway towards her full-length mirror wearing the lacy bra and matching panty, while filming herself on her camera phone. She delivers an air kiss at the end.
Followers had a mixed reaction, with one commenting of the reality star and CUT Fitness co-owner, "Fantastic figure which you worked hard for….Now you gotta get the 'cat walk' down girl!"
Another person noted, "well at her age it must be hard to attempt that strut."
A hater wrote, "does she know she looks like shes knocked knee and pigeontoed (sic) when walking the hallway."
Tamra decided to show fans her form just days after she and Eddie, 46, celebrated their sixth wedding anniversary on Saturday, June 15.
But just last year, a source told RadarOnline.com that the blonde beauty had been living in "constant fear" that Eddie could die from his horrific heart condition that has required at least seven reported procedures.
Article continues below advertisement
Eddie was treated for atrial fibrillation at St. David's Hospital in Austin, Texas and Tamra shared his ordeal on social media in 2018.
She's also told Us Weekly, "I have to stay strong, but I'm super scared because I'm just afraid what if? What if? What if he has a heart attack? He has a stroke? All these things. Like the other day, he wouldn't wake up. His alarm was going off and he was just laying there so peaceful. I'm like, 'Eddie!' And he was just laying there. I'm like, 'Oh my god, he died!' I'm like, 'Eddie!' Like that."
Eddie even reportedly updated his will.
Tamra and her man told ET earlier this week that after his series of surgeries, the housewife husband's AFib has finally been corrected -- but there's still more to be done.
"In the midst of correcting the AFib, there was damage done to a part of his heart," Tamra explained. "So now, we're dealing with that damage, which we knew going into it that it could be a possibility and it happened. So, he's not quite done with his journey, but he feels so much better and he's back to work" at CUT Fitness.
Eddie will likely undergo one more surgery to get a WATCHMAN implant, which helps to keep blood clots from forming in the heart by permanently closing a small part of the heart, the Judges told ET.
"He's gone through a lot," Tamra said. "He went from a very active person to somebody that, you know, had to take multiple naps during the day and I think it did a lot to him psychologically."
But sexy Tamra showed she's ready for summer bikini season—and isn't slowing down one bit!