Shot Down Again! Steve Harvey Is Replaced By Melissa McCarthy On 'Little Big Shots'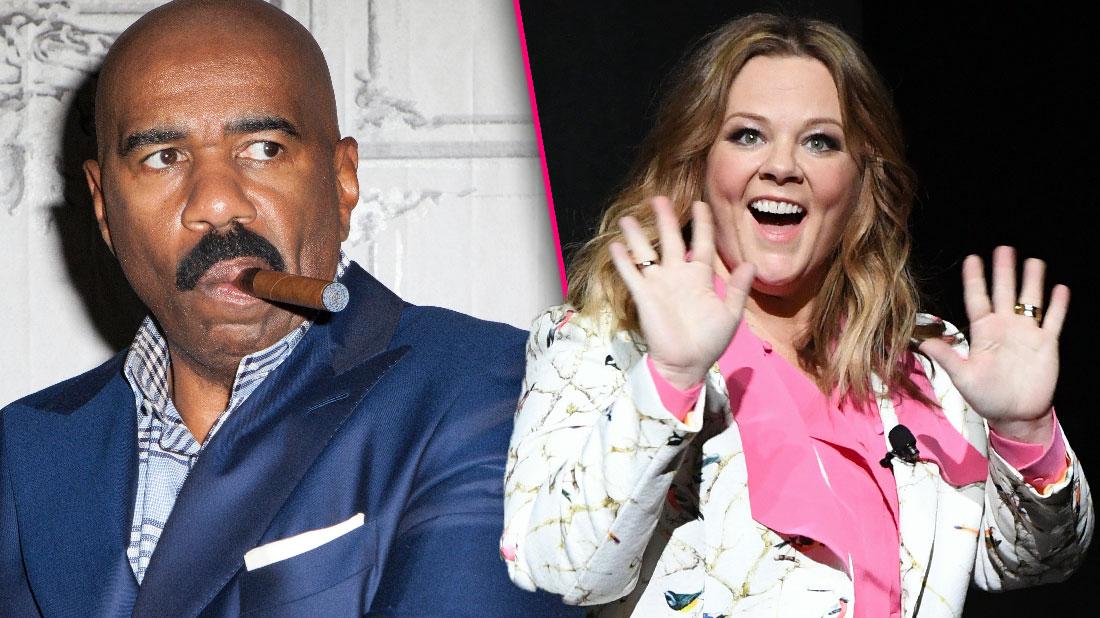 Steve Harvey has had a brutal week.
The TV host's talk show was officially canceled on Friday, May 10, 2019 and now it's been announced that he's lost another gig.
Melissa McCarthy, 48, will replace Harvey, 62, as the new host of Little Big Shots when it returns in early 2020, NBC has announced.
As The Hollywood Reporter noted, NBC Entertainment co-chairman Paul Telegdy told reporters Sunday that McCarthy will host a "new version" of the kids' reality talent show.
Article continues below advertisement
He continued, "Everyone around here is just incredibly excited to have McCarthy at NBC."
Telegdy said adding McCarthy as host will offer a chance for "a real refresh" for Little Big Shots, adding, "Melissa is just an incredible performer and incredible comedian, and she'll bring a really fresh perspective to it."
That has to be a huge slap in the face for Harvey, who hosted the show's first three seasons!
The news came hot on the heels of Harvey's syndicated talk show Steve getting canceled. The Steve staff wrapped up production on the Los Angeles set this week, a source told RadarOnline.com.
"It's done for good," the insider revealed. "It's not coming back, ever."
In an interview with Variety in January 2019, Harvey admitted his show was dropped by NBCUniversal, but said he still hoped it would get picked up elsewhere.
Article continues below advertisement
Although Harvey continues to host syndicated game show Family Feud and ABC's summer Celebrity Family Feud, he is going through personal as well as career issues.
The funnyman is trying to liquidate assets ahead of a divorce battle with wife Marjorie, a source exclusively told RadarOnline.com. Since January 2019, Harvey has put four of his properties in Texas on the market and sold two for an estimated $2 million!