Jenelle Evans Curses Out Reunion Show Host After Confrontation Over Hateful Comments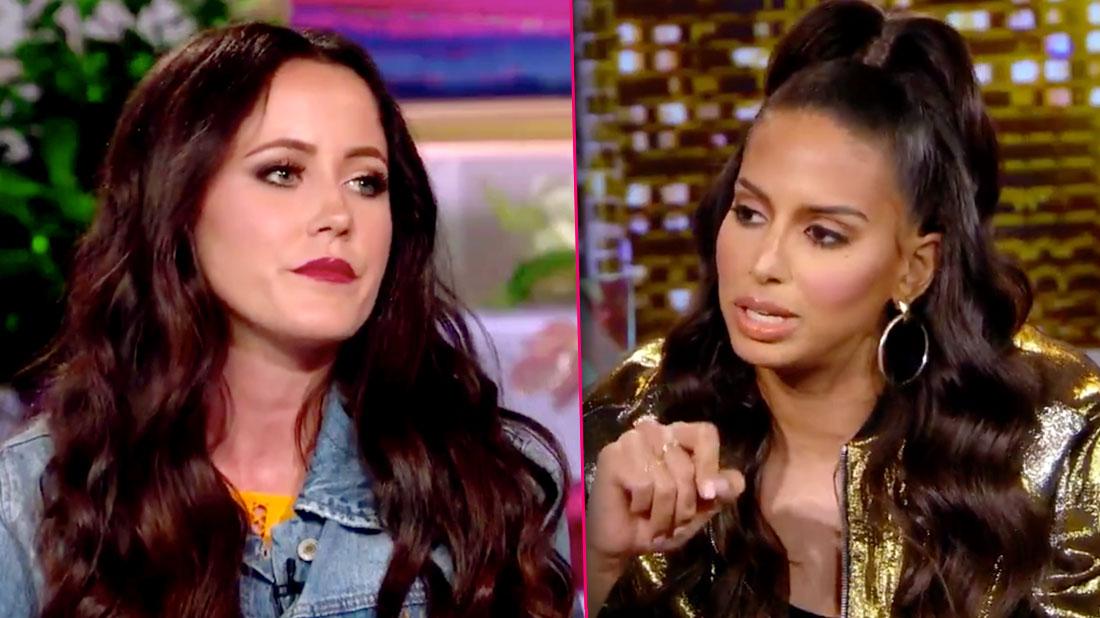 Jenelle Evans has come under fire by fans for her social media comments — and now she is answering to reunion show host Nessa Diab. On part one of the Teen Mom 2 reunion, the fired MTV star stormed off stage when confronted by the host.
Jenelle was asked about her social media feud with Teen Mom OG star Amber Portwood.
"She said, 'I feel she should be out of the abusive relationship she's in,'" Jenelle said of Amber's comment. "Last we spoke we got dinner with David Eason and Matt Baier. We all got along.
Article continues below advertisement
Nessa called her out for her "hypocritical" actions.
"I think it's very interesting because you did exactly that to me," Nessa said. "You said hateful comments on social media about my family. About my man."
Jenelle responded, "I posted that? When did I post that? I have no idea what you're talking about."
The comment read, "'Let's choose the most disrespected guy in the for our promos,'" she allegedly wrote on her Facebook page. "'Lets add a slogan about sacrificing, everyone will love it. Let's choose the man that kneels at our flag.' YOU'RE WRONG. I will not be buying Nike anymore… Nike should change their 'motto' immediately. Nike needs a new PR person pronto."
She then said, "I've never said that. I honestly have no idea who your boyfriend is."
Nessa then fired back, "He's been on set. Please understand something. My man used his platform to peacefully protest systemic oppression in our country, specifically police protection against black people. Men, women and children are dying wrongfully dying. People doing this are not being held accountable. I would have appreciated if you would have contacted me."
Article continues below advertisement
Jenelle then responded, "I don't know anything about your husband. I swear to God."
She then stormed off stage.
"I'm done with this bulls**t," she said. "This is exactly why I didn't want to f**king come here. This is about my storyline and you want to bring up your issues. You got your show."
She added while throwing her microphone to the ground, "I have too much f**king s**t going on. F**k everyone. Get me the f**k out of here. F**k all of you. I'm done."
As RadarOnline.com readers know, she was fired from the series after her husband David admitted to shooting the family dog dead.
Also on the episode, Leah Messer opened up about her split from Jason Jordan.
"It wasn't a great relationship," she said. "We weren't great together. He called up my mom, showed up at my grandma's. He walked in. It was kind of creepy."
Reunion show host Dr. Drew Pinsky said it was "stalker behavior."
Article continues below advertisement
Her baby daddy Jeremy Calvert came on stage and called Jordan a "super controlling dude."
"I would call Leah," he explained. "Two minutes goes by she calls me back on speaker phone. She couldn't answer the phone unless he could monitor what Leah said."
Leah added, I think he thought something was going on that he didn't know about."
Jeremy said he was concerned when Jason stopped greeting him.
"At first I liked this guy," he said. "I was happy for her. She has a good guy. He has a job. But then he turned into being a f**king stalker. He was showing up at Leah's house where my kid sleeps out of the blue. Don't show up where my kid is sleeping asking her if she wants a step daddy. This is after they broke up!"
They then revealed that they've been "having fun."
Kailyn Lowry revealed that she hasn't spoken to her baby daddy Chris Lopez in eight weeks.
"It didn't work out," she said. "I threw a baby shower for his best friend and found out one of the girls he cheated on me with was sitting next to me the whole time. I had no idea and she did and he did. I didn't find out until the end and I was humiliated."
She then discussed her feuds with her co-stars.
Article continues below advertisement
Kailyn said how she was "annoyed" that Jenelle's mom Barbara said they should get drunk and kill her.
"She's in her 60s," she said. "How that was allowed and nothing was done about it."
Although she would sit next to Jenelle at the reunion, she the same can't be said for Briana DeJesus. The two got into a physical fight at last year's reunion special, as her sister Brittany pulled her hair.
"I'm ashamed at how I acted the last reunion and I take full accountability for what I did and my part in that," she said of the fight. "But I don't want to associate myself with people like that."
But DeJesus didn't feel the same way.
"I was willing to sit next to her on the couch this reunion but production said no," she said when she hit the stage.
Although her baby daddy Devoin Austin has improved with their daughter Nova, Briana claimed she hasn't spoken to him since the "incident."
"Nova slept over Devoin's house," she said. "Devoin took Nova to the pool with her friends to hang out then Devoin got extremely intoxicated while watching the kids in a pool setting. He was very, very drunk to the point where he didn't remember anything that happened. I haven't spoken to him or seen him since it happened."
Part 2 of the Teen Mom 2 reunion airs Mondays at 9/8c on MTV.