'I'm Freaking Out!' Leah Messer's 'Toxic' Ex Texted Non-Stop & Showed Up To Her Home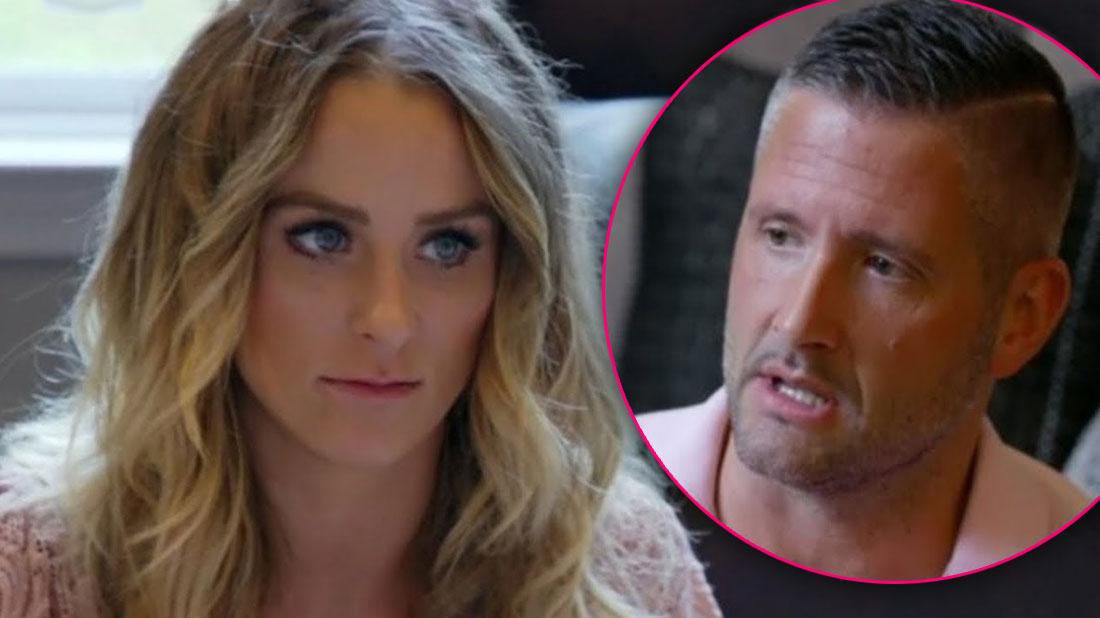 Leah Messer ended her relationship with boyfriend Jason Jordan — but he wasn't ready to call it quits. On this week's Teen Mom 2, Leah revealed Jason didn't take their split well.
"Jason and I broke up," Leah told a producer. "It just wasn't right. My kids weren't feeling it anymore either. They were picking up the energy and it wasn't okay. You don't see the behind the scenes."
When her producer asked, "So he's always on his best behavior when we're around?" She responded, "Yeah."
Article continues below advertisement
"We've had a lot of disagreements lately on parenting," she said. "He gets openly angry. He gets upset and takes it out on everyone. There was always an expectation I could never meet. What I did was never enough. I could get up, cook breakfast, have all the kids ready, go watch his kid, it wasn't enough."
The final straw was when she got "pissed" that he put her dog in the garage when it was 39 degrees.
"He said, 'Take your dog and go home,'" she told the producer. "I was like, 'This is it.' Why do I keep pushing for something I know is not right? This is just toxic."
But it wasn't over for Jason, as he showed up to her home and called her sister Victoria to help get her back.
"I knew he would randomly show up to my house," Leah admitted. "He was texting me non-stop and I'm like freaking out and he just walks through my screen door with all this great stuff trying to suck me back in. He brought a key to his house. Why do that when things aren't great? That's a bad sign. That's toxic."
Article continues below advertisement
Victoria told Leah that Addie said, "Jason came to my house and creeped me out."
Leah responded, "I ignored things I shouldn't have. He was different around everyone. I want us to move on."
When she told her daughters, Aleeah responded, "Finally! I told you I didn't like him." Addie said, "I want you to marry my dad!"
Also on the episode, Jenelle Evans and her mom Barbara go out of town to film because they can't be in the same state as her husband David Eason.
Jenelle planned to take her son Jace on a trip to Kentucky.
"I was really excited about my trip to Kentucky with Jace," she said. "I decided to talk to David about it and he wants to come too because he has family there, but MTV won't film if he's around. I'm in a really uncomfortable position and it's putting a strain on my marriage."
A few days later, Jenelle and David revealed they are single on social media. Jenelle decided not travel to Kentucky.
Article continues below advertisement
But David isn't the only person Jenelle fought with. Teen Mom OG star Amber Portwood bashed her on Kailyn Lowry's podcast after they got into a social media war.
"She tried to add in my name because I went after her," Amber said. "I freaked out. They came after me in a disgusting way talking about my man. Which, don't ever do that, ever. It was disgusting how she came back. When I responded, I wasn't proud of how I responded and she blocked me."
Kailyn then confessed how they were the closest cast members of the series. She then brought up when Jenelle's mom Barbara said they should kill Kail.
"I have three kids to live for," she said. "Don't make jokes about killing me when I have children involved."
Kailyn also resolved her child support fight with baby daddy Jo Rivera.
As for Briana DeJesus, she had baby daddy Luis watch their daughter Stella for two hours.
Article continues below advertisement
When Stella woke up from her nap, she cried when she saw Luis.
"Now you know what it's like," Briana said.
Later on in the episode, Briana learned that Luis would get 50/50 custody if she files for child support.
"He couldn't even handle Stella on his own for two hours yesterday," she said.
But Luis didn't agree, as he said the court would give him his parental rights.
"They will give me my rights," he said. "This whole you want Stella to get comfortable is bull. I'm not a bad person. I don't do drugs. I'm not a felon. I've never been arrested. For me to see Stella is under some type of supervision."
She then fired, "He has not made the effort to get to know her and spend time with her. He's a stranger. If I have to give 50/50 custody to get child support then f**k that."
On last week's episode, Chelsea Houska's home got broken into while on a family vacation. Although they installed security cameras and it's been weeks since the robbery, she is still staying at her mom's house when her husband is at work.
"I hate that it's a known thing on national television that I'm a stay at home mom," she said. "People know Cole goes to work everyday."
Teen Mom 2 airs Mondays at 9/8c on MTV.