Kailyn Wants To Quit 'Teen Mom 2' After Enemy Jenelle's Mom Threatens To Kill Her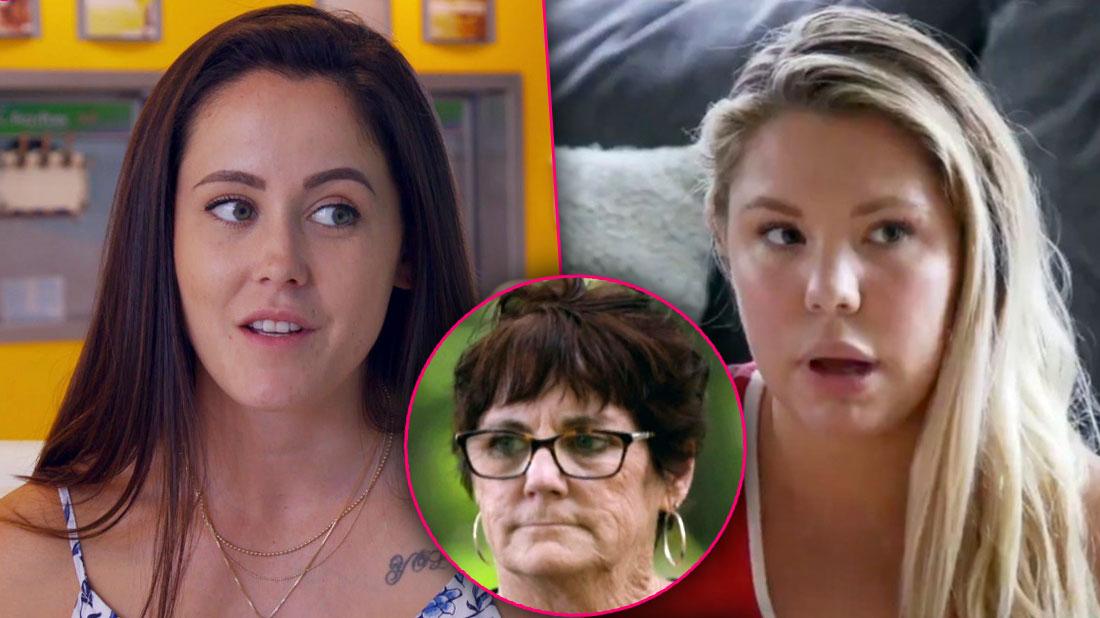 Former friends Kailyn Lowry and Jenelle Evans have been feuding for years. On this week's Teen Mom 2, their feud exploded when Jenelle's mom Barbara threatened to kill her! On the episode, Kailyn threatened to leave the show.
Jenelle and Barbara went on a vacation to Atlanta. While there, the two drank boxed wine and beer.
"Kail blasts other people's drama on her podcast and every week it's me as her topic," Jenelle complained. "I just want to live a more private life. I used to show every second of my life on Snapchat and Instagram. I'm focusing on my life."
Article continues below advertisement
But her vow didn't last long, as she explained that she went on Instagram live to show her mom how it worked.
When they added Briana DeJesus' sister Brittany to the live, she said, "Hopefully there is a reunion soon we can get them to go out and get drunk together."
Barbara added, "And then we'll all get lit and we'll go kill Kail!"
Later on, producer Kristen called, telling the women to apologize.
"You have to tell Kail that you were joking," Kristen said. "There's a huge s**t storm that you told Kail you wanna kill her."
Jenelle then mocked, "Im so sorry Kail. I'm not going to hurt you. Chill the f**k out! Kail is prob watching this s**t right now."
Barbara then apologized, "Thats not what I meant I was doing a joke. I've known the girl for 10 years! That's crazy. I've always gotten along with Kail. It's no big deal. There's differences between her and Jenelle. It doesn't pertain to me. It was only a joke."
When the two sobered up, Jenelle claimed Kailyn complained because she's jealous of their mother-daughter relationship.
Article continues below advertisement
"She's envious of us reconnecting," she said. "None of her family wants anything to do with her because of the way she is."
Barbara added, "She wants me thrown off the show!"
"She wants her own show. She wants to to kick everyone off," Jenelle said. "She blasts other people's drama on her podcast. It's usually me and David as her topic. Kail says he needs a psych evaluation… actually you do!"
When Kailyn sat down with Kristen about the situation, she threatened to quit the show.
"I don't want an apology from Barb," Kailyn said. "She didn't apologize and I don't want one. It doesn't mean anything to me. Obviously she didn't want to apologize or else she wouldn't have said it in the first place."
She continued, "I don't want to be part of a franchise that allows that type of behavior. I'm not getting on IG live talking about killing anyone. Anytime I talk about them it is in response to something else. I don't want to associate with them or their behaviors. I don't want to associate with them."
Article continues below advertisement
Luis, the father of Briana's daughter Stella, visited twice since moving back to Florida. Although it appeared he was making an effort to be more involved in her life, she admitted "nothing has really changed."
"He hasn't really been around or anything," she said. "He'd rather choose to do other stuff than be a parent."
Although her oldest daughter, Nova, said she wants to see her father, Devoin, more, Briana explained how he's been more reliable. While she's in New York to celebrate her boyfriend's birthday, Devoin agreed to pick up Nova from gymnastics.
"I'm able to rely on him to be there for Nova when I'm gone," she said. "We've never had that before. That's what co-parenting is about."
Also on the episode, Leah Messer went to the doctor for new birth control. Although her relationship with boyfriend Jason Jordan is progressing, she wants to be "extra careful."
"I would want to have another kid," she said. "I miss the baby stage. I love kids so much. I want to share that with the person I am going to spend the rest of my life with. Maybe it will be Jason. I hope so because I love him and I want to be with him. But I'm not ready for a kid right now."
And finally, Chelsea Houska worked on a diaper bag collection with her family.
Teen Mom 2 airs Mondays at 9/8c on MTV!