Kailyn Helped Jenelle When She Was 'Strung Out On Heroin' Before 'Teen Mom' Feud
Kailyn Lowry sent Jenelle Evans a peace offering on this week's Teen Mom 2 — but her enemy refused to surrender! On the episode, Jenelle set Kailyn's hair care products on fire in response to the gesture.
"I received the package in the mail," Jenelle explained to her mom Barbara. "It was Kail's hair stuff. Instead of her reaching out and saying, 'I sent you a package. I'm sorry for whatever happened in the past. I'm over it. She goes to the tabloids and says, 'I sent Jenelle a package.' You're not even going to reach out and apologize? Kail thinks David needs a psych evaluation. Are you serious?"
Article continues below advertisement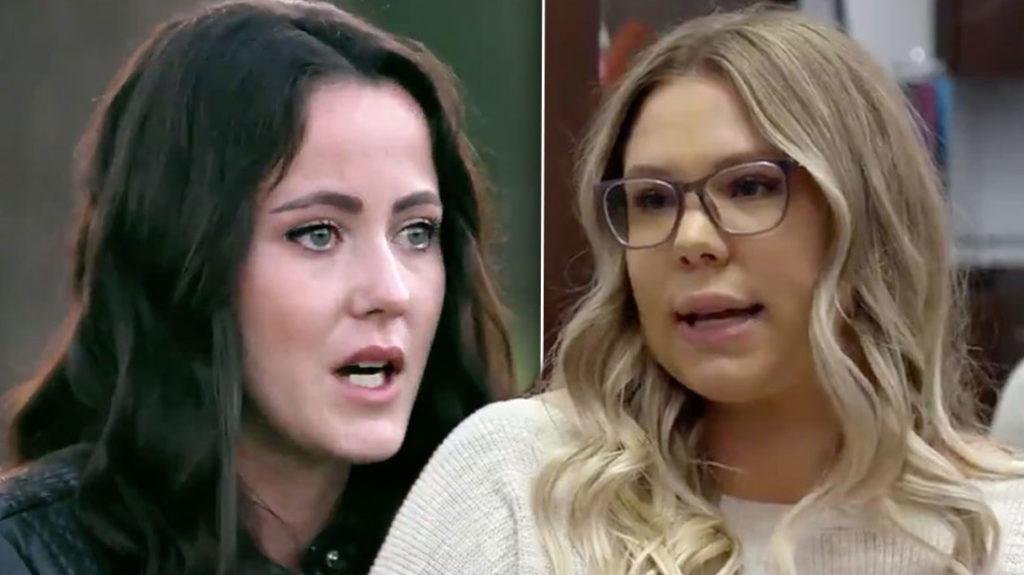 She added, "David said we should shoot it and I said no more gun videos, we'll do fire. I wanted that to hurt her feelings."
Kail responded that the video brought her in $10,000 in sales.
"I've done a lot for her through the years," she said to her friend. "I really truly stuck up for her the most out of everyone in the beginning. I bailed her out of jail. I called out of work one day when she was strung out on drugs. I drove to jersey, picked her up and took her to the airport because she was strung out on heroin or who the hell knows."
She then slammed Jenelle's troubled husband David Eason.
"I said he needed a psych evaluation," she admitted of David. "Is she ignoring the things that are wrong and does it anyway? Or did she do it on her own? I'm not going to the reunion because of this. He's not a good person."
As for Chelsea Houska, Adam Lind's mom broke their court order by having him see Aubree outside of the visitation center.
Article continues below advertisement
"When she asked Chelsea if she could have her for their monthly visit, she responded, "We don't know what we're going to do about visits right now because you violated the order so many times."
Chelsea later learned that both Adam and his mom visited Aubree at school.
"They broke what they are supposed to do so many times at this point," Chelsea explained to her daughter. "I don't know what to do. We might have to take a break for a little bit."
She then explained to her father that Adam goes to school lunch instead of the visitation center because it's "convenient for him."
"Me not letting her go there is in contempt of court," Chelsea said of keeping Aubree from Adam's mom. "But they're in contempt for letting him see her."
She then revealed that she is going to ask her lawyer to discuss her options, including having her husband Cole DeBoer adopt Aubree.
Article continues below advertisement
She feels that if something were to happen to her, Adam would get custody.
"I don't want to do the adoption without Aubree being okay with it," she said, as Adam would have to give up his parental rights.
Also on the episode, Briana DeJesus learned her baby daddy Luis is moving to Florida sooner than she thought. While her first baby daddy Devoin is more active in his daughter Nova's life, she noticed her younger daughter Stella has formed a bond with him in Luis' absence.
"Stella will have no idea who he is," she said of Luis. "Now that Devoin is coming over more she loves Devoin. I don't want her to look at Nova and Devoin together and be like, 'Where the hell is my dad?'"
And finally, Leah Messer's daughter Ali visited the eye doctor for an annual checkup.
Teen Mom 2 airs Mondays at 10/9c on MTV.