Lisa Rinna Comes Face To Face With Kim Richards For First Time Years After Explosive Feud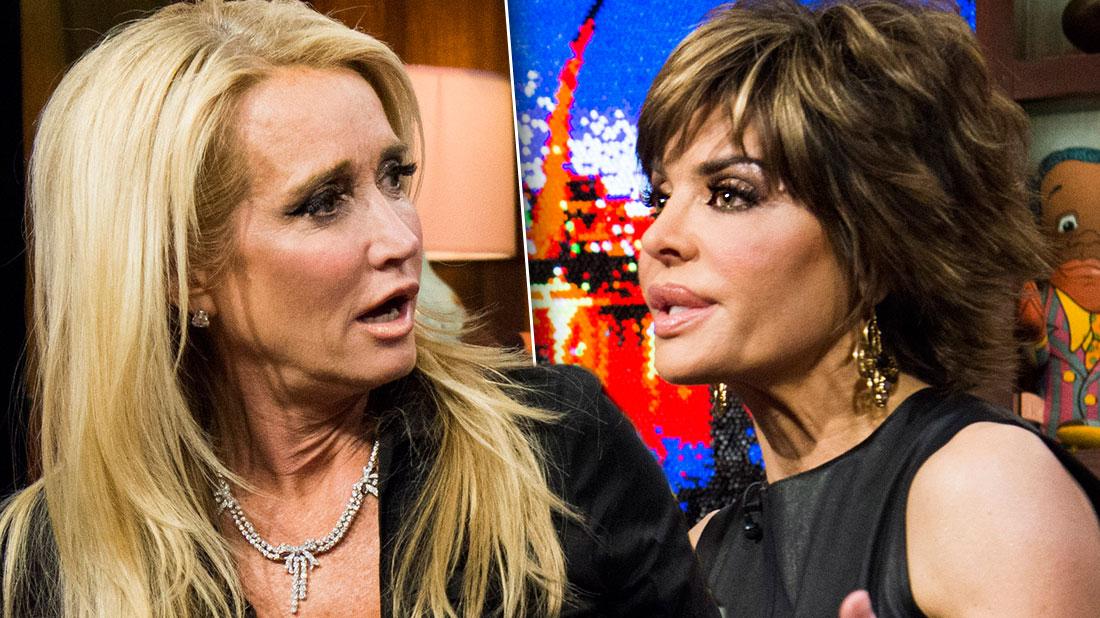 Lisa Rinna came face to face with her arch-nemesis Kim Richards on the April 16 episode of The Real Housewives of Beverly Hills – and the unexpected reunion was ugly.
Lisa Rinna was dining at a Los Angeles restaurant with her mom, Kyle Richards, Camille Grammer, Teddi Mellencamp and Dorit Kemsley when she received the shocking news that her number one enemy was also in the building. It was the first time the ladies had been in the same room since their infamous catfight that played out on camera in 2017.
Article continues below advertisement
"Oh my god!" Kyle Richards shouted as she stood up from her seat while looking at her phone. "Lisa Rinna, guess who is here right now watching us? My sister, Kim."
Lisa and Kim made Bravo reunion history in 2017 when they had an all-out war on camera. Kim showed up to the reunion with a stuffed animal bunny Lisa had gifted Kim's grandson just to give it right back.
"I brought the bunny because I never gave it to my grandson. It didn't feel like it had good energy, sorry," Kim told Lisa at the time. "So I think what I should do is give it back to you and when you and I are in a better place, maybe you can give it back to me."
Back at the restaurant, Kyle jumped out of her seat to say hello to her sister Kim, only to find out their older sister, Kathy, was also seated a few tables away. As RadarOnline.com readers know, Kyle previously had a strained relationship with her siblings, especially since she produced the drama American Woman, inspired by their mother's life.
"I mean, I am really happy we're on talking terms right now," Kyle laughed.
Article continues below advertisement
Meanwhile, the rest of the ladies finished their dinner and exited the restaurant, leaving Lisa with the task of walking right in front of Kim.
"I'm fine with it, I really am," Lisa Rinna tells Dorit about Kim's presence. "She's a human existing just like I am."
As Kim stood up to greet Camille, Lisa made a run for the door acting as if her arch-nemesis did not exist.
"Why would I give two f**king s**ts to walk over and say hi to her? Honey, out of sight, out of mind. Like, I'm not thinking of Kim Richards ok? No!" Lisa said in a camera confessional.
Meanwhile, Dorit and Kyle were still reacting to their explosive fallout with their former BFF Lisa Vanderpump over the infamous #Puppygate scandal. While Dorit admitted she hopes one day she can regain her trust in Lisa V., Kyle was enraged when she finds out the Vanderpump Dogs owner has lied again by pretending she never got the invite to Camille's bridal shower that Kyle planned.
"I cannot deal with a liar," Kyle said in a disappointing tone.
Kyle even provided text message proof that she sent Lisa V. the invite.
To keep up with the latest drama, tune into The Real Housewives of Beverly Hills on Tuesdays at 9 p.m. ET on Bravo.