Taking Sides! Lisa Rinna Blasts Kyle In Richards Sisters' Feud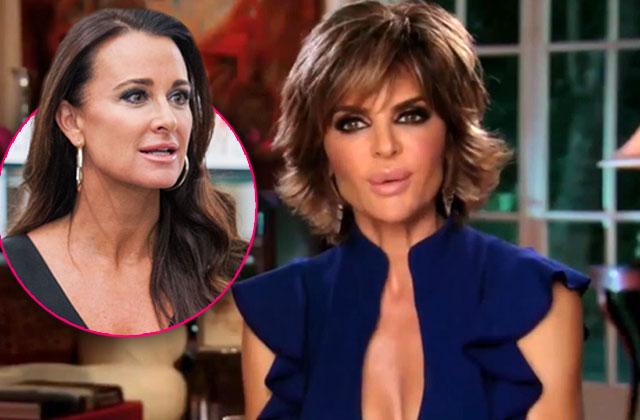 The Richards sisters' feud is spreading! RadarOnline.com has learned that Lisa Rinna is taking sides, secretly slamming costar Kyle Richards for her behavior off-screen.
According to an insider, the soap star, 52, "is telling friends she thinks Kyle was absolutely insane to go to Nicky's wedding even after Mauricio wasn't invited. If Lisa had been in that situation, she wouldn't have gone to the wedding."
Article continues below advertisement
"According to Lisa, Kyle just wanted to be at the wedding of the year. Mauricio did give Kyle his blessing that she go to the wedding, but it could be a decision that she regrets," the source continued.
Indeed, the drama over the wedding has spilled onto the hit Bravo reality show, causing even more tensions between Kyle, 46, and sisters, Kathy Hilton, 56, and Kim Richards, 51.
After it all exploded on-air, Kathy's husband Rick Hilton told reporters at LAX last week that Richards was done with Bravo, despite the fact that insiders told RadarOnline.com she had no desire to quit.
"Kyle was absolutely stunned," an insider previously told RadarOnline.com. "There has been so much family drama between Kyle and her sister Kathy, Rick's wife, ever since Nicky's wedding last summer. Kathy was furious that Kyle was blabbing about the wedding drama on camera."
The source added, "Lisa Rinna just seems to be inserting herself into multiple storylines this season in an attempt to stay relevant. From questioning Yolanda Foster's Lyme disease diagnosis and now prying into Kyle's marriage, some people think Lisa needs to take a step back and realize this is a reality television show!"