NeNe Pushes Divorce As Heartbroken Gregg Fights To Save Crumbling Marriage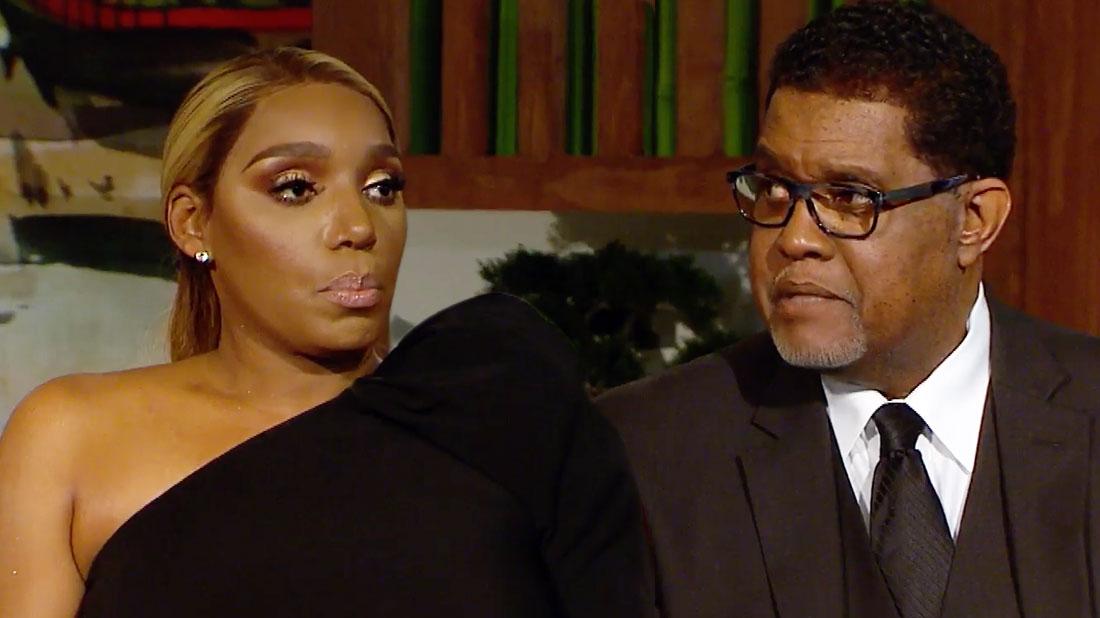 Article continues below advertisement
After she told the host that they still weren't sleeping in the same room, Gregg came out to the sofa.
He explained that he was "a couple of treatments away from radiation," and that there were more tests to come but he hoped the cancer hadn't spread. He also explained why he didn't do chemotherapy right away: "I let God lead me and he led me in the direction of holistic care first."
NeNe told Andy that she was no longer calling her husband "grouchy," and he opened up about their marital strife.
"I was difficult at times. I'm not a poster child for calmness," Gregg told Andy.
"My personality may be bigger than Gregg's," NeNe said. "When something happened, I always took the rap for it."
"Sometimes you did," he told his wife, and defended her. "Nobody's perfect," he said. "More times it was me."
NeNe told Andy that Gregg "gets on me for revealing a lot of things," to which he said: "I think there are limits." He then talked about NeNe's recent reveal that he cheated on her. Gregg said that while it was true, it happened "so long ago," that he didn't think it needed to be said.
Article continues below advertisement
Asked why she continued traveling for work instead of taking care of her ailing husband, NeNe said: "I am a provider, if I didn't travel Gregg wouldn't be eating while he was sick."
Gregg admitted that the possibility of divorce was "heartbreaking."
"You are looking down on something that you know you were a part of while it was happening," he said.
Recalling her harsh words about Gregg and seemingly violent attitude towards her costars all season, NeNe said she had no regrets.
"It is what it is. I have reacted the way that I have reacted, and I will not tell you that I'm going to act any different than how I am acting. Gregg is not a walk in the park, not even if he didn't have cancer. He is not a walk in the park," NeNe said.
"You know I had some of the hardest times," she said. "When Gregg was in the hospital I would call, and he would say don't come visit, that was difficult."
Article continues below advertisement
"Were you trying to push her away?" Andy asked and Gregg told him: "I've never had cancer before."
"It's tough. We are family, period. Whether we are together, or we are not, we share a 20-year-old son," NeNe said, talking about their son Brent. But she said she was going to be supportive. "I'm always going to be here for Gregg."
Gregg seemed more resigned to the fact that their marriage could be ending. "The reward might not necessarily be that we are husband and wife at the end. The reward might be that we're the best of friends at the end."
Andy asked if they both wanted to save the marriage and while Gregg said yes, NeNe did not.
"I can't tell you anything that I'm going to do. I feel like I have been pushed up against a wall and I'm coming out like 'no.' Anything is possible, we just have to see," she said.
NeNe's Bye, Wig party turned into a huge drama on the show.
After the flashbacks played, NeNe and Porsha Williams got into a nasty fight.
Article continues below advertisement
"Now I don't give a damn about being late," Porsha said after she and Marlo Hampton were hours late to NeNe's bash.
"Really b**ch? I'm so sorry. You know I love you, you're my sister. I mean that from the heart," she told Marlo, but she didn't apologize to Porsha.
"I would love to sit here and be as nonchalant and not give a f**k as NeNe right now, but the fact of the matter is, when we found out about Gregg's cancer we were there for you and we prayed for your husband. You don't know how to accept the support from your husband!" said an emotional Porsha.
"That sh*t is hurtful. What you think you're doing being all nonchalant? That sh*t hurts. Me and my fiancé and my mother have all prayed for you," she continued, addressing NeNe. "The fact that you sit here now and give a big 'f**k you' to all of us is very f**king hurtful. I cannot leave this couch without saying that."
But NeNe had "no response."
Marlo tried to get her to apologize to Porsha, telling her: "She's hurting. NeNe you do have to let people in sometimes."
Article continues below advertisement
"What do you want me to say?" NeNe asked and Andy told her: "If someone poured their heart out to me I might have a response."
Marlo tried to lobby for Porsha and Cynthia Bailey, but NeNe wasn't backing down.
When Andy brought up the closet fight and asked how Porsha's belt came undone, NeNe got very upset.
"I'm not going to beat this thing, ok? It was a breakdown, ok? I don't feel like I need to sit up here and say I had a breakdown. You saw me have a breakdown. I don't have to be sorry for having a breakdown. I am human. I had a natural breakdown. Don't keep bantering back and forth about it ok. Do not keep pushing me over it. Ok?" she said.
Stay with RadarOnline.com for the Real Housewives of Atlanta reunion part 3.