Bitter Enemies! Inside Details Of Barbara Bush & Nancy Reagan's Feud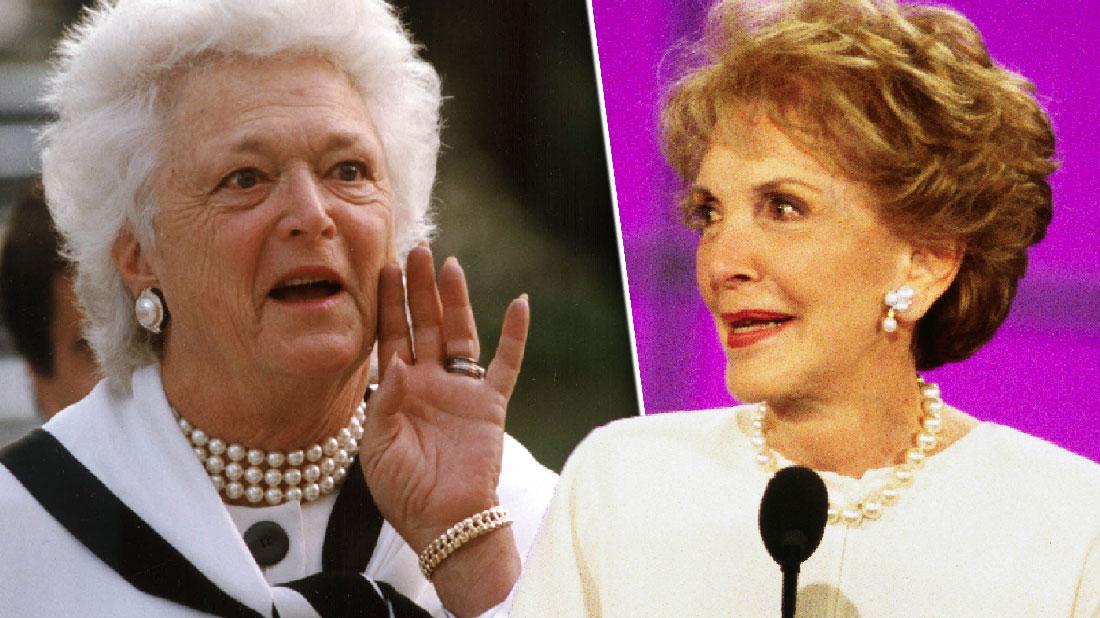 A new biography of Barbara Bush has shed light on her long-standing feud with Nancy Reagan.
Susan Page's 'The Matriarch' offers an insight into how strained their relationship had become before they both died.
Ironically, both women were born in New York, attended Smith College and were even related, but they were never close.
And their relationship's lowest point came during their final substantial conversation, in 1993, as the feelings between Mrs. Bush and Reagan finally "erupted" after many years of tension.
Article continues below advertisement
The book recounts what happened next: "The Bushes were aghast. At the low point of their political lives, Nancy Reagan had made one more petty dig."
She tried to call Mrs. Bush on Jan. 22, Page wrote, but Mrs. Bush "made herself unavailable."
When Mrs. Reagan called again the following day, Mrs. Bush "reluctantly" took her call.
"She Mrs. Reagan started out by saying that she knew that this was a hard time with packing boxes and all … but … and here I interrupted her and said that all was well,"
Mrs. Bush remembered, according to Page.
"I told her that our friends and family had given us such a good welcome home and that they had pretty much unpacked for us, but that the thing that made it tough was having her say all those ugly things about me on the air."
"She said that she was just trying to explain,"
Mrs. Bush continued. "I asked her not to explain about me anymore."
Mrs. Bush concocted a story about badgering reporters who had come to her door "yelling questions" about what Mrs. Reagan had said, Page wrote.
Article continues below advertisement
Mrs. Bush told Mrs. Reagan that "she had hurt me badly and I just could not understand it."
Barbara Bush was furious with comments made about her family by Nancy Reagan during an interview with ABC News.
Then Mrs. Bush said she had to take another call and hung up.
It was, Page wrote, a moment when "the grievances of a decade, submerged for so long, finally erupted."
As Mrs. Bush wrote in her diary at the time, which she later shared with Page:
"I had said nothing and since I don't do that and since she had not thanked us for the reception, I just didn't feel like playing her game any more!!!"
Months and months later, Mrs. Bush wrote, "I have not talked to her Mrs. Reagan since, but I certainly felt better," according to Page.
After that incident the two women struggled to re-establish their friendship despite public appearances.