Barbara Bush Revealed Suicidal Thoughts After George's 12-Year Affair: I 'Fell Into Darkness'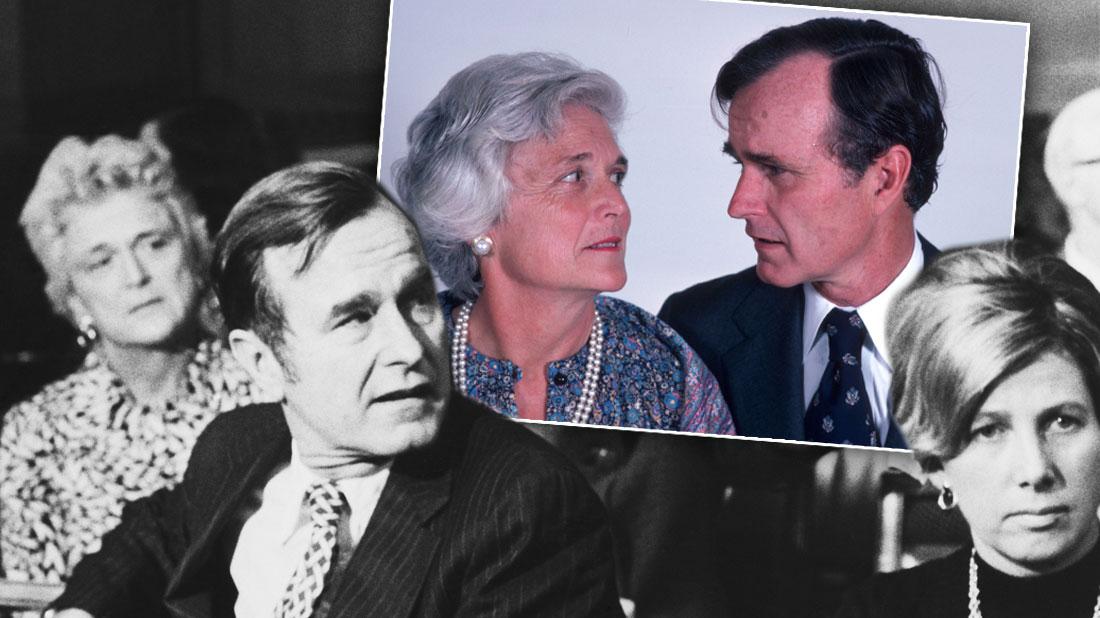 Former First Lady Barbara Bush is remembered by many as the epitome of poise and American conservatism. In political circles, she is idolized, in part due to the fact that she held herself together while supporting her husband, the 41st U.S. President George H. W. Bush.
Throughout her life, Barbara shied away from scandal and maintained a composed and dignified demeanor wherever she went, but a shocking new memoir about the Bush family matriarch exposes her true suffering: infidelity, depression and the dark demons that almost took her life.
Article continues below advertisement
In The Matriarch: Barbara Bush and the Making of an American Dynasty, author Susan Page reveals it was George's 12-year affair with his younger aide, Jennifer Fitzgerald, what drove Barbara into a pit of depression.
In 1975, when George was assigned to head the embattled CIA, Barbara "fell into darkness."
Heartbreaking photos of that time show Barbara looking pained while sitting behind or beside her husband, as his mistress sat on the other side.
"Barbara Bush found herself falling into the worst personal crisis she had faced since daughter Robin had died more than two decades earlier," writes Susan. "Overwhelmed by pain and loneliness, she contemplated suicide."
The matriarch admitted she would often have to pull over to the side of the road until the impulse to smash her car into a tree or another vehicle had passed.
"I felt terrible. I would pull over and park so I wouldn't go hit a tree," Barbara told the author before her April 2018 death. "I really wasn't brave enough to do that, but that's why I pulled over, so I wouldn't do that, or I wouldn't run into another car."
Article continues below advertisement
Apart from George's affair, Barbara was dealing with the departure of her children (who went off to boarding schools) as well as with the hormonal imbalances of menopause. She told Susan that every night for a long time she cried herself to sleep in George's arms. He comforted her and encouraged her to get professional help for her depression, but nothing could take away her sense of loneliness.
"I almost wonder why he didn't leave me," said Barbara, recalling those dreadful times.
George's affair with Jennifer (who was seven years younger than Barbara) was never publicly revealed by either of them, but everyone else in the President's circle seemed to be aware of their 12-year romance — especially his inconsolable wife.
"My own opinion is that Jennifer really does hurt George," she wrote in her diary after learning of her husband's affair. "His eyes really glaze over when you mention her name. She is just what he wants, he says and says the hell with it all."
Article continues below advertisement
George denied the romance but raised eyebrows when he decided to keep Jennifer on his team and by his side for over ten years.
"I used to think she was terrible," Barbara once told George's executive assistant, Chase Untermeyer. "Now I just feel sorry for her."
Jennifer was small and blond, and not regarded as particularly kind or beautiful by anyone except George. The two first met through a friend in the 1970s. A friend of George's told the author he "was simply captivated," with Jennifer from the very start.
"She was flirty and solicitous and focused completely on him," the insider added.
According to a woman who lived with Jennifer, the George called her house at least once a day to chat in the summer of 1973. Months later, when he accepted a post in China, he hired her as his assistant, an act which prompted Barbara to fly back to the U.S. alone.
Barbara returned to China in January 1975, having spent Christmas without George. It was the longest they'd ever been apart, and the longest they ever went without seeing each other during their 73-year marriage.
Article continues below advertisement
During the 1980 campaign when George was nominated for Vice President, his campaign manager and best friend, Jim Baker, gave him an ultimatum: him and Jennifer. Shockingly, George took a full day to give his pal an answer, but ultimately relocated Jennifer and partnered with Jim.
Though Jennifer was now living in New York, she and George remained extremely close.
A 1992 biography of a Washington lobbyist exposed a very suspicious event which took place in 1984. "A US ambassador had complained about being asked to arrange for Bush and Jennifer Fitzgerald to share a private cottage during an official visit to Geneva," read the book.
Before his 1986 death, the ambassador told friends, "It was obvious that the pair were romantically involved."
Old Texas friends of George defended the former President, saying the affair rumors were all complete "bulls**t."
Jennifer — now retired and living in Florida —seconded that response.
"It simply didn't happen," she told Susan. "I have nothing but the deepest respect and admiration for the entire Bush family."