Eminem's Drug Drama! Biological Father of The Rapper's Adopted Daughter Whitney Faces Life In Prison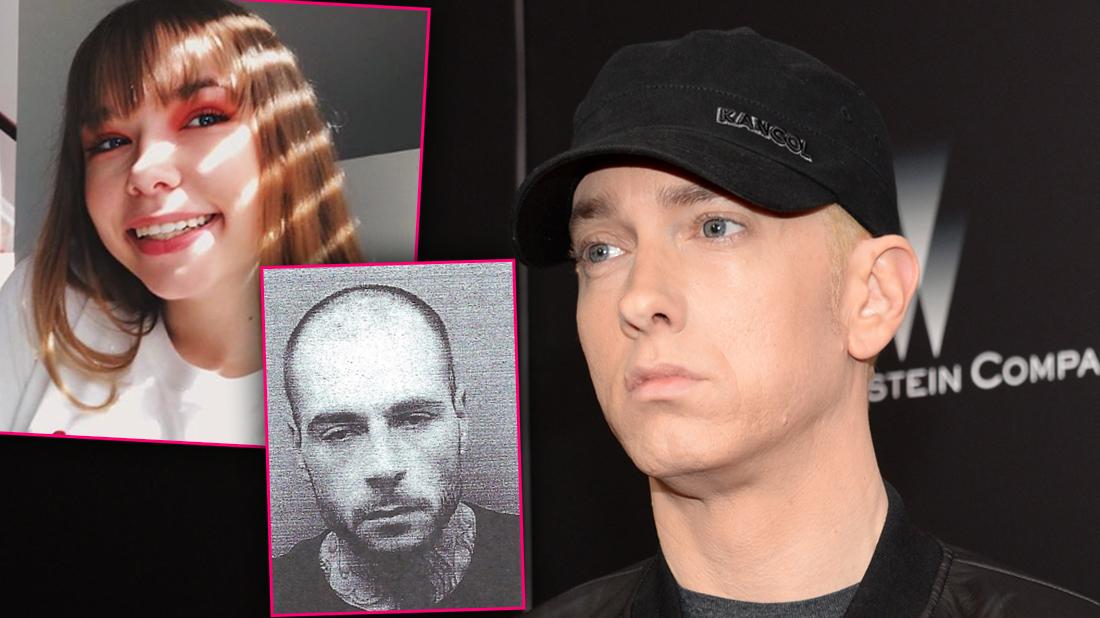 While Eminem is celebrating 11 years of sobriety, the biological father of his adopted daughter is wanted by Michigan police on a drug charge that could get him life behind bars, RadarOnline.com has learned exclusively.
Eric Hartter, who had a child, Whitney, with Eminem's ex-wife, Kim Scott, was supposed to face sentencing April 17, but the 40-year-old skipped out on his court appearance.
A warrant for his arrest was signed by a Macomb County Circuit Court judge Wednesday.
Article continues below advertisement
According to court documents, Hartter was arrested Dec. 27, 2018, when he along with two accomplices allegedly stole about $200 worth of Red Bull from a CVS.
And while in jail he was arrested for the second time in 24 hours for felony contraband involving Fentanyl and methamphetamine to which he pleaded guilty on March 13 and faces an estimated sentence of nine months to four years. However, the state objected and as a fourth-time habitual offender he's potentially looking at a life sentence, according to court documents obtained by Radar.
According to Hartter's attorney Donald Teichman, as they enter plea negotiations "realistically, his sentence could be a minimum of nine to a maximum of 15 months," he told Radar.
Hartter's baby mama, Scott, has also spent time in and out of jail and court-ordered rehab. Her most recent run-in with the law took place in 2015 when she was involved in a DUI crash that almost took her life – and, as reported by Radar, she confessed that was the plan. Scott revealed the accident was actually a suicide attempt.
Article continues below advertisement
"I sat at the end of a road where I knew that no one else but myself would get hurt," she explained. "Yes, I drank, I took pills, and I hit the gas and aimed for the pole."
Her time away from home forced Eminem to raise not only their daughter, Hailie, 23, but her other child with Hartter -—Whitney, now 17 — who Eminem ended up legally taking in as his own. The "Slim Shady" rapper also adopted Alaina, 25, the daughter of Kim's twin sister Dawn Scott, who died of drug overdose in 2016.
Eminem, whose real name is Marshall Mathers, was also awarded custody of his half-brother Nathan, 33, because of the turbulent home life of the star's mother Debbie.
Eminem and his ex started dating when the rapper was just 15.
They got married twice —in 1999 and 2006 — but the unions didn't last long.
The first marriage ended after 14 months and the second lasted 82 days.
Years before they decided to tie the knot a second time, Scott got together with Hartter, a tattoo artist, in their hometown near Detroit and their daughter was born in 2002.
Article continues below advertisement
While the notoriously private musician has been dedicated to keeping his kids out of the limelight, he's faced his own share of dark days as a drug addict.
Eminem admitted that the sudden mainstream popularity following the release of The Slim Shady LP album in 1999 triggered a dependence on drugs and alcohol which he used to ease the anxiety and paranoia experienced when he needed to go on stage.
He also faced death during a 2005 hospitalization resulting from a methadone overdose.
And since then he's fought to stay clean: "11 years," Eminem wrote on Instagram April 20. "Still not afraid."