Eminem Opens Up About Near-Fatal Overdose: I Used Drugs and Alcohol 'As A Crutch' To Deal With Fame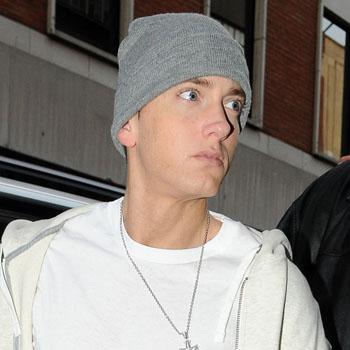 After a previous stint in rehab, rapper Eminem is thankful to be alive after beating his near-fatal pill addiction.
For the first time in years, Slim Shady reflected on his sobriety in a more candid way than ever before, speaking to Rolling Stone.
"I'm as happy as I can be, I guess," Em revealed.
"Hip-hop saved my life, man. It's the only thing I've ever been even decent at. I don't know how to do anything else. I think they have a word for that — what do they call it? Idiot savant?"
Article continues below advertisement
The rapper, who openly admitted to being hospitalized in 2005 from a methadone overdose, recalled those dark days.
"I relapsed on drugs. It was a little creepy. I certainly had some dark times with that sh-t, mostly due to taking a lot of pills and f--king drooling on myself. It was a sh-tty time," he said.
"I know I probably shaved a few years off my life."
Eminem admitted he turned to drugs and started drinking alcohol after he rose to mainstream popularity with the release of his February 1999 album The Slim Shady LP.
"Early in my career when sh-t started happening so fast, I think it was more liquor than anything. I was using it was a crutch more for anxiety to go onstage.
"I'm not saying I wouldn't have become an addict if I never got famous… It was more about 'I need this onstage – I can't handle this many people looking at me,'" he admitted.
Eminem, who has toured the world for sold-out venues, faced his paranoia in the only way he saw fit.
Article continues below advertisement
"I always joke that it's a hell of a career choice for somebody that doesn't really like attention," he mused.
The international superstar also opened up about protecting his privacy and the toll his fame has taken on his family – including daughter Hailie and ex-wife, Kim.
When asked if he regretted making his family the "characters" in his most famous songs, Eminem answered, "Sh-t. Hindsight is 20/20."
"At the time, that was how I dealt with things. I didn't really think about the consequences or what was right or wrong. Sometimes, I feel, maybe I did give people too much, let people in too much, said so much personal sh-t that I wish I didn't.
"Obviously now I know I'm famous. In my head, those are the kind of demons that I fight against, like 'f--k, man, how famous am I? I shouldn't say this, I shouldn't say that," he added.