'90 Day Fiancé' Split? Nicole Hasn't Seen Azan In 7 Months, Admits They 'Argue A Lot'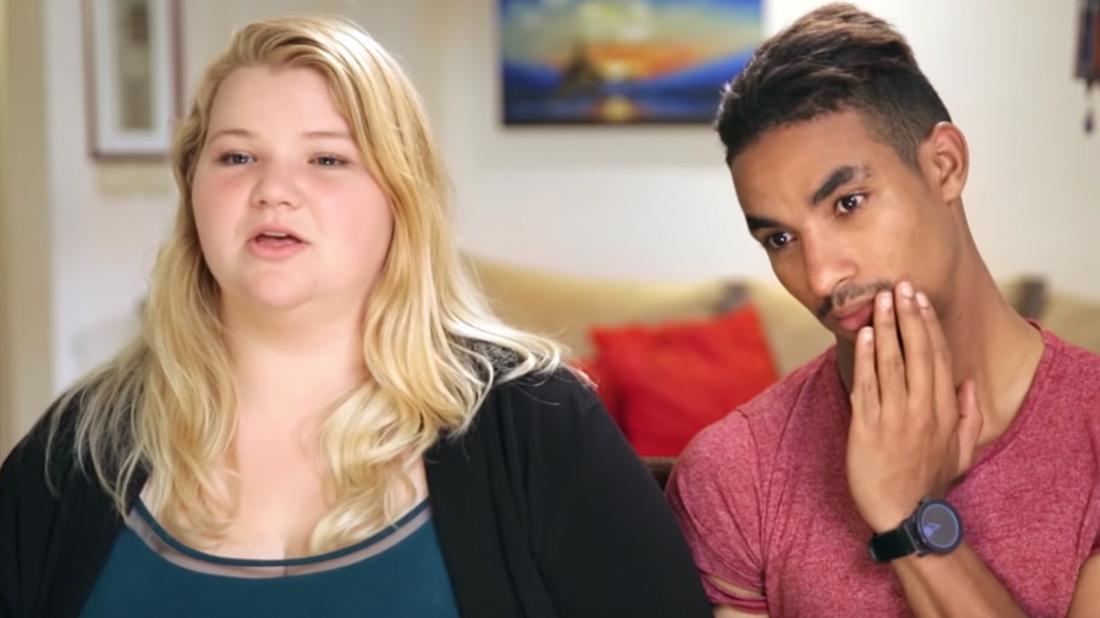 Nicole Nafziger and Azan Tefou called off their wedding and used the money to open up a beauty store in Morocco. On the 90 Day Fiancé: Happily Ever After? season premiere, Nicole admitted she regrets calling off their wedding and that the store never opened.
On the episode, Nicole revealed that it has been 7 months since she saw her fiancé.
"I didn't think I would be here this long," she said, as she planned to live in Morocco until they could work out his Visa to live in America. "I wish we had gotten married to just have it on paper or something. I've been waiting so long to finally be his wife. I guess it just wasn't the right time."
Article continues below advertisement
When Nicole's sister asked her about the beauty store, she responded, "It's going."
She then admitted in her confessional, "Even though I told my mom we were talking about opening a store, we never wound up going through with it. There is no store. I haven't told my family."
Nicole must wait to go to Morocco because she cannot afford it. She then revealed just how rocky their relationship is.
"We argue a lot, but what couple doesn't?" she said to her sister. "We have challenges. It's so hard. The distance sometimes has put a lot of hard times on us. I want to see Azan in person as soon as possible so we can figure things out and move on."
The new season will expose the demise of Colt Johnson and Larissa Dos Santos Lima's marriage.
On the premiere, Colt admitted he learned Larissa is "jealous," "emotional" and rude to his mother Debbie.
Days before their wedding, she was arrested for domestic battery.
"I called the police on Larissa and she was arrested," Colt said. "I called the police to protect her. I never wanted her to get arrested. But I guess the state of Nevada had different ideas."
Article continues below advertisement
Larissa said of the experience, "I spent two nights in jail. It was a nightmare. I never felt so cold in my life. I saw people that looked to me like they wanted to kill me. I wanted to give Colt a second chance so I get married. Married life for me is like hell. It's all Colt's fault."
Colt explained how they "barely talk," as she's awaiting trial for the charges.
"I hope when the trial is over we can be happy again," he said.
During a meeting with Larissa's lawyer, he revealed Colt told police that she lunged at him and scratched him.
"It's not true at all," she said. "I'm really surprised the things that I hear. Because Colt told me he didn't say anything to the cops. He say I'm a criminal."
Larissa then told her side of the story, claiming Colt told her he didn't want to marry her because of her arguments with Debbie.
"The night I was arrested Colt say after our journey that he doesn't want to marry me," she said. "I start to cry. I push him away. He called the police to show me, 'It's my way.'"
Article continues below advertisement
When Larissa learned that she could get deported back to Brazil, she continued her attitude towards Colt.
"You don't have feelings," she said during dinner. "You like to play with people. If you want a sexy woman by your side. Be the man that I want."
Larissa then revealed that she flushed her wedding rings down the toilet.
Debbie fired at her, "Colt spent a lot of money on those rings. Your relationship stinks. Why do you want to be married to each other?"
Larissa then yelled, "Our marriage is like this because of you!"
At the end of the episode, Larissa asked producers to record a confessional in a car instead of in the house.
"I feel deathly afraid," she said. "If they hear something that I say, my life will be a hell. Something is wrong."
Last season ended with Ashley Martson catching Jay Smith on hookup app Tinder only one day after their Las Vegas wedding.
Article continues below advertisement
"I wasn't going to hook up with no one," Jay defended. "I really love you and you know that. I know you love me too. It's going to take time. We have been fighting for the visa and for me to come to the U.S."
She responded, "All for you to come here and mess it up."
Jay then blamed Ashley and the move for his actions.
"I'm here, I have no friends, I'm here alone," he said. "Show me some attention. She wasn't there so I had to get it from someone else."
But Ashley wasn't ready to let Jay go, as she said her decision is "permanent."
As RadarOnline.com readers know, Ashley filed for divorce from Jay on Tuesday, April 23.
Also on the episode, Chantel Everett and Pedro Jimeno visit Savannah, Georgia to look for a new home.
"We need to move because I don't want to speak with the family Chantel," Pedro explained. "I want to be like, more far away."
Last season, Pedro got into a physical fight with her younger brother River. Chantel's family hired a private investigator to see if he has another family in the Dominican Republic.
Article continues below advertisement
"Ever since the fight, I hardly ever see my family," she said. "My family doesn't like that we're planning to move away from them. It worries me that it's only going to make things worse for us. It makes more sense to stay in Atlanta because I have school and family there."
The two began to argue when Pedro explained the family feud isn't his fault.
"Pedro is not taking any responsibility for his own actions," she said. "Before you put your hands on someone, the first thing you do is walk away. He hasn't apologized for it at all."
She then brought up how he needs to resolve his issues with her family before they welcome a child.
"I thought maybe we would have a child by now," she said. "I can't have a child and you not liking their grandmother."
Pedro fired back, "You need to fix the problem in your head first!"
Chantel yelled before storming out of their room, "Oh hell no!"
And finally, Paola and Russ Mayfield's relationship is better than ever after getting pregnant months following a devastating miscarriage.
Article continues below advertisement
But drama hit the couple when Russ told Paola that his family wants to throw them a baby shower in Oklahoma. Paola hasn't visited the his family since moving to Miami.
"I don't want to go back there," she said, as his family has had trouble accepting their relationship and her racy outfits.
"My family is there to support you 100 percent," he said. "They want to be more involved. It's time we go back."
90 Day Fiancé: Happily Ever After? airs Sundays at 8/9c on TLC.